Readers Say
Where to find the best doughnuts in Greater Boston, according to readers
More than 800 readers recommended 53 doughnut shops in the region.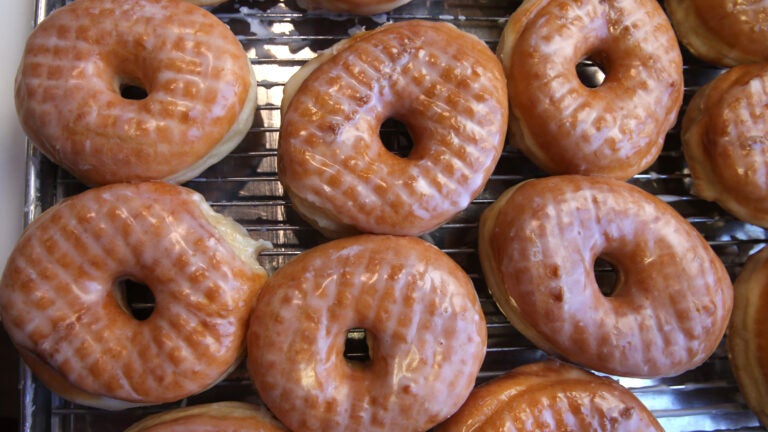 If your favorite doughnut is glazed, frosted, sprinkled, powdered, or cream filled, Boston.com readers have strong opinions about the places that have achieved confectionary genius.
We recently polled readers for their favorite doughnuts in Greater Boston, and more than 800 respondents shared 53 recommended shops across the region. Recommendations ranged from neighborhood spots to local chains — and, of course, Dunkin' made the list. Even among the top five reader favorites, two doughnut shops ranked nationally as the best in the country.
Ahead, we've assembled a reader-recommended guide to the top five best doughnuts in Greater Boston, what to order when you go, a full list of recommendations, and an interactive map.
Top 5 reader-recommended doughnuts in Greater Boston
Donuts with a Difference in Medford is not fancy, according to reader GM of Arlington. While you won't find "all the hipster toppings," he said the place has "just incredible, top quality doughnuts at an affordable price."
Other readers described the shop as having the best traditional cake doughnuts and impeccable classics. Some reader favorites include the coffee roll, honey dip, Boston cream, lemon filled glazed, and honey dip doughnuts.
"Donuts with a Difference in Medford is my hands-down favorite! Their doughnuts are never greasy, they aren't humongous, and they remind me of the old-school doughnut shops I used to go to growing up in northern California," said Allison M. from Charlestown.
Donuts with a Difference received 32 votes, or 4% of the total vote.
35 Riverside Ave., Medford
Readers said Donut King in the South Shore has better glazed doughnuts than anywhere else, with some saying that they are even better than the ones at Dunkin'.
"Being a senior, I like the old fashion doughnut. Plenty of other flavors too. All made fresh on premises by real bakers," said a Boston.com reader from Weymouth.
Greg H. in Quincy said, "Great homemade-style donuts and the staff is always friendly! Easily my kids favorite doughnut."
Others praised the creativity and fun-looking doughnuts offered at this spot.
Some reader favorites are the honey dip jelly, chocolate butternut crunch, Oreo, and maple bacon.
Donut King received 37 votes, or 5% of the total vote.
Multiple locations
Blackbird has been named a favorite doughnut place by multiple publications from Boston magazine to Thrillist. And Boston.com readers agreed.
"Blackbird has incredible, melt-in-your-mouth, tender and moist cake doughnuts. Their eponymous Blackbird doughnut, a simple and deceptively unassuming vanilla cake doughnut, is the stand-out but the chocolate old fashioned and double chocolate doughnuts are excellent too," said Chelsea K. in Cambridge.
Readers also said that Blackbird usually has options that are dietary-need friendly like vegan doughnuts. Some reader favorites include the brioche, chocolate, cider, and Blackbird doughnuts.
"Love everything about Blackbird," Jenny in the South End said. "Always from scratch and we love their vibe."
Blackbird Doughnuts received 42 votes, or 5% of the total vote.
Multiple locations
Readers said that Union Square Donuts' offer the best quality with the best flavors, and you can't beat the texture.
"So pillowy with a great bite," said Dulaney M. from Somerville.
Union Square was praised by multiple readers for their innovative flavors. Their maple bacon doughnut was voted the best unique doughnut by Underground Donut Tour in 2022, and named by several readers. The Vietnamese coffee doughnut also received multiple mentions. If you head over to one of their locations in Boston or Somerville, other readers suggested the brown butter hazelnut crunch, sugar raised, honey glazed, plain sugar, and sea salt whiskey caramel.
Union Square Donuts received 91 votes, or 11% of the total vote.
Multiple locations
The majority of readers would agree that Kane's has some of the best doughnuts around. Their honey dipped doughnut is a top-ranked doughnut in the country. And according to readers, this doughnut lives up to its name.
"I order the honey dipped at Kane's. It's kind of a miracle of a donut, perfectly light, sweet, and flavorful. I used to pick up a doughnut from Dunkin' in Back Bay Station on my way to NYC, but switched to a bagel once I discovered Kane's. It ruined me for other donuts," said Rick B.
Readers mentioned several other flavors as their favorites, too.
"The donuts are huge, and delicious. They are always fresh, and the staff is so kind every time I go in! I order one of everything, but really the favorites are Boston cream, strawberry frosted, Maine blueberry, and the Bismark, if you're lucky enough to get one," said Michaela C. from Chelsea.
Co-owner, Maria Delios, said that their quality is something that has been passed down through the family from her dad, Peter Delios. In their 68 years of business, Kane's has used the same recipe that Peter used from the beginning. They incorporate local, fresh ingredients into their doughnuts, valuing the taste and texture of each doughnut.
"We want to make sure it's absolutely delicious and that it's a good experience here," said Maria. "My dad would always tell us doughnuts are love, when people bite into one of these doughnuts look at how happy it makes them, even for a minute."
Kane's Donuts received 339 votes, or approximately 42% of the total vote.
Multiple locations
Where to find the best doughnut shops in Greater Boston, according to readers:
Anna's Hand Cut Doughnuts (2056 Centre St., West Roxbury)
Back Door Donuts (1 Lansdowne St., Boston)
Basic Batch Donuts (206 E Main St., Milford)
Big Y (Multiple locations)
Blackbird Doughnuts (Multiple locations)
Brassica Kitchen + Cafe (3710 Washington St., Jamaica Plain)
Cafe Mirror (362 Washington St., Boston)
Changing Tides Cafe & Donut Shop (92 Pleasant St., Newburyport)
Coffee Shack (259 Dyke Rd., Marshfield)
Coffee Time Bake Shop (96 Bridge St., Salem)
Dandee Donut Factory (1141 Revere Beach Pkwy, Revere)
Davis Square Hand Crafted Donuts & Bagels (377 Summer St., Somerville)
Demet's Donuts (199 Mystic Ave., Medford)
Dippin' Donuts (Multiple locations)
Donut Express & Cakes (258 Main St., Medfield)
Donut King (Multiple locations)
Donut Villa Diner (Multiple locations)
Donuts with a Difference (35 Riverside Ave., Medford)
Doughboy Donuts & Deli (220 Dorchester Ave., Boston)
Dunkin' Donuts (Multiple locations)
Flour Bakery + Cafe (Multiple locations)
Gail Ann Coffee Shop (10 Medford St., Arlington)
Hazel's Bakery (459 Great Plain Ave., Needham)
Heav'nly Donuts (Multiple locations)
Henry's Fine Foods (588 Cabot St., Beverly)
Kane's Donuts (Multiple locations)
Linda's Donuts (247 Belmont St., Belmont)
Lyndell's Bakery (720 Broadway, Somerville)
Market Basket (Multiple locations)
Mass Hole Donuts (1157 Broadway, Somerville)
Mike's Donut Shop (1524 Tremont St. A, Boston)
Mister Monut (873 Main St., Waltham)
Mochi Dough (279 Newbury St., Boston)
Mochinut (Multiple locations)
Momo Café (649 Hancock St., Quincy)
Paris Baguette (Multiple locations)
Pon de Joy (1 Brighton Ave., Boston)
Rocco's Doughnut Company (Multiple locations)
Ruby donut shop (210 W Main St., Ayer)
Sandy's Coffee Corner (12 Monponsett St., Hanson)
Sofra Bakery (1 Belmont St., Cambridge)
Somebody's Place (38 Andover St., Andover)
Speakeasy Donuts (Multiple pop-up locations)
Stoughton Bakery (29 Wyman St., Stoughton)
The Angry Donut and Cafe (42 Inn St., Newburyport)
The Blueberry Muffin Restaurant (Multiple locations)
The Country Kitchen (18 Hampshire St., Methuen)
The Donut Shack (487 Westford St., Lowell)
The Donut Stand (154 Turnpike Rd., Southborough)
Twin Donuts (501 Cambridge St., Allston)
Union Square Donuts (Multiple locations)
When Pigs Fly Bread (Multiple locations)
Willow Tree Donuts (60 Centre Ave., Rockland)
Some responses have been lightly edited for grammar or clarity.
Sign up for The Dish
Stay up to date on the latest food news from Boston.com.