Readers Say
Where to get the best cider doughnuts in New England, according to readers
Almost 200 readers identified their favorite spots to get the classic fall treat.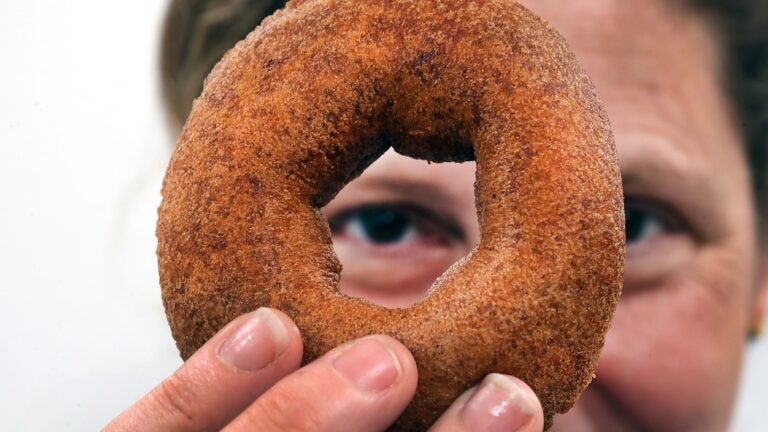 As colorful leaves fall from the trees, the weather turns cooler, and you discover the sight of pumpkins lined up by houses, it seems apparent: fall is here. One of those things that perfectly signifies the arrival of autumn is that wonderful baked good, the cider doughnut. The treat is excellent with coffee, and it is often freshly made by local orchards, enjoyed after a day of apple picking in New England.
We asked readers about their favorite places to get cider doughnuts, and 199 people responded. This year we received recommendations from a new state: readers told us about two spots in Maine. We compiled 2022's data with submissions from this year to create an updated list of 109 locations in New England where you can purchase the delectable, autumnal snack. In 2023, the most beloved spot to get a doughnut is Bolton Spring Farm in Bolton, and we spoke with farm store manager Lori Stephenson about why she feels having a doughnut can be such a great experience.
"It brings it all together: the crisp air, the outdoors, the leaves changing color, the apples, fresh cider, warm doughnuts — it's just typical New England," she said. "Coming out to an orchard and having the whole experience of picking apples and enjoying products made by apples just takes people out of the normal busy day and relaxes them. It's not a football game; it's just family time."
Below, find our guide to cider doughnuts in New England. We've included a 2023 ranking of readers' top five picks, as well as a map and complete list of all recommendations from this year and 2022. Scroll down to find a spot near you, where you can get one yourself.
Readers share the best cider doughnuts in New England:
A 🏆 means that this spot was among the top 5 in 2023 and 2022. Locations are marked with an 🍎 if they were also a popular recommendation in our apple picking guide last year.
Head over to Cider Hill Farm in Amesbury, and be prepared to partake in some toothsome baked goods. The doughnuts are sure to leave an impression: soft, airy, and with a slight crunchiness, if ordered with a cinnamon sugar topping. General manager Jenny Durocher told us that they're light enough that you can "eat six, and it feels great." Batches are made in the morning and use fresh apple cider, which would currently be made from a blend of McIntoshes, Galas, Macouns, and Cortlands. Visitors to the farm store often make other purchases, such as staples like whoopie pies, jam, and honey. If you're planning a trip to Cider Hill Farm, you may want to stop by one of their Fall Fridays events, where they'll have live music and a hard cider bar. Greg K. from Amesbury said that he enjoys the "soft, warm doughnuts, with a perfect sugar coating. We make multiple trips here throughout the summer and fall."
Cider Hill Farm took 4% of the vote.
45 Fern Ave., Amesbury
Something of a legend in the Massachusetts farming world, Honey Pot Hill Orchards in Stow is known for some of its classic fall activities, from apple picking to the hedge mazes that visitors lose themselves in. Their doughnuts are made fresh every day from their own pressed cider, which uses mostly McIntosh and Honeycrisp apples, according to general manager Chelcie Martin. They are not too dense, a bit crispy on the outside, and fluffy, not cakey, on the inside. At the farm store, you'll also be able to pick up caramel apples, after a day of hunting for Empires, Smitten, and Spartans. Karen Q. from Marlborough said, "Best taste, texture! I love plain, and my family loves the sugared (warm a plain one in the toaster oven; you won't regret it!). Beautiful farm, quaint farm kitchen, cute animals, wonderful family-owners. My favorite Massachusetts farm!"
Honey Pot Hill Orchards took 5% of the vote.
16 Boon Rd., Stow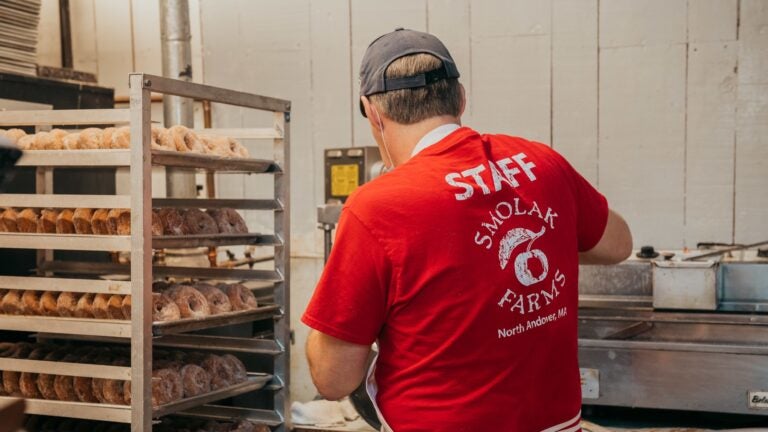 A working farm in North Andover, Smolak Farms has often been the site of many weddings, but this picturesque spot is also known for its cider doughnuts, which they make fresh every day. Customers have the option of choosing from four different kinds: plain, sprinkled with cane sugar, rolled in cinnamon and sugar, or glazed. The bakery has also experimented with making blueberry cider doughnuts.
"Everybody wants them right off the belt," owner Michael Smolak said. "… We mix up the batter, and it goes into a vat on top of this machine. There's a plunger that plops out enough batter for the doughnut, and it goes back and forth. They go down this conveyor belt, and in the middle, they're flipped over and turned." He added, "At the far end, we have some vats of sugar, sugar and cinnamon, or we don't put them in at all. We coat [them] with that [or glaze them], put them on trays, and sell them."
An anonymous reader said, "These doughnuts are nostalgia in one bite! My family used to do hayrides and pumpkin picking all the time at Smolak. We also used to make pit stops for doughnuts on our way to Camp Rotary in Boxford. The doughnuts are amazing, and I still love to get them whenever I can."
Smolak Farms took 10% of the vote.
315 S Bradford St., North Andover
When you're in what Carver Hill Orchard store manager Jennifer Lord calls "apple country," a part of Massachusetts with plentiful orchards, you might chance upon her business and their cider doughnuts. They're cakey, and owner Matthew Lord makes them mostly by himself, with the help of a doughnut robot, which is different from the larger productions at other farms. At the country store, guests also like to try the doughnut sundae, which is made from one doughnut, paired with ice cream and caramel sauce.
Matthew shared insights into his doughnut making process. "I cook them a little longer than other farms," he said. "We might not make as many, but the longer they stay in the fryer, they get a little crunch on the outside. Our customers seem to like that little crunch."
Jennifer added that Carver Hill Orchard is a "smaller operation" than some of the neighboring farms. When people are interested in having a quieter, more relaxed experience, they head over to Carver Hill, where there are fewer crowds.
Kevin from Stow said, "The owner of the orchard was making the doughnuts as my family [and I] showed up, and when we asked for some, he was extremely kind and friendly and kept great conversation. He also made sure that we had a fresh batch right out of the fryer, and they were perfectly coated in sugar and extremely flavorful. I've yet to have another doughnut as good, and I've tried dozens since! I'll be making a trip back very soon!"
Carver Hill Orchard took 20% of the vote.
101 Brookside Ave., Stow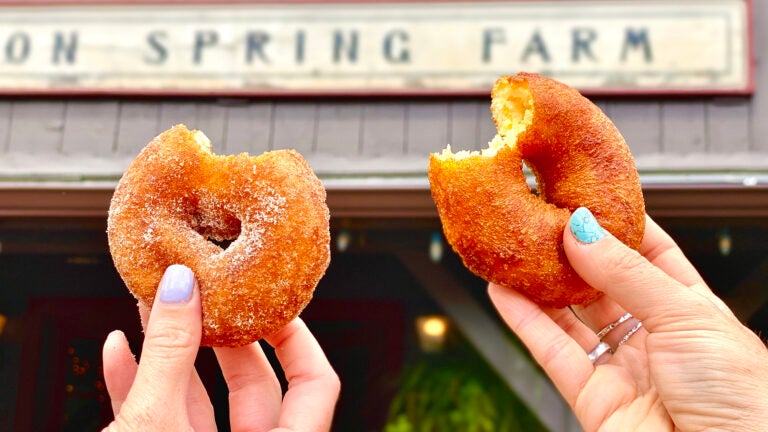 When you visit Bolton Spring Farm, you can smell apple pies and dumplings just as you're getting out of your car, said farm store manager Lori Stephenson. You'll enter a very old barn that exudes quaint, New England charm, and there, you'll be able to try one of their fresh, old fashioned, cider spiced doughnuts. Their texture is light and fluffy, not dense, and they have a touch of a cinnamon sugar coating. The blend of apples that goes into their original cider currently features McIntoshes, Cortlands, and some apples from earlier in the season, Stephenson said. If you sit out at a picnic table with one of them on the weekend, it truly feels peaceful, she added.
"It's a solid doughnut," Stephenson said. "You bite into it, and you just get the whole fall feel. When we make them, we try to have them go out warm, all the time. With a glass of cider, it's the picture of fall."
Visitors also enjoy purchasing apple crisp, honeys and jams, pumpkins and gourds, and cups of coffee, especially after a day of apple picking. Many locals head over, as do guests from the South Shore, and Stephenson added that she has seen generations of people making trips to the farm. They'll make a point of stopping by what Stephenson calls "The Big Rock." "People every year take their family photo on The Big Rock. Each year, the kids get older, and it's a destination for a lot of families to have a picture with a beautiful backdrop," she said.
Jessica L. from Southborough told us, "Their doughnuts have the best flavor, texture, and crispy edges from being fried. They don't have any weird artificial flavors like so many other orchards. They also have the best mulled cider. I have been eating their doughnuts and drinking their cider for over 40 years, and I don't intend to stop any time soon!"
Bolton Spring Farm took 32% of the vote.
149 Main St., Bolton
Honorable Mentions 🏅
Applecrest Farm Orchards: This Hampton Falls farm claims to have New Hampshire's oldest and largest apple orchard. According to readers, their doughnuts are soft, warm, and delicious at the very first bite. 133 Exeter Rd., Hampton Falls, NH
Readers say: "We have been going to Applecrest for over 40 years. Their doughnuts by far are the best. Their [farm] for apple picking and festivals reach a higher standard. They roast their corn which, besides the apples, are one of the reasons we go in the fall. They have delicious food!" —Linda F., Wakefield
Russell Orchards: The bakery at Russell Orchards prepares these "crispy little gems," made from scratch and featuring cider pressed in their mill, produced from their own apples. Their recipe was "invented and perfected" right on site. 143 Argilla Rd., Ipswich
Readers say: "Hot, greasy, and flavorful. Even when they are cold, you can microwave them for a few seconds and roll them in granulated sugar. I like to go, visit the farm animals, and select Macoun apples and Cortlands. If Rosh Hashanah falls during the week, I will go after services, and it's been a tradition for me." —Francine M., Wenham
Wilson Farm: From Wilson Farm's award winning bakery, you can pick up a pie in a variety of flavors, but don't miss out on their cider doughnuts. Readers told us they are light and airy, best when they are hot and fresh. 10 Pleasant St., Lexington
Readers say: "They make them fresh every weekend [outside in a tent], and the smell radiates throughout the parking lot." —Stephanie S., Lynnfield
All of the best cider doughnut spots in 2023 and 2022, according to Boston.com readers:
Connecticut:
Maine:
Massachusetts:
New Hampshire:
Rhode Island:
Vermont:
Sign up for The Dish
Stay up to date on the latest food news from Boston.com.