Readers Say
Where to get the best fried clams in Massachusetts
Boston.com readers have recommended 159 fried clam shacks and restaurants.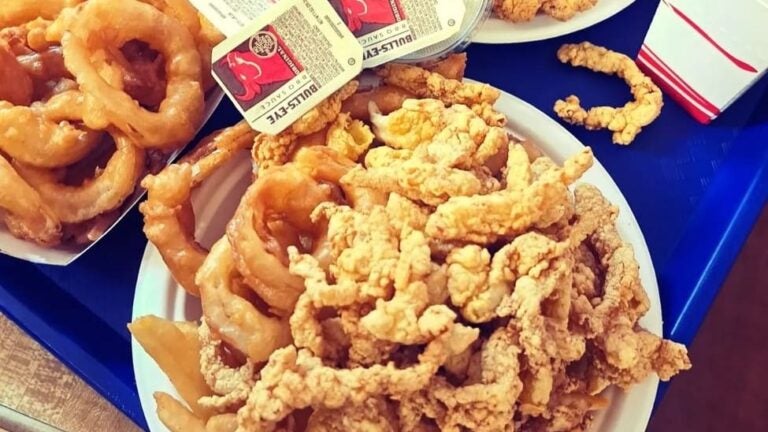 Crispy, golden, and lightly battered, fried clams are delicious at any time of year. While you're visiting a seafood shack along the Cape or sitting down to a meal by the water, a plate of them can complete your day. Crunchy and slightly briny, clams are a specialty of the region, especially those from Ipswich or Essex.
We asked Boston.com readers to tell us their favorite places to order fried clams, and over the past two years, we heard back from over 1,000 people. Woodman's of Essex, which claims to have invented the fried clam, was the No. 1 pick for two years in a row.
Maureen Woodman, director of sales at Woodman's, said that when diners look for good fried clams, they want to go directly to their places of origin.
"The entire area of Essex and Ipswich, because the clams are native to this area, people want to go where the clams come from," Woodman said.
Boston.com readers told us about destinations all across Massachusetts, from diners, to taverns, to ice cream shops that also serve hearty batches of seafood. We put together a list of the 159 places that you recommended over the past two years, with the map below including last year's picks as well. Scroll down to see the top favorite restaurants from 2022.
A 🏆 means that this spot was among the top 5 in both 2021 and 2022.
Kream 'N Kone first opened in West Dennis in the 1950s as a place that served ice cream, hot dogs, and hamburgers. Since then, the restaurant has blossomed into a spot that is known for its fried seafood. Readers have said that the batter on their fried clams is light, not too heavy, and that each bite is full of flavor. The destination took 4% of the vote. An anonymous reader said: "Clams are fried to perfection, not a lot of batter, small bellies, smaller, more succulent clams than others I've tried elsewhere; by far the best I've ever had!" Visit now and sit on the patio, overlooking Swan River.
961 Main St., West Dennis
The Newburyport sports bar is famous for its fried clams, and readers know this, giving The Park Lunch 5% of the vote. It's a no-frills joint, a casual, fun hang-out to watch a game. Pizzas and burgers can also be enjoyed at this dive, which has a family-friendly atmosphere. Readers say that the clams, taste fresh and are never overcooked. One patron said that they are "the perfect size," small and tender. Bob R., of North Hampton, said that the clams are "World Class! Perfectly fried. No grease. Served with an amazing homemade tartar sauce."
181 Merrimac St., Newburyport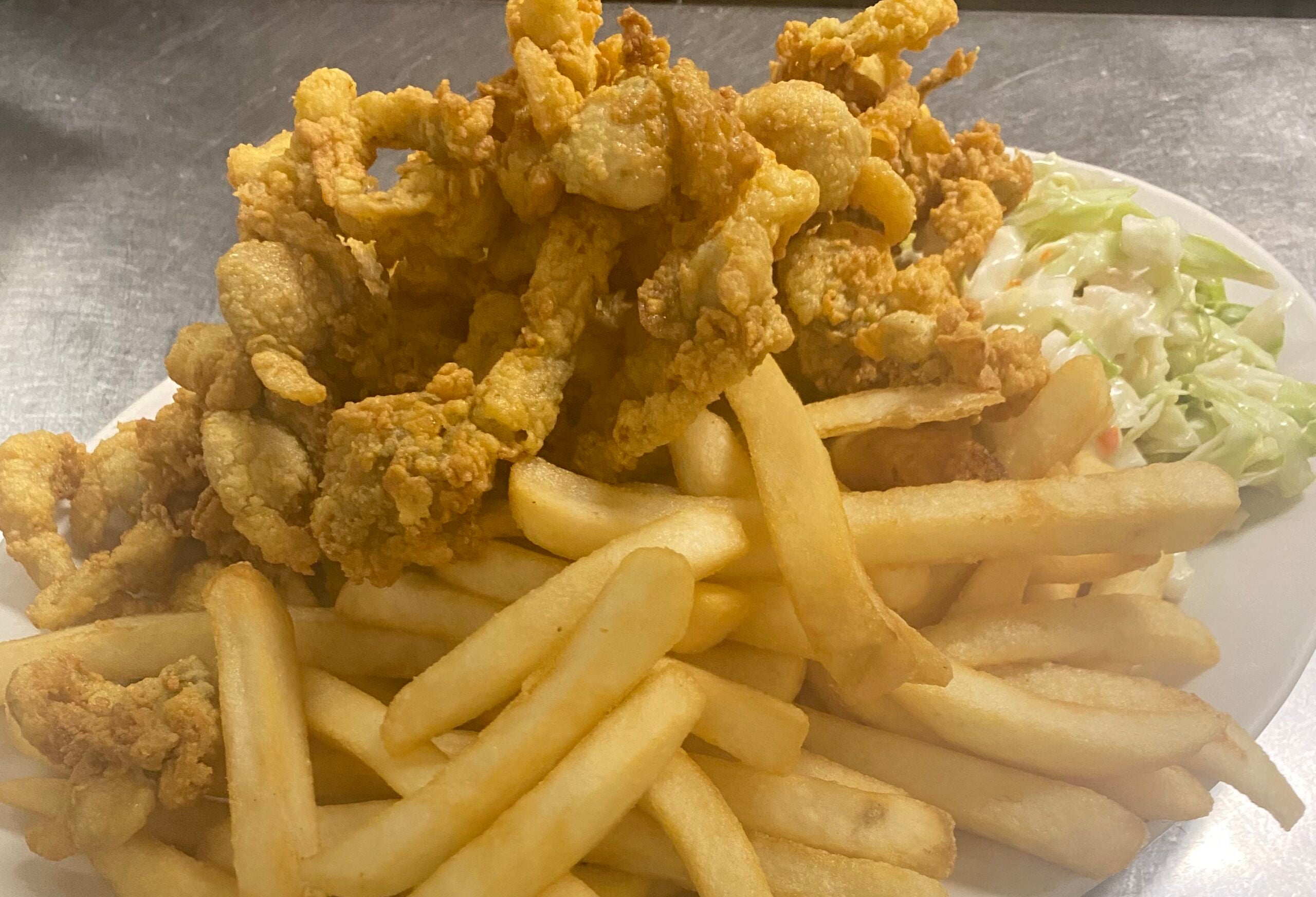 With scenic views of the Essex River, J.T. Farnham's is known for its golden fried clams and excellent seafood chowder. Their clams are served hot out of the fryer, readers said, lightly salted, not too puffy, and perfectly crisp. The restaurant took 10% of the vote. Melissa L. from the North Shore said, "The fried clam competition is stiff on the North Shore, but J.T. Farnham's checks off all the boxes: fresh fried clams with a ton of flavor, friendly service, and a one-of-a-kind atmosphere right on the water. I've been to them all in the area (Clam Box, Woodman's, etc.) and while they're all tasty, nothing beats J.T.'s!"
88 Eastern Ave., Essex
The Clam Box of Ipswich, which opened in 1935, garnered 11% of the vote. The legendary establishment is a landmark, and it's popular among locals from the historic town of Ipswich. The fried clams are sweet, crunchy, fresh, mouthwatering, and plump morsels. Reader Tom R. from Groveland said: "Big, fresh native clams fried to perfection. Clam Box changes their oil every day at 2:30 or so [and filters at night], and if you get one of the first batches in fresh oil they are light, flavorful, and delicious. My wife and I split the fisherman's platter which is loaded with clams, scallops and shrimp and we can barely finish it. Best ever!"
246 High St., Ipswich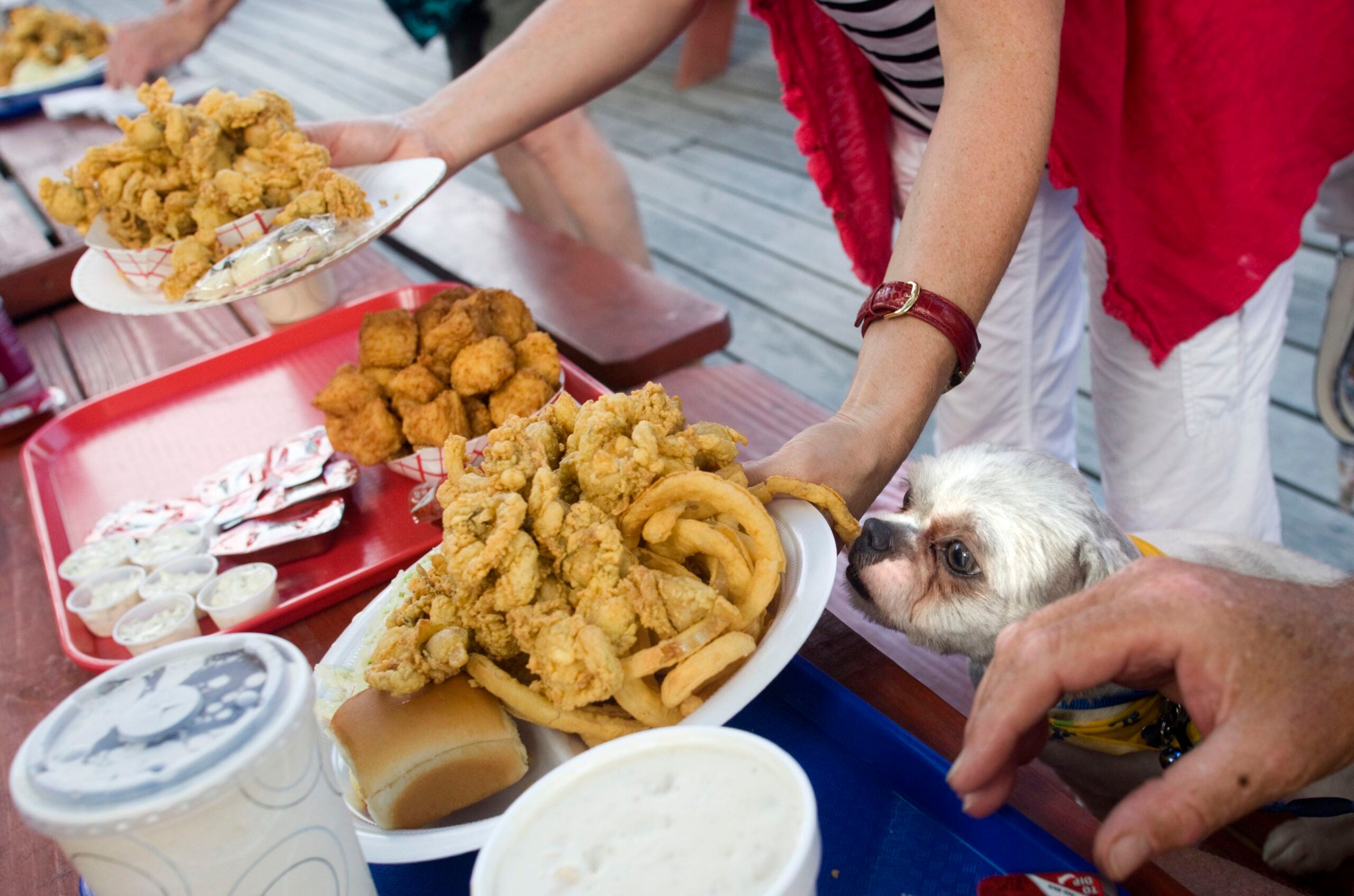 It's hard to deny the pull of Woodman's of Essex, who many claim invented the fried clam in 1916. You'll enjoy the clam chowder, fresh lobster, onion rings, and ice cream at this restaurant, but it's the fried clams that readers are clamoring for — the stuff of folklore. Reader Katy from Jamaica Plain said, "Huge whole bellies! Served with the best tartar sauce… They're locally caught in Ipswich, [Essex, and Gloucester]. All their seafood is delicious."
Maureen Woodman, director of sales at Woodman's, said that the freshness of the clams and their simple recipe makes them stand out.
"The location of the restaurant is conducive to sustainability, so the clams come right from the river where we live," Woodman said. "They're sourced locally, and whenever you eat locally sourced food, it has more flavor. It's not sitting for a long time." As for the recipe, she said: "[It's] the same recipe that Chubby Woodman [who opened the restaurant] used over a hundred years ago. That's evaporated milk and corn flour. That's the entire recipe. … We fry them in lard."
Honorable mentions 🏅
Tony's Clam Shop: Beautiful beach views along the South Shore and generous plates of juicy, tender clams make Tony's a favorite. Readers say the breading on the fried clams is simple, and baskets come served with French fries. 861 Quincy Shore Drive, Quincy
Choate Bridge Pub: This Ipswich spot, where guests like to mingle by the bar, serves up fried clams that are "sweet tasting and fried to perfection," according to readers. Get a cold drink to accompany your order of seafood. 3 South Main St., Ipswich
Here's the complete list of reader-recommended fried clams from 2021/2022:
A ⭐️ means that this shop was voted among the top five reader picks at some point over the past two years.
Agawam Diner, 166 Newburyport Turnpike, Rowley
All American Tavern, 34 Bridge Road Route 1, Salisbury
Arnold's Lobster & Clam Bar, 3580 US-6, Eastham
Barlow's Clam Shack, 856 Scenic Highway, Bourne
Barnacle Restaurant Inc, 141 Front St., Marblehead
Baxter's Boathouse, 177 Pleasant St., Hyannis
Beachcomber in Wellfleet, 1120 Cahoon Hollow Road, Wellfleet
Belle Isle Seafood, 1 Main St., Winthrop
Blue Marlin Grille, 65 Eastern Ave., Essex
Boat House Grille Essex, 234 John Wise Ave., Essex
Bob Lobster, 49 Plum Island Turnpike, Newbury
Bob O'Malley's Whaleback Restaurant, 1052 S Sandwich Road, Sandwich
Boston Chowda Co., 109 Main St., North Andover
Boston Sail Loft, 80 Atlantic Ave., Boston
Box Seats, 500 E Washington St., North Attleborough
Brigham's Corner Pizza and Seafood, 1 Brigham St., New Bedford
Bubbling Brook Restaurant, 1652 High St., Westwood
Burke's Seafood, 61 Billings Road, North Quincy
Cafe Escadrille, 26 Cambridge St., Burlington
Cappy's Seafood, 175 Fort Ave, Salem, MA 01970
Captain Frosty's, 219 Main St., Dennis
Captain Jack's Roadside Shack, 102 Northampton St., Easthampton
Captain John's, 333 Westford St., Lowell
Captain Marden's Seafoods (Food Truck), 279 Linden St., Wellesley
Causeway Restaurant, 78 Essex Ave., Gloucester
Cedar Hill Dairy Joy, 331 North Ave., Weston
Celebrity Pizza, 684 Mt Auburn St., Watertown
Charlie's Seafood, 188 Essex St., Lynn
Chieftain Pub & Restaurant, 23 Washington St., Plainville
Choate Bridge Pub, 3 S Main St., Ipswich
CK Pearl, 112 Main St., Essex
Clam Box of Ipswich ⭐️, 246 High St., Ipswich
Clam Shack ⭐️, 200 Fort Ave., Salem
C & L Frosty, 27 N Main St., Sherborn
Cobie's, 3260 Main St., Brewster
Connie's Restaurant, 270 Main St., Hanson
Conrad's Drive-In Seafood, 835 Massachusetts Ave., Lunenburg
Cooke's Seafood, 1 S Orleans Road, Orleans
Cove Surf and Turf, 1500 Cove Road, New Bedford
Dicky's Clam Shack, 880 State Road, Dartmouth
Dry Dock Cafe, 7 Drydock Ave., Boston
Dube's Seafood, 317 Jefferson Ave., Salem
East Wind Lobster and Grille, 2 Main St., Buzzards Bay
Essex Seafood, 143 Eastern Ave., Essex
Frates Drive In, 1423 Somerset Ave., Taunton
Fresh Pond Seafood Market & Takeout, 75 Summer St., Arlington
Friendly Fisherman Restaurant and Fish Market, 4580 US-6, Eastham
Friendly's, Boston Logan International Airport, Terminal A, 1 Harborside Drive, Boston
Gene's Famous Seafood, 146 Huttleston Ave., Fairhaven
George's Surf & Turf, 116 Uxbridge Road #1217, Mendon
Giordano's Restaurant, Inc., 18 Lake Ave., Oak Bluffs
Green Harbor Lobster Pound Inc, 131 Beach St., Green Harbor
Harry's Restaurant, 149 Turnpike Road, Westborough
Harvest Tap & Table, 2685 Grand Army of the Republic Highway, Swansea
Herbie's, 1028 Southbridge St., Worcester
Hingham Lobster Pound, 4 Broad Cove Road, Hingham
Howard's Drive In, 121 E Main St., West Brookfield
IALIVE, 569 Winthrop St., Rehoboth
Ipswich Clambake, 196 High St., Ipswich
J.T. Farnham's ⭐️, 88 Eastern Ave., Essex
Jake's Seafood Restaurant, 50 George Washington Boulevard, Hull
Janine's Frostee, 149 East St., Ware
Jim's Clam Shack, 227 Clinton Ave., Falmouth
John's Footlong, 309 Commercial St. # 5, Provincetown
Johnson's Restaurant and Dairy Bar, 164 Boston Road, Groton
Kate's Fried Seafood & Ice Cream, Paine's, 284 Paine's Creek Road
Kay's Dairy Bar, 196 State Road W, Westminster
Kelly's Roast Beef, 410 Revere Beach Boulevard, Revere
Kennedy's Restaurant & Market, 247 Maple St., Marlborough
Kimball Farm, 400 Littleton Road (Rt. 110), Westford
Kool-Kone, 374 Marion Road, Wareham
Kream 'N Kone ⭐️, 961 Main St., West Dennis
Landfall Restaurant, 9 Luscombe Ave., Woods Hole
Land 'N Sea Restaurant, 67 Lynnfield St., Peabody
Lee's Seafood, 15 Broadway, Salisbury
Legal Seafoods, 100 Huntington Ave., Copley Place
Lena's Seafood, 131 Rabbit Road, Salisbury
Liberty Bell, 886 Main St., Melrose
Lindsey's Family Restaurant, 3138 Cranberry Highway, East Wareham
Lobsta Land Restaurant, 84 Causeway St., Gloucester
Lobster Claw, 3 Main St., North Reading
Lobster Hut, 25 Town Wharf, Plymouth
Lobster Trap Restaurant, 290 Shore Road, Bourne
Long John Silver's, 1560 VFW Parkway, West Roxbury
Lookout Tavern, 8 Seaview Ave., Oak Bluffs
Mac's Shack, 91 Commercial St., Wellfleet
Maguire's Bar & Grill, 503 Foundry St., North Easton
Mike's Roast Beef, 115 Broadway, Everett
Mill Wharf, 23 Mill Wharf Plaza, Scituate
Moby Dick's Restaurant, 3225 US-6, Wellfleet
Mount Vernon Restaurant & Pub, 14 Broadway, Somerville
Murphy's Eats & Treats, 16 W Union St., Ashland
Nancy's, 29 Lake Ave., Oak Bluffs
Narrow's Crossing Restaurant & Lounge, 1 Narrows Road, Wareham
Neptune Oyster, 63 Salem St. # 1, Boston
Nick's Place, 70 Pauline St., Winthrop
Nightshade Noodle Bar, 73 Exchange St., Lynn
Osterville Fish Too, 275 Millway, Barnstable
Oxford Creamery, 98 County Road, Mattapoisett
Pete's Seafood Restaurant, 54 School St., Greenfield
Pirate's Cove, 74 Providence Road, Linwood
PJ's Family Restaurant, 2616 US-6, Wellfleet
Red Wing Diner Inc., 2235 Providence Highway, Walpole
Roht Marine, 2205 Main St., Marshfield
Ronnie's Seafood, 208 City Depot Road, Charlton
Ronnie's Seafood and Ice Cream, 871 Southbridge St., Auburn
Rosewood Restaurant, 445 Hartford Ave., Bellingham
Royal Roast Beef and Seafood, 752 Bennington St., Boston
Satuit Tavern, 39 Jericho Road, Scituate
Scales Seafood and Ice Cream, 45 River St., Millbury
Schooner's, 157 Nantasket Ave., Hull
Seafood Sam's, 6 Coast Guard Road, Sandwich
Seaport Grille, 6 Rowe Square, Gloucester
Sesuit Harbor Cafe, 357 Sesuit Neck Road, Dennis
Shea's Riverside Restaurant & Bar, 122 Main St., Essex
Simco's, 1509 Blue Hill Ave., Mattapan
Sir Cricket's Fish & Chips, 38 MA-6A, Orleans
Snug Harbor Fish Company, 459 Washington St., Duxbury
Spanky's Clam Shack and Seaside Saloon, 138 Ocean St., Hyannis
SS Lobster Ltd, 691 River St., Fitchburg
Star Drive-In, 205 Myricks St., East Taunton
Stash's Pizza of Norwood, 254 Dean St., Norwood
Sullivan's Castle Island, 2080 William J Day Boulevard, South Boston
Summer House, 552 College Highway, Southwick
Summer Shack, 149 Alewife Brook Parkway, Cambridge
The Barking Crab, 88 Sleeper St., Boston
The Beachcomber Wellfleet, 1120 Cahoon Hollow Road, Wellfleet
The Cabin, 114 E Grove St., Middleborough
The Clam Box (Brookfield), 53 S Maple St., Brookfield
The Clam Box (Quincy), 789 Quincy Shore Drive, Quincy
The Fish Shack Bar and Restaurant, 21 Dock Square, Rockport
The Lobster Barn, 996 Hancock St., Abington
The Lobster Pool, 329 Granite St., Rockport
The Lobster Pot, 321 Commercial St., Provincetown
The Lobster Pound, 252 Manomet Point Road, Plymouth
The Lobster Stop, 723 Washington St., Quincy
The Original Seafood Restaurant, 527 Main St., Dennis Port
The Park Lunch ⭐️, 181 Merrimac St., Newburyport
The Point Restaurant, 93 Central St., Brant Rock
The Seafood Shanty, 803 Scenic Highway, Buzzards Bay
The Take Away, 82 Chapel St., Norwood
The Weatherdeck Restaurant, 168 MA-28, West Harwich
The Winthrop Arms, 130 Grovers Ave., Winthrop
Three Cod Tavern, 141 Pleasant St., Marblehead
Tides Restaurants & Pub, 2 Wilson Road, Nahant
Tiny's, 2 Groton School Road, Ayer
Tony's Clam Shop ⭐️, 861 Quincy Shore Drive, Quincy
Top Dog, 2 Doyle Cove Road, Rockport
Tugboats Seafood Restaurant, 11 Arlington St., West Yarmouth
Turk's Seafood Market & Sushi, 83 Marion Road, Mattapoisett
Twin Seafood Inc., 2 Church St., Concord
Vaughn Fish & Chips, 1 Erie St., Dorchester
Village Restaurant, 55 Main St., Essex
Williamsburg Snack Bar, 109 Main St., Haydenville
Windward Grill, 109 Eastern Ave., Essex
Woodman's of Essex ⭐️, 119 Main St., Essex
Wood's Seafood, 15 Town Wharf, Plymouth
Yankee Lobster Co., 300 Northern Ave., Boston
Ye Olde Standish Grille, 175 N Bedford St., East Bridgewater
Sign up for The Dish
Stay up to date on the latest food news from Boston.com.