Readers Say
The ultimate guide to tacos in Greater Boston
Readers shared 46 places to get classic orders and creative takes on the Mexican dish.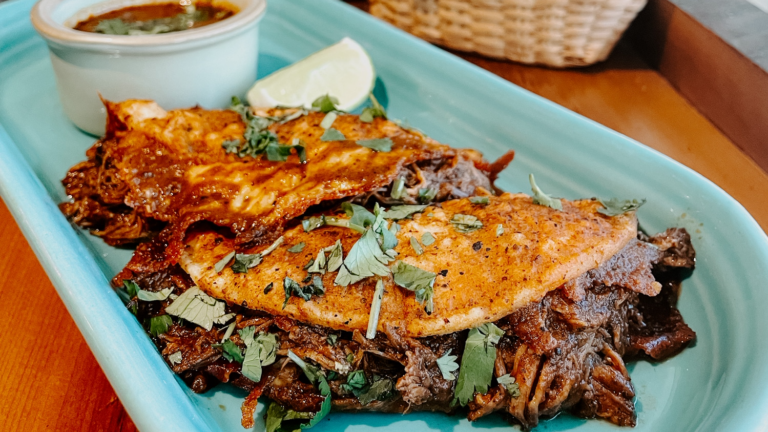 Whether you're celebrating Cinco de Mayo, the Kentucky Derby, or just having a festive brunch with friends, tacos are always a hit. Dining on one—or two, or three—filled with flavorful pork or tinga-braised chicken, while sipping on a frozen margarita, is the ultimate way to enjoy a day out in Greater Boston.
We asked readers for their favorite places to get a taco in Greater Boston, and we heard back from almost 500 readers. In a landslide vote, 54% of readers recommended Yellow Door Taqueria, which has locations in Lower Mills, Mission Hill, and the South End. The local taqueria has long been a reader favorite, making our 2019 list of favorite taco spots. A classic variety that readers enjoy is the birria taco, often made from beef stew, griddled, and served with dipping broth. We talked to co-owner Colleen Hagerty, who told us about the inspiration behind Yellow Door's tacos.
"We take traditional Mexican street food and give it a New England twist," Hagerty said. Many restaurants will serve fried fish tacos with pico de gallo and slaw or lettuce, but Hagerty explained, "Ours has butternut squash purée, which is very New England. It's not your typical Tex-Mex or Mexican food."
Below, find a complete reader-recommended guide to the best restaurants serving tacos across Greater Boston. We've listed the top five picks and included a full reader-recommended list at the bottom, along with a map so that you can find a location near you.
The best places to get tacos in Greater Boston, according to readers:
A 🏆 means that this spot was among the top 5 in 2023 and 2019.
Though this Waltham eatery is small, don't be mistaken: the tacos are superb. The spot was recently named one of Yelp's Best Restaurants in America, and it isn't hard to see why. You'll be able to enjoy a variety of different tacos here, from the al pastor, made with pork and chili, to the lengua, or tongue, and the carne asada, filled with steak. All are served with onions and cilantro, and they offer mini tacos for kids, as well. Complete your meal with a strawberry milkshake, a Jarritos soda, or better yet, a horchata. Reader Brian from Jamaica Plain said, "Everything is delicious — the most authentic taco place in the area, and no one is close." Taqueria El Amigo earned 2% of the vote.
196 Willow St., Waltham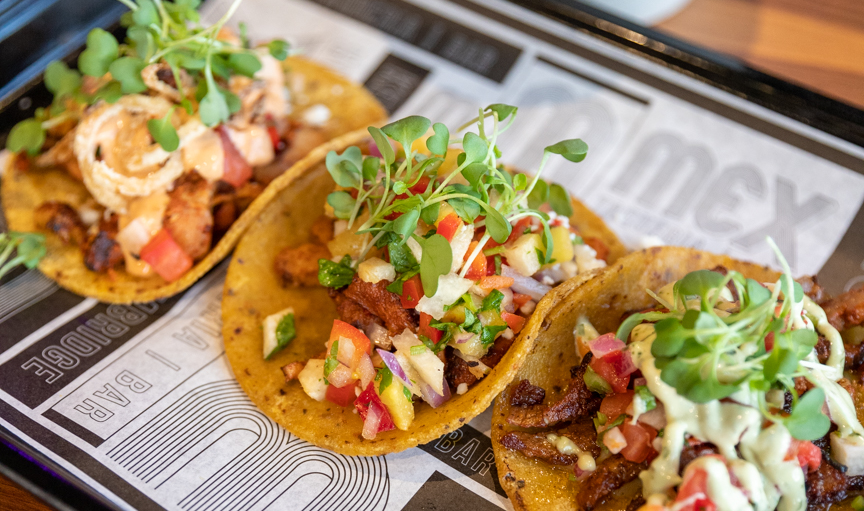 In the heart of Kendall Square, Mex Taqueria and Bar is a happening place. The restaurant features three levels including a dining room, lounge, terrace, tequila bar, and rooftop deck, making it the perfect venue to bring your friends. But what about the tacos? They're served on yellow corn tortillas, they come in a variety of creative flavors like the Japanese eggplant, served with burnt tomato salsa and crispy shallots. Or you may want to dip into the Baja, made with golden battered gulf shrimp, avocado, sriracha aioli, and mango salsa. Reader Kristin G. from New Hampshire said, "All of their tacos are delicious, and I especially love their lamb barbacoa! In one word — it's amazing! The meat is so tender and juicy, and the preparation is always spot-on." Mex earned 3% of the vote.
500 Technology Square, Cambridge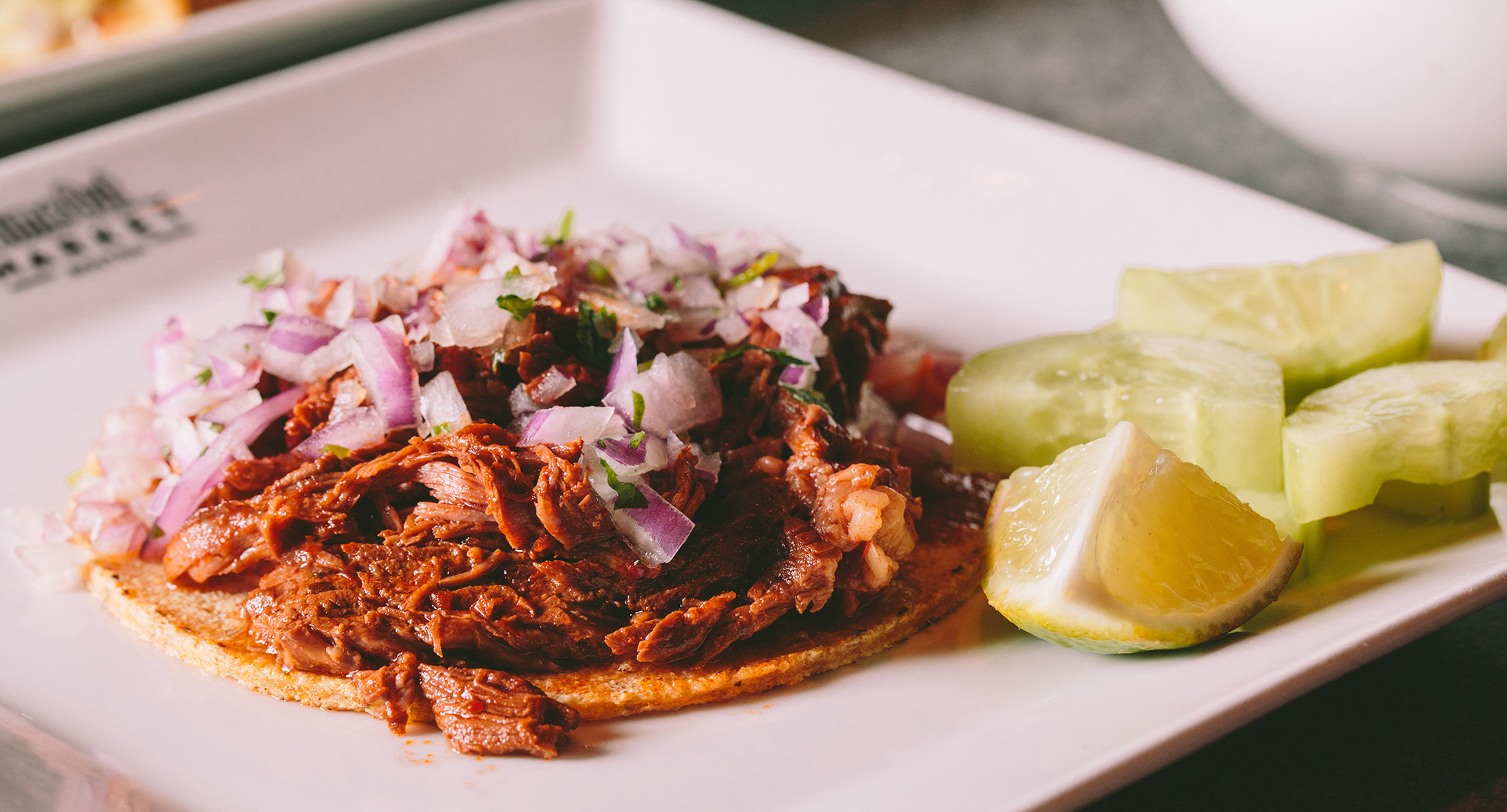 When you're visiting Time Out Market in the Fenway, there are so many excellent restaurants to stop by, but readers favor Taqueria El Barrio. They specialize in authentic Northern Mexican food, specifically from co-owner Servio Garcia's hometown of Sonora. The flour tortillas are homemade, while the corn tortillas come from Mi Tierra. For when you'd like a taco, where do we begin? The fish tacos are filled with fried mahi mahi, pico de gallo, chipotle mayo, and cabbage. The vegan chorizo, meanwhile, will please non-meat eaters with toppings of salsa taqueria and guacamole. Reader Melvin T. from Framingham said, "I love fish tacos, [the] birria quesadilla, and carne asada nachos. Also, the service is really good!" Taqueria El Barrio took away 3% of the vote.
Time Out Market, Landmark Center, 401 Park Dr., Boston
With nine different locations in the Greater Boston area, Chilacates appears to have something of an empire within the city's taco scene, earning 21% of the vote. A fresh taco is made from a handmade corn tortilla and is served with a choice of grilled chicken, pork en chile verde, papas con chorizo, lengua, veggies, and more. Try the reader-recommended carnitas tacos or the al pastor, thinly sliced roasted pork marinated in annatto and pineapple.
If you pick the chicken tinga taco, it will arrive with shredded chicken and onions, simmered in a spicy chipotle sauce. Founder Socrates Abreu told us about what inspires the tacos, which are made with time and care.
"It all originated on my first trip to Mexico. I was used to eating Anna's Taqueria and stuff like that. Then I went to Mexico for my brother's wedding, and I realized that I [had been] eating very Americanized Mexican food," Abreu said. "I was like, 'My god, these flavors are so awesome. Why can't we do that in Boston?'" Store-bought tortillas taste different from ones made from scratch, created without preservatives, he added.
Multiple locations
Readers have spoken: Yellow Door Taqueria has some of the most satisfying tacos in the area. With their newest location in Mission Hill that opened last fall, the restaurants feature an antique-style design in a "beautifully distressed" environment. And the taco menu is worth celebrating too. You'll find items like the chili duck, covered in vanilla plantain purée, pickled red onions, crema, and plantain strings. The fish frito is another popular option, which comes with chile-infused and tecate-battered fried local fish and a calabaza purée. Co-owner Colleen Hagerty shared how their best seller, the birria taco, is made.
"It is slow cooked, shredded beef; then it's marinated in this unbelievably savory Mexican broth," Hagerty said. "We'll take a mix of chihuahua and cheddar cheese, put that right on the flat top so it's nice and gooey and stretchy. Then the birria meat is placed on top of that. We add some white onions, and that's grilled on our house-made tortillas. The tomato broth is drizzled on top of the taco as it cooks. Then we crisp it up, and we serve it with a side of that tomato broth."
Lizzy L. from Dorchester let us know what she loves most about Yellow Door, saying, "Birria tacos are unbelievably cheesy in the best way, and the sauce to dip them in is perfect! Their elote is unmatched. Queso is flavorful and addicting. Tequila selection is [top] notch, and the margaritas are the best around. Not to mention great service every time."
If you're looking for something to drink while you enjoy your round of tacos, think about sipping on the Waking Up in Tijuana, Yellow Door's take on the espresso martini. You can't go wrong with the many flavors of margaritas either, from the passionfruit, to the raspberry and mint, the coconut, and the watermelon and basil.
Multiple locations
Honorable Mentions 🏅
Villa Mexico Cafe: In the Financial District, this beloved spot, run by Julie King, is something of a gem. Tacos are served in corn tortillas and are filled with meat, then topped with cheese, cilantro, and onion, with a side of salsa. 121 Water St., Boston
Readers say: "Their black salsa is ICONIC." –Samantha, Boston
El Pelón Taqueria: Visit El Pelón in the Fenway or in Brighton, and settle down with a grilled chicken taco, served with cucumbers, pickled cabbage, fire roasted salsa, and more. Their lemonade and Jarritos sodas complement a meal perfectly. Multiple locations
Readers say: "Pescado and caramelos tacos are out of this world!" –Rob, Needham
Achilito's Taqueria: This Mexican chain offers a wide variety of taco options: try the spicy steak, the grilled cod, the fried shrimp, or the Impossible, for vegetarians. They also offer a menu of build your own burritos and bowls. Multiple locations
Readers say: "Achilito's Taqueria [has] the best burrito and tacos, the staff are very friendly, [and they have the] best customer service." –Omar M., Hyde Park
Here's the complete list of reader recommended taco spots:
Sign up for The Dish
Stay up to date on the latest food news from Boston.com.