Readers Say
We asked for the places that serve the best cookies in Boston. Here are your favorites.
"If you want the perfect chocolate chip cookie, this is your spot."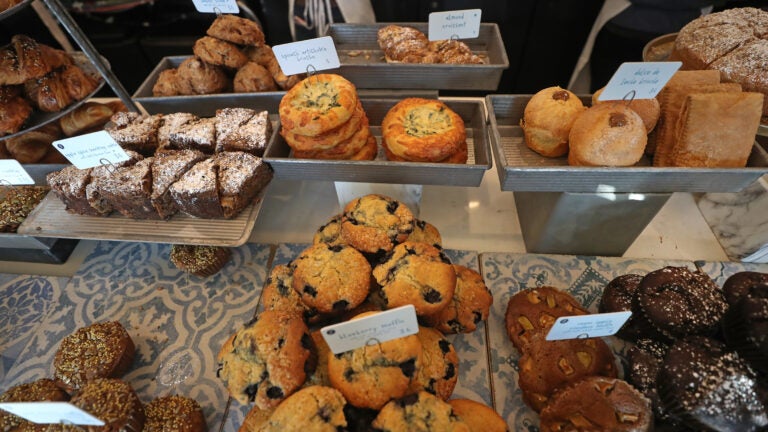 Is there a better sweet treat than a warm cookie? It's simple, but with a variety of flavors and textures, the right one will always hit the spot.
We asked Boston.com readers to tell us where they go when they want a cookie that won't disappoint and we heard from 350 readers who shared dozens of local cookie shops that satisfy their cookie cravings.
When readers want to treat themselves to a cookie, they're most likely to reach for chocolate chip, according to our poll. Also popular among readers are oatmeal raisin and peanut butter cookies.
What's your favorite cookie?
Thankfully for the cookie lovers among us, there's no shortage of places to satisfy your sweet tooth in Boston. Whether you love a well-done classic like chocolate chip or you like to experiment with flavors, Boston.com readers have a long list of options for you.
Below you'll find a countdown of readers' top five cookie shops and bakeries in Greater Boston, what to order when you go, and a map of the local reader-recommended restaurants.
Hometown favorite Flour Bakery & Cafe was one of readers' favorite places to get great cookies. Cookies aren't the only thing on the menu at the bakery, but Jennifer C. from Back Bay said they were one of the best things they offer. She called the cookies "just a mouthful of deliciousness."
What to order:
"Chunky Lola is just a unique combination of flavors. Oatmeal, pecan, and chocolate. Not too sweet, great consistency. The peanut butter is also amazing! The sea salt on top makes it." — Tina S., Back Bay
"Flour TCHO chocolate chip cookie — not actually chips, but chocolate discs layered on top of each other. I'm a chocolate snob and these are the best cookies ever." — Anonymous, Back Bay
"Flour's chocolate chip cookies with TCHO chocolate send me straight to heaven. No other cookie can compare." — Ashley, Medfield
The great cookies are not only found in several bakeries around the state, but also on the streets of Boston with its food trucks. The cookies come in a variety of flavors and readers said they love that you can take the deliciousness a step further by getting them as ice cream sandwiches.
What to order:
"Oatmeal Raisin — chewy, cinnamony, delicious." — Tim G., Bedford
"Green Monstah. Best cookie ice cream sandwiches around!" — B. Wood, Westford
"I suggest the peanut butter cookies as they are a hidden gem. The cookies are always fresh and delicious." — Dan S., Needham
If anyone knows chocolate, it's L.A. Burdick, and according to readers, that deep knowledge of chocolate comes through in their signature chocolate cookies. When you go, indulge a little by pairing yours with one of their decadent hot chocolate drinks.
What to order:
"Dark chocolate mocha espresso with a chocolate chip walnut cookie." — Christina V., Cambridge
"Chocolate chip cookie! There is no better place in Boston." — Andrew, Tewksbury
"I love both the Burdick chocolate chip cookie and the raspberry chocolate chip version. The cookies are big chunky homemade cookies filled with chunks of decadent chocolate." — Karen, Watertown
This Dorchester bakery prides itself on having "cookies as fresh as the city they come from." The most recommended cookie by readers was the black and gold, a chocolate and peanut butter cookie inspired by the Bruins. If you're looking for unique flavors, Lauren from Dorchester was one of several people who recommend visiting the shop on Thursdays when the owners test out their new flavors.
"All of their cookies are amazing, but in particular anything with their brown sugar base, especially the Dirty Water, an occasional offering," she said.
What to order:
"The 617 Samplah is a delicious assortment of cookies using locally sourced products like Sam Adams beer. I send it to former Boston area residents during the holidays. These cookies are buttery and so many unique and very tasty varieties." — Jain R.H., Quincy
"If you want the perfect chocolate chip cookie, this is your spot, and while you are there you can pick up the most creative, locally sourced seasonals as well — red velvet, carrot cake, Boston Marathon themed — all so good and fresh and served by the loveliest people who are always willing to help out the community with a fundraiser or sponsorship." — Stefanie O., Dorchester
"My favorite is the peanut butter toffee cookie no doubt, the perfect sweet flavor and chewiness." — John, Woburn
"Top Shelf's black and golds are out of this world. A little crumbly, a little fudgy, and peanut butter for the win. As a fan of cookies and the Bruins, they are perfect. We made them our wedding favors!" — Vickie C., Medford
1. Cookie Time Bakery (​​1375 Massachusetts Ave., Arlington)
In the number one spot is Cookie Time Bakery, a bakery that boasts more than 40 different types of handmade cookies. Including classics like chocolate chip and fancier treats like macarons. Readers praised the bakery for putting the proper care — and the right amounts of butter — into every cookie option.
What to order:
"Any of their shortbreads. Cookie Time is all about the butter. Decadently rich but not too sweet." — John C., Arlington
"Peanut butter buddies and raspberry linzers are my favorite. All of their cookies are baked fresh and they use quality ingredients. You cannot go wrong with any cookie from Cookie Time!" — Maura, Arlington
"Shortbread cut-out cookies dipped in dark chocolate or florentines. Shortbread tastes buttery. Florentines are rich and crisp-chewy with quality chocolate covering. Also recommend their salted caramel chocolate macaroons." — Jean W., Cambridge
"S'mores cookies, chocolate-filled macaroon, old school peanut butter, raspberry Linzer, chocolate vanilla sandwich, tuxedos, and rum balls. I love these cookies because they are SO RICH and DELICIOUS. They are expensive but worth the splurge!" — Tammy, Winchester
Check out the more than 80 cookie locations recommended by readers using the map below.