Readers Say
Here are the best local shops outside of Boston
Send us your recommendations for local businesses in Boston and beyond.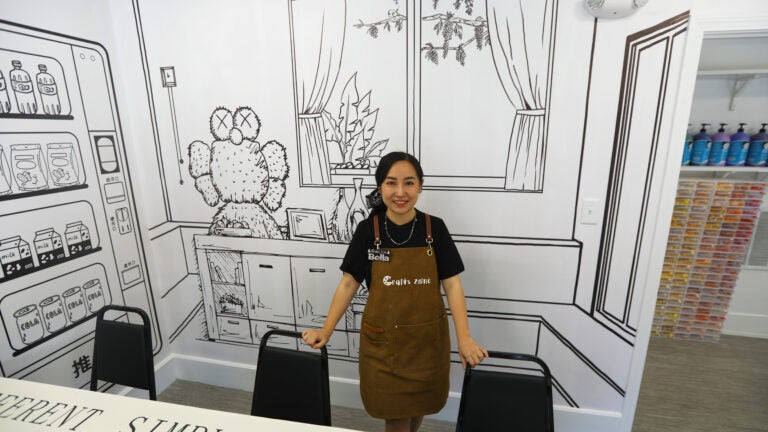 Greater Boston has a lot to offer when it comes to small businesses, and this holiday season, we want to help you support the shops that keep communities going.
For two years in a row, we've put together a guide of more than 50 local businesses that readers love. To create our 2023 guide, we once again asked our readers to share the small businesses that they couldn't do without.
This year, our list features more than 100 businesses, including a printing press, bookstores, crafting studios, bars, fitness centers, and more.
New additions to this guide include a family-owned and operated dairy farm, two plant nurseries, a vintage store, and more.
This list, and an interactive map, include the businesses and entrepreneurs in Greater Boston and beyond that our readers recommend for this holiday shopping season. If you want suggestions for shopping within Boston proper, readers have you covered there, too.
Don't see a business on this list that you know readers would love? Share your recommendations with Boston.com in the survey at the end of this article.
Metro Boston | West of Boston | North of Boston | South of Boston | Cape Cod and Islands
A ⭐ means that this small business was also recommended by readers in 2021 and 2022.
Metro Boston
Albertine Press (1309 Cambridge St., Cambridge)
Make your gift-giving easy by shopping at Albertine Press, a woman-owned shop where you can find home goods, specialty gifts, and printed cards made at their in-house studio to go with them.
"Amazing gift shop and printing press. So many wonderfully curated pieces from all over. Easy to find a card or gift for anyone," wrote Matt A. in Melrose.
With locations in Brookline and Dedham, this shop has everything you could think to find in a general store. Among its offerings are handcrafted goods made from sustainably sourced woods, leather, as well as organic cleaning products, and beautiful wools and cotton. You'll also find teas, grooming products, and "impossible-to-find kitchen items."
"This small business has great things for sale, from stationery to puzzles. It also sells products for your home that are good for you and the environment. The items they sell are handcrafted. The store's atmosphere is lovely, and you feel like you have returned in time," said Kerry H. from Dedham.
Brookline Booksmith is a beloved independent bookstore located in the heart of Coolidge Corner. Not only will you find a wide selection of new and used books, but a 2022 expansion has allowed the store to broaden its offerings to include curated gifts. Stop by to browse or take advantage of its full calendar of author discussions, poetry readings, and more.
Cadeau is the place to find gifts for those with an eye for fine art. The store was run by Sara Petras, former manager and co-buyer for Portobello Road in Chestnut Hill. At this boutique, you'll find carefully curated jewelry, clothing, accessories, gifts, and pieces for your home.
"You can find something for everyone on your list—especially yourself. All items are sustainably made by artists so you can feel good about buying," Susan L. in Andover wrote. "A lot of wonderful clothing, shoes, purses, etc. that you won't find anywhere else. The jewelry is amazing!"
Cafe Barada (2269 Massachusetts Ave., Cambridge)
This Cambridge-based Lebanese restaurant brings Beirut to Boston with a delicious standing menu and daily specials. Try out dishes like the lamb shish kebab, mujadara (spicy lentils and rice with crispy onions), or homemade tabbouleh.
This flower shop has been family-owned for four generations. Brighten your day with their beautiful floral arrangements or have them deliver bouquets directly to your house or special event. Located in the heart of Central Square, this business is a bright spot for the Cambridge community.
Cleenland (89A Norfolk St., Cambridge)
Shop for your home and feel good about it at this store for "low-waste, refillable personal and home care supplies." You can bring your own refill containers or use the shop's to stock up on skincare and cleaning supplies. Plus, if you buy razor blades and toothbrushes at the store, they'll take them back for recycling.
"It's fun to fill up containers and feel good about not being wasteful! They are committed to a diverse range of products (i.e., for different skin sensitivities and hair types) as well as stuff to clean your house," said Rachel from Jamaica Plain.
This shop not only offers an extensive coffee menu, but offers breakfast, lunch, and brunch, too. They also offer their roasted coffee beans to local bakeries, restaurants, convenient stores and cafes in the region. Barbara from Greater Boston said the cafe is a "cozy little place on a very noisy Revere Beach Parkway."
"The best selection of coffee and breakfast, lunch delights in the area," she added.
Craftwork Somerville supports the work of local artists and artisans by bringing their handiwork to a loyal customer base. The studio space is part store, part event space, and is curated to showcase some of the best local talent. A reader from Somerville said she loves the shop for the "amazing local handmade goods, art, and wellness items." She also praised their "super kind and friendly owners and conveniently located on Highland Avenue near other great maker spaces."
Looking for a fun new activity to get you out of the house? More than two dozen readers recommended this local business for parties, dates, solo relaxation, and family fun. At Crafts Zone Studio, you can book time to work on DIY crafts, including glass painting, jewelry making, zero gravity tufting, and more.
"This place is super great for spending time with friends, family, or your loved ones. Perfect place to chill and relax. The studio offers so many projects that you can work on and they are all beginner-friendly for all ages. Highly recommend if you just want to have a great time indoors," said Issa from Boston.
Dragon Pizza (233 Elm St., Somerville)
Grab a slice at Dragon Pizza, a late-night eatery with delicious pizza, sandwiches, and drinks and dessert on the menu. After 7:30 p.m., the restaurant is only open to ages 21 and up. If you're as big a fan of the food as our readers, you can snag some Dragon Pizza merch.
At this interior design firm's brick-and-mortar retail shop, you'll find tasteful home goods, coffee, an art gallery, and a flower shop. You can also shop the inventory online.
Gus R. from Brookline called it a "treasure trove of home goods, art, flowers, books, and coffee."
Gather Here (1343 Cambridge St., Cambridge) ⭐
Gather Here is a space for all fiber crafters, both professional and aspiring, to work on their crafts. The store offers fabric, yarn, and sewing equipment as well as educational classes and workspaces for crafters. In the early days of the pandemic, Gather Here worked with members of the community to make and distribute masks for people who needed them and readers say the continue to be an integral part of Cambridge.
"This is an amazingly warm and inclusive crafting store with both materials and classes for knitters [and] sewers. The owners are an active, caring, and important part of the local community," said a reader. "They have a wonderful staff and a welcoming space to all."
Leavitt & Peirce (1316 Massachusetts Ave., Cambridge)
​​Leavitt & Peirce has been open in Harvard Square since 1883. At the tobacconist, you'll find tobacco, smoking accessories, incense, and a curation of personal grooming products and gifts. The charm of the store is in its embrace of tradition, from the old-fashioned straight razors and shave brushes to classic board games. Stop by Harvard Square for a glimpse at a forgotten era.
Maca (1 Bow Market Way, Somerville)
This Greater Boston macaronerie is home to flavorful and imaginative treats. The menu is continuously updated and features flavors like creme brûlée, lavender honey, red velvet, cookies n creme, mocha, and more. The store reopened its doors in 2022 after the pandemic forced a two-year closure and was met with a warm welcome from its devoted clientele.
"Tamy, [the owner], puts so much time and love into making new and creative flavors. The effort she puts in to make special themed macarons for holidays always brings a smile.
Pod (35 Sacramento St., Cambridge)
If you are looking to decorate your home for the holiday season, take a look at what Pod has to offer. This lifestyle shop offers unique pieces for your home, including kitchenware, candles, cookbooks, and more.
"Lovely product displayed in a creative environment. They really know their clientele and also give back to the community," a reader said.
Retrospect (864 Massachusetts Ave., Cambridge)
If you like buying vintage, why stop at fashion? At this store, you'll find upcycled furniture as well as clothing. They also accept donations so you can shop local and give your gently used items a second home in one go.
This neighborhood bar and restaurant has everything you need to enjoy a game — good food, good drinks, and great company. One reader described the restaurant as a "community center for Cambridgeport, mixing long-time locals with transient students and professionals nicely."
"This place serves great food, is run by two brothers for decades and has a bar space that plays sports," they said. "The food is prepared by people who really care about food prep and quality. Beyond pizza, top quality meats and fish."
Did you know the Boston area was once a hub for chocolate and candy manufacturing? At Spindler Confections & Savory Delights, you can learn about that history at a mini-museum with "300 items celebrating the candy-making history of the Boston area." And you won't have to leave without something sweet. The candy store specializes in chocolate and candies, handmade in-house and imported from international and domestic makers.
Kaitlin from Boston said this "unique shop" is "great for gifts, handmade chocolates, and candies."
Pilates is the fitness craze of the moment, but readers who love Upward Spiral say this Cambridge studio makes the practice feel like more than just a fad. The studio offers one-on-one sessions, as well as group and online classes.
"It's a wonderful, dedicated, super knowledgeable team of pilates instructors who truly care about safe practices and your health and strength goals. Customers of all ages and abilities are welcome and you can tell many have been customers for great lengths of time," Laurie from Cambridge shared. "It's not a churn and burn gym that's just following the latest trends. It's clean and bright and I always feel great when I leave, and even better the next day."
At this shop, you'll find unique home accessories, dining, and entertaining items, and fashion items made by local artisans. You'll be able to pick up gifts for the holidays here, such as Christmas ornaments, holiday candles, and handmade mittens, hats, and scarves. One reader called it an "easy, reliable, and enjoyable shopping experience."
"My success rate there is 100%. If I need to find a special gift for a birthday, wedding, or housewarming party, Wild Goose Chase is my first and last stop — no need to go elsewhere on a wild good chase," said Joanna from Brookline.
West of Boston
If you're looking to spruce up your home with something unique, visit All That Matters, where you'll find antique furniture and home decor. Mary M. from Wayland said she's a frequent shopper and has found great items there, including "stained glass windows from an old triple-decker, an Eastlake chest of drawers, a kitchen table made by a Vermont craftsperson, a vintage picnic basket," and more.
"I can walk through the store three times and still miss treasures! Antique furniture, home decor, gifts, vintage items, unique holiday decorations," she said. "And best of all, advice from the owner, Ursula, on how to rearrange a room that's not quite right, just by looking at a photo. Ursula's motto is she likes to get items back into circulation (vs. sitting in someone's attic), so prices are fantastic."
Beacon Chiropractic & Performance will "cut through the confusion" to help you develop health care and exercise plans that fit your unique needs. The practice specializes in "chiropractic care and exercise tailored to you to get you back to your sport."
"Beacon Chiropractic & Performance is revolutionizing performance-based care for the active adult. Not only is the owner, Dr. Nick Calandra a phenomenal clinician, he is also an incredible business owner. He is the only employee and pours his heart and soul into making his office the most welcoming and positive environment for his patients. He is selfless and caring beyond measure which is evident in his business," one reader told Boston.com.
This family-owned florist shop has been serving the Greater Boston community since the 1980s. Readers say their selections are beautiful, and the customer service is always great.
"Great flowers, but more importantly lovely, unique gifts and a terrific selection of greeting cards," said Marilyn D. from Bedford.
Brighten up your day with a flower arrangement from Blush Bouquets. Let a specialist design a centerpiece, sympathy basket, or signature arrangement for you or a loved one. If you can't come in-person, they also offer home delivery to Ashland, Framingham, Holliston, Hopkinton, Marlborough, Medway, Milford, Natick, Sherborn, Southborough, Sudbury, Upton, Wayland, and Westborough.
"It's a great place to get high-end flower arrangements and crafts, which are perfect gifts. The store is very well designed and the services is fantastic!" Cheryl E., Ashland told us.
Brass Buff offers a wide variety of brass items including decorative pieces, figurines, lighting, typewriters, house hardware, and more.
"Great inventory. Wildly creative. Trusts customers. Knowledgeable about goods. Expert refurbishing and polishing of all metal items," said E.R. from Dover.
Central Cafe (98 Central St., Holliston)
Central Café is "where the local family shops." At this convenience store, you'll find your grocery needs, a coffee shop, drinks, and an ice cream parlor all in one.
"In an almost Norman Rockwell-like throwback to New England days of innocence, the Central Cafe in Holliston provides a communal breakfast experience complete with local police officers, volunteer firefighters, businesses representatives, realtors, and those just looking for a quick morning caffeine fix," said Tommy Z. from Holliston. "It's not the food and drink that brings most patrons to the Central Cafe. It's the sense of community fostered within the cafe. The Central Cafe in Holliston is more than a dining experience. It's a family experience."
For decades, Centre Music House has brought the community together through a love of music and the arts. They offer private lessons in a variety of instruments, host open mic nights, and regular student showcases.
"This beloved local music school and retailer is celebrating 50 years of business. They are very involved in the community and support local musicians of all ages. Centre Music is an advocate for music education in all its forms," said Barbara L. from Framingham. "It is a special place that is always welcoming!"
Crafty Yankee (1838 Massachusetts Ave., Lexington)
With the holiday season approaching us, many people are scrambling to find gifts, and there's no better place to look for them then at Crafty Yankee. This specialty store in Lexington offers distinctive artisan jewelry, fashionable accessories, and special occasion gifts. It has been a local favorite since 1980.
"Crafty Yankee is the perfect pick-me-up store. When I want to treat a loved one in my life, including myself, I always go here to find the perfect quality, handmade, local gift," said Hannah W. from Lexington.
This beloved townie bar in Norfolk is a favorite among not only Norfolk residents but people all across the state. Founded in 1981, this bar brings the look of the Wild West to the South Shore. They serve American fare and have an extensive drinks menu.
"Chuck Horne, the owner, not only dedicates his time to the community but also to every employee. He gives a large Christmas gift every year to us," the employee said. "Eaglebrook has been a place where generations of people have worked, dined, and shared their life events with each other. Now they get to see their kids working at and enjoying a local restaurant as well."
Five Crows (41 Main St., Natick)
Find your next gift and support local artists at Five Crows, a gift shop that sells work from more than 120 local and regional artists. Among their offerings are fine art pieces, pottery, fiber work, jewelry, and photography. In 2022, the shop celebrated its 20th anniversary and is still serving the Greater Boston community.
"Five Crows is a great place to find unique and artistic gifts," said Diana from Natick. "They sell work from local artists including jewelry, home goods, art pieces, and much more. Check them out in downtown Natick."
At this local deli, you'll find great sandwiches and Italian specialties. A reader in Milford said it's worth a visit for "great in-house-made food, including Italian sausage, cookies, pits, and a variety of takeout meals."
This gift store has been open in Waltham for more than 20 years with a "unique blend of hand crafted and fair trade items." Dary from Waltham said "there's always new things coming in" at the store.
"Best unique gift shop I've been to. The owner is great and is always there tending to everything. She's so passionate about her shop. She handpicks every item she sells and only sells items she's fallen in love with herself. All items seem unique and not mass produced. It's my go-to place for handmade unique wonderful gifts," she said.
At this gallery and gift shop, you'll find handmade crafts and gifts made by more than 200 different artists, many of them local to New England. Mona H. from Acton said, "There's everything from local candy and a great card selection to pottery, glass, and oil paintings. It's a plus that there's a nice range of prices."
"It's a lovely, spacious gallery and so welcoming. You can comfortably spend some time shopping or just gazing, and the staff is very happy to help or just let me wander. They feature American artists, and I understand they try to stay as local as possible. I have noticed that many of the artists are local women as well, and that's a nice plus for me," she said. "I really love this gallery."
What started as a greeting card store has now expanded to a gift shop with all your gifting needs. Stop by the store to find the right pick-me-up for someone in your life and get it gift-wrapped before you go.
Beth B. from Auburndale shared that she loved Just Next Door for the "very friendly and knowledgeable staff there greeting us with open arms."
It was a sad day in Newton when KOKO Bakery announced it would close its doors in 2021. But Little L Bakery, which opened in its place in 2022, has "has more than lived up to the legacy of their beloved predecessors," according to reader Keith M. from Malden.
"The array of breads and pastries and cookies is always intriguing and delicious, and features delights both sweet and savory. There's no better place in the area to find Japanese specialties like Shokupan or Melon Pan. Staff is always friendly and the prices are fair," he said. "It would be a bleaker (and much blander) neighborhood without this place."
Mastodon Moving (191 Flanders Rd., Westborough)
Next time you're planning for a move in the Boston area, readers say you should book Mastodon Moving for a less stressful experience. They offer full service, storage, and even a special program for senior looking to downsize or move into an assisted living facility.
Take it from Newton resident Sarah M., who's moved around Boston more than 10 times: "I've had the best experience with Mastodon. The staff was attentive and communicative and went above and beyond any other mover company we've had."
Established in 1919, Michelson's Shoes is a "sit 'n fit" family shoe store with locations in Lexington and Needham. Instead of turning to online shopping, come by in person to accurately measure your feet, and get recommendations for the perfect pair. There are no shortage of brands for all sizes and ages.
Nesting (44 Main St., Concord)
Having been in the heart of Concord for more than a decade, Nesting is a gift shop that provides home decor, food, candles, perfumes, and handcrafted items — all selected by owner Wendi ​​Snider and her team. Whether you are shopping for your loved ones or for your foodie friends, you can find curated gift sets sure to be a crowd-pleaser.
"It's a gift shop, but not like any other," Beverly M. from Concord wrote. "It has books, some clothing, wonderful toiletries, fine teas, socks, mittens. Whenever I need a gift, it's the first place I go to."
Made from scratch gourmet soups are the star of the menu at New England Soup Factory. You'll also find comforting rotisserie chicken meals, sandwiches, salads, and desserts. Kathy A. from Watertown was there when their original location opened in Brookline Village in 1995 and is still a big fan.
"The Newton store continues to offer more than a dozen delectable homemade soups each day. Owners Marjorie and Paul are grads of Johnson & Wales, and their soups are unique and spectacular. Plus, [you'll find] Modern Rotisserie in an adjacent space, offering wonderful roast chicken and veggies, à la the original Boston Chicken."
This skincare boutique stands out for its customized care and personalized recommendations. With its exclusive focus on skincare, clients know they're getting a specialized service. Try the balanced bliss facial "perfect for refreshing and rejuvenating the skin."
Prana Plants (301 Elliot St., Newton)
Located in Newton Upper Falls, this plant nursery is known for its selection of houseplants and DIY workshops on everything from plant hangers to succulent terrariums. The store also offers handmade plant supplies and ceramics.
"Unique plants, handmade goods, and an owner who is one of the friendliest, kindest, and most helpful people around," said Lo from Newton. "She is very community-minded and it shows."
Seed To Stem (138 Green St. #3, Worcester)
This lifestyle and plant boutique carries a wide selection of offerings with ties to the natural world. At the shop, you will discover plants, candles, incense, and home decor. The owners believe in surrounding yourself with "plants, natural elements, finely crafted goods, and objects of beauty to enhance your daily being." If you're looking to purchase a gift, you can find crystals, jewelry, ornaments, and oddities.
"You never know what you're going to find in there! The owners are both so sweet and knowledgeable," a reader said. "You can tell they love what they do, and they have been open for over a decade."
Visit this local dairy farm to sample the farmstead cheese and browse their country gift shop. While you're there, you can also catch a glimpse of the cheese-making process and meet the cows.
"Smith's is a family-run farm that makes amazing cheese and has a cute farm shop with lots of local beer and goods. It's such a fun place to visit and they have the best cheese around," said Mark from Boston.
Pizza's in the name, but this Italian eatery does more than just your typical pie. Whether you're in the mood for a baked pasta dish, panini, or stromboli, readers say you'll find something to love at Stone Hearth Pizza. Best sellers include the sausage, pepper, and onion pizza, as well as the Perfect "Pearing," made with Bosc pear, prosciutto, and more. One reader from Belmont said they can always rely on finding their favorite dishes here.
The Artful Heart Gallery describes itself as a "small store with a big heart." This gift shop aims to support local artists by giving them a space to sell their work. You can find pottery, glasswork, art prints, candles, textiles, jewelry, and more.
"Amazing gifts and owner," said Jen from Arlington. "We love Artful Heart!"
Readers say there's always something new to browse at Tin Rabbit in Needham. The collection includes towels, wall art, greeting cards, baby needs and more.
"So many different gifts! I love going in to see what is new and what the owner has created. She also has classes to share her knowledge," said Sandra P. from Needham. "It is such a fun store."
Verrill Farm (11 Wheeler Rd., Concord)
Verrill Farm's goal is to "nourish the body and soul of our customers by providing healthful food of superb flavor in surroundings of beauty." At the farm, you'll find some of the freshest produce in Greater Boston, a deli, and a greenhouse. Stop by in early December for Santa visits and a winter wonderland festival hosted in partnership with True West Brewery and year round for cooking classes and other group events.
Watches Etc. (548 Washington St., Wellesley)
Watches Etc. is a family-owned and operated repair shop and sales retailer of watches. They are an authorized repair center for Cartier, Baume & Mercier, Montblanc, and many other Swiss brands.
"I had my gold manual wind Baume & Mercier Vintage timepiece repaired there and I couldn't have been happier with the service and professionalism My watch came out looking like new! Since then, I have purchased watches for myself and my family," Tami R. from Brighton told Boston.com.
North of Boston
Barber's Den was started in Melrose by local founder Evan Georgopoulos when he was just 22 years old. The business now has locations in Melrose, Belmont, and Somerville and each offers clients a personalized experience so you can feel great about your next haircut.
"Barber's Den shops are an experience far from the typical large franchised chain of barbershops," Shari B. said. "Bonds are created with personalized service and the awesome staff and laid-back atmosphere keeps clients coming back."
The owners of this gift shop pride themselves on regularly updating the store's staging and inventory to reflect the seasons. Despite the changes, readers say the constant is the quality of the items they carry. At the store, you'll find ornaments, jewelry, hair clips, clothing, accessories, and home goods.
"They have so many different items! Everything is staged perfectly and it's such a pleasure to find unique items and gifts," said Kitty from Gloucester. "They also have a terrific assortment of cards for every occasion. Whenever I'm in Gloucester, I always make a visit to this store."
The owners of Deacon Giles Distillery tapped into Salem's deep-rooted history as their inspiration for this distillery that readers call "fun and entertaining." This is the first distillery in the town in more than a century and they offer up tours, tastings, and more.
"The spirits that are created here are awesome! It's fun to stop in and have a drink…very creative drinks. You could also take a tour of the distillery and buy bottles for people on your Christmas list. They also have great T-shirts, sweatshirts, and hats for purchase," Janis G. from Salem said. "Something fun and different!"
Husband and wife John and Janet D'Orsi started baking gingerbread houses out of their home in Stoneham in 1981. Word spread quickly, and by 1987, the couple's treats were so popular that they opened a shop in Winchester. Later, they opened a Wakefield location where they do most of their baking to this day. You can buy their gourmet cookies, brownies, muffins, and of course, gingerbread.
With locations in Burlington and Wakefield, HD Physical Therapy combines traditional outpatient physical therapy with the most modern and innovative tools and techniques. The company says they were established based on a total wellness philosophy, individually addressing each patient's goals and objectives, and enabling patients to heal quickly, safely, and with more success.
"The best physical therapy group on the North Shore. The team runs quite a place. You'll never find a better health practice with better music," said one reader from the Greater Danvers area. "If I were young and starting out in the physical therapy field, this would be a great place to work, just to see how it's done right. Not to mention a fun working environment."
This microbrewery in Andover is the perfect way to celebrate the fall and winter seasons in New England. Serving time-honored classics and New England inspired seasonals, Oak + Iron has become a local favorite on the North Shore.
"The beer is fresh, great tasting, and has many different styles so [you're] sure to find several that you will love. You can purchase four packs to bring home your favorites! From the owners to the employees, everyone is happy to see you, make sure you have a great time, and want to catch up with you to see how you are doing," Frank from Andover said. "Just a great experience each time friends and I have visited."
Ravenstone (58 Exchange St., Lynn) ⭐
Ravenstone carries handcrafted jewelry made by the shop's owner, a large selection of crystals, unique home decor, beauty products, books, and more. Tarryn from Lynn said the store has "everything you need to make your life a little more magical."
"This is the go-to spot to shop for gifts, but I always end up leaving with something for myself too," she said.
RKPT WKNDR (55 Bearskin Neck, Rockport)
At this women's clothing boutique you'll find meet all your fashion needs, from outerwear that will help you stay chic and warm through New England winters and to bottoms, dresses, accessories, handbags, and more.
"Very welcoming atmosphere with amazing hand picked clothes. The owner always thinks of her customer's needs," said Sara S. from Gloucester.
The people of Peabody love Treadwell's Ice Cream. In fact, they love it so much that the store has managed to stay in business since 1946. Treadwell's creamy ice cream, large potions and competitive pricing have helped the shop become a staple all over the North Shore. This summer, the shop was also named by readers in Boston.com's guide to ice cream in the region.
"They give so much back to the community! And on top of that the ice cream is great," said Paul S. from Peabody.
South of Boston
If you want a new book for your kids to read this holiday season, then Blue Bunny is the place for you. Co-founded by children's author-illustrator Peter H. Reynolds ("The Dot," "The North Star") five years ago, this bookshop contains over 1,000 square feet of classic kids' books, young-adult novels, and plenty of different games as well.
"The Blue Bunny has such a thoughtfully curated selection of children's books and toys and is just a joy to browse," one reader said. "They definitely have things other bookstores don't!"
This brewery is focused on delivering the perfect farm brew and does that by working with locally grown and malted grain as well as Massachusetts-grown hops. They share their farm ground with winery Westport Rivers.
"They are so good within the South Coast community, raising awareness for local agriculture through brewing beer!" Jillian M. from Tiverton, R.I. told Boston.com. "And they donate a ton to local nonprofits and do so many cool projects. Such a great place with amazing beer!"
This running store sells shoes and gifts for the runners in your life. The shop is a gathering spot for runners of all levels, from novices to seasoned marathoners. They host regular group runs, informative workshops, and community events. Sara C. from Norwood had nothing but great things to say about the store, calling it "the heartbeat of the vibrant Norwood community."
"What distinguishes it extends beyond the quality running gear it offers; it's the unparalleled sense of camaraderie and connection fostered by its passionate owner, Charlotte Walsh. This small business stands as a testament to the transformative power of a dedicated small business owner who believes in the strength of their local community," she said.
This family-owned and operated farm has been serving its community since 1932. The farm produces small-batch milk that is pasteurized, homogenized, and bottled on-site. Also on the menu is ice cream and fresh produce. Come by the farm to shop in person or have your next order delivered straight to your home.
"Classic dairy bar with amazing ice cream and an ever-growing list of ice cream treats and groceries. A beloved local staple for over 50 years," said Julie W. from Framingham.
This century-old gift shop gets a lot of love from its customers for giving back to the community just as much as it takes. The store is volunteer-led and donates its proceeds to local charities and non-profits. Readers say a trip to this store will check off every item on your holiday shopping list.
"It is THE PLACE to go for baby gifts, wedding and engagement gifts, and all-occasion one-of-a-kind gifts. All these gifts are beautifully wrapped and ready to present," said Susan from Dedham. "But what is the best about the Exchange is that the proceeds go to local philanthropic organizations. What you spend is a 'give back' to the community. A visit to the Dedham Exchange just lifts your spirits!"
Looking for a morning pick-me-up? Try Restoration Coffee, a local café with locations in Whitman, East Bridgewater, and Bridgewater. Their menu features specialty coffee from all over the world as well as breakfast and lunch options. If you like what you order, you can order a bag or two of beans.
Bob L. from Stoughton said he loves this coffee shop because it serves up "strong coffee with fair prices and great customer service."
The Ski House (1241 Wilbur Ave., Somerset)
New Englanders love to ski, and The Ski House is here to cater to that love. The store sells, rents, and repairs winter sports equipment, like skis and snowboards. They also offer discounted vouchers to ski resorts in the region.
"This is a great family-run business… They focus on customer service and getting you fit with the right ski equipment," John R. from Somerset said. "It's also fun to feel the stoke as you enter the store!"
The Toy Box of Hanover is for the young and the young at heart. This family-owned toy store carries uniquely crafted toys that help you go beyond the big brand names. They offer custom gift boxes for holidays and are currently supporting a number of local charities including the Hanover Dove Drive and the Milton Fund.
"The owner and staff are always knowledgeable and provide personal shopper experiences for customers to find the right choice for kids," Liddie S. from Milton. "At a time when electronics have taken over our homes, this toy store focuses on learning through play."
Come to Wheelhouse Diner for the classic American diner experience. There's no shortage of options, but readers say you can't go wrong with something off the breakfast menu, which includes omelets, burritos, sandwiches, and more.
"When I used to live in Quincy, I used to go here for breakfast at least three or four times a month, sometimes more," Ravi V. told Boston.com. "The food was great, especially the breakfasts you get."
Cape Cod and Islands
Botanica (374 Commercial St., Provincetown)
Botanica is both a gift shop and an art gallery. If that's not enough, they also carry a wide selection of goods for the home and garden. Visit this shop for local art and for great customer service.
"Botanica stocks an array of gifts, local art, plants, books, you name it. The owners are super attentive and can describe every item in their store, who makes it, and where it comes from. You can't walk in and not find something to bring back as a gift, a remembrance of your time in Provincetown, or for yourself. It's the best gift shop in Provincetown. I'm in there every week and there's always something new," said Audree from Provincetown. "Ask [the owner] about the book he and his brother wrote about their grandmother who survived the Titanic. Of course, they carry it in the shop!"
The Dance Space (15 Teasdale Circle A, Nantucket)
If group fitness classes are your preferred way to exercise, try a class at The Dance Space in Nantucket. This studio offers dance cardio, yoga and strength training, ballet, and even a mini-trampoline workout.
"[The owner's] exercise classes are terrific. Her Sculpt class and Flex and Flow leave you feeling like you did something for your body," Ginny M. from Nantucket shared. "The studio is clean and you always feel welcome here. A very pleasant atmosphere to work out in. She also offers ballet for children and adults."
Fisherman's Daughter is named after owner Taylor Brown, who grew up on Cape Cod as the daughter of a commercial fisherman. She started the business after designing headbands to keep her hair out of her face while shellfishing. The boutique has since grown to include designs by Brown and over 50 other local artists. Every product in the store, including clothes and accessories, is handmade and eco-friendly.
Inspired by summers on Cape Cod and a lifelong love of baking, owner Taylor Stump started Little Miss Cupcape on Main Street in Hyannis in 2014. Since then, she's opened another location on Newbury Street in Boston. In addition to cupcakes, Little Miss Cupcape offers edible cookie dough, cookies, and other baked goods. Readers say the cupcakes are beautifully decorated and delicious. They're so good, in fact, that they even converted a former cupcake skeptic.
"I thought I didn't have a sweet tooth but man was I wrong! I was dragged in at first, but when I tried the little lemon cupcake, the density and inner filling were better than anything I've ever tasted," Nate W. from Dorchester shared. "Everybody needs to try this place!"
---
Shop local 2023: What's your favorite Boston-area small business?
Need weekend plans?
The best things to do around the city, delivered to your inbox.