Readers Say
Readers are hesitant to get their young kids vaccinated. Here's why.
"Adults should protect themselves and not rely on our children to protect them."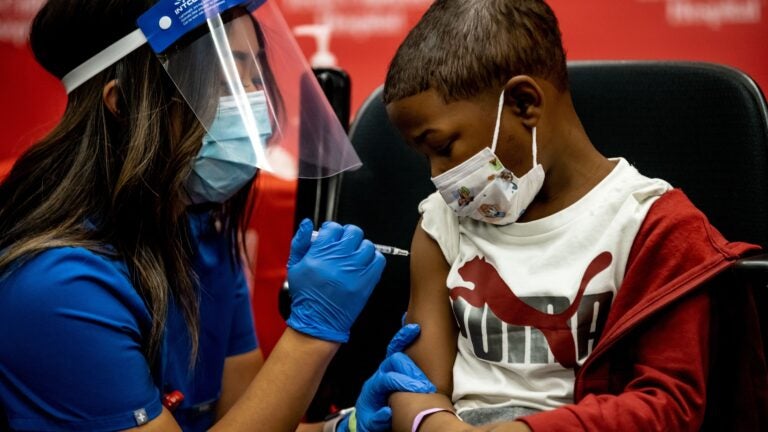 More than a year since the COVID-19 vaccine was first introduced, Americans of all ages, six months and above, are now able to get vaccinated. Last week, the CDC approved the Pfizer and Moderna vaccines for children under five, making the vaccine available to 19 million more children nationwide.
Parents in Massachusetts can make appointments for their little ones starting Tuesday. Children can receive three pediatric doses of the Pfizer vaccine or two pediatric doses of Moderna. This age group will receive one-tenth of the adult dose.
We asked readers if they plan to get their young children vaccinated now that the vaccine is available to them, and most said they won't give their children any doses of the vaccine.
Readers expressed concerns about the long-term effects of the vaccine on young children and said they would take their chances with infection because of the lower rates of hospitalization and death among COVID patients in this age range.
Experts, however, are urging parents and caregivers to get their young children in their lives vaccinated. More than 13.5 million children in the United States have been infected with COVID since the start of the pandemic, according to the American Academy of Pediatrics, and while the virus is less likely to put them in the hospital, the risk of complications still exists. Child COVID patients could face multisystem inflammatory syndrome and other organ damage.
If you have a child(ren) under age 5, do you plan to vaccinate them when the COVID-19 vaccine becomes available?
Dr. Megan Ranney, the emergency room physician and academic dean at the Brown University School of Public Health, said parents should consider the vaccine even if their child has already contracted the virus.
"No parent wants their kid admitted to one of my intensive care units, and these vaccines help prevent that," Ranney said during an appearance on CNN's "The Lead with Jake Tapper," citing the rise in hospitalization seen during the height of the omicron wave. "Once we can get vaccines in the arms of little kids, we'll see that number of hospitalizations for 0 to 4-year-olds drop as well."
Elise from Abington said she'd consult with her youngest child's doctor before going ahead with the vaccine.
"I'm still on the fence about my youngest, but I plan on discussing with her pediatrician when she goes for her 1-year appointment next month. She has horrible vaccine reactions and I don't want to put her at risk for febrile seizures which she's been prone to," she said.
For her four-year-old, however, she's more confident about getting him vaccinated.
"My son is like any four-year-old, a walking Petri dish of germs. He has already had COVID twice and if I can prevent him from getting it again or not as bad I will," she said. "Also, I will feel more secure about him going to preschool and spending time with my elderly parents."
Dr. Estevan Garcia, a pediatrician and chief medical officer for the state's Department of Public Health urged parents in a statement to have these conversations with their children's health care providers.
"We know parents and families have been waiting for this, and we are pleased to have this last age group approved for the COVID-19 vaccine," Garcia said. "The vaccine for this age group has been rigorously tested and we encourage parents to add this vaccine to the list of critical vaccinations their children should receive."
Below you'll find a sampling of responses from readers sharing why they will or won't be getting their children vaccinated and what it means to their family to have the vaccine receive federal approval for children under 5.
Some entries may be edited for length and clarity.
If you have a child(ren) under age 5, do you plan to vaccinate them when the COVID-19 vaccine becomes available?
No.
"My kids have no known co-morbidities. Therefore I wouldn't even entertain the thought of giving them an unnecessary vaccine, just as I don't give them other unnecessary medications. Our loved ones agree. Adults should protect themselves and not rely on our children to protect them." — Amanda, Walpole
"It will only have an impact on my children or loved ones if it becomes a requirement and the effect will be inconvenience only. We will have to find alternatives to those places and things that require it." — Woody, South End
"The vax has not been proven to prevent spread so it does not impact any vulnerable family members." — Wilson H., Weston
"My child is healthy and already had COVID once. He was asymptomatic. The only reason I had him tested at the time was a requirement from his childcare facility. Where getting vaccinated does not stop the spread of COVID, I see no need to vaccinate my child, especially where this type of vaccine is new and we do not understand its long-term impacts." — Anonymous
"My oldest has had COVID and it was less symptomatic than a cold. I have no interest in the COVID vaccine after seeing how little impact it had on my young son." — Bill S., Chelsea
"I am choosing to not have my little ones vaccinated (as of now) because there is not enough data on this vaccine, yet there is significant data to prove that COVID-19 is a mild virus in young children. The death and hospitalization rates of young, healthy children are basically 0. My kids both had COVID in May and barely had any symptoms other than a runny nose. We will consider vaccinating them in the future when there is more data." — Brittany, Andover
"The risk of serious illness to my 4-year-old from COVID is so small, I don't feel it is necessary to vaccinate them with something that has had a very short trial period." — Meghan W., Malden
Yes.
"I'll finally be a little less stressed. We've been borderline shut-ins my son's entire life since he was born during the pandemic. He's never eaten inside a restaurant or gone inside a museum. I have family that still has not met him because I don't want him on a plane. Him getting vaccinated is a step closer to the life I imagined for him." — Melissa, Allston
"This won't affect us too much, but since we haven't gotten COVID yet (knock on wood), we'll feel better going out since our youngest refuses to wear a mask." — Caitlin B., Carlisle
"We look forward to not having to quarantine from daycare just from being a close contact and being able to feel freer and safer to make vacation plans (especially those involving air travel) and visit more places — even ordinary places such as shopping at Wegman's or Costco — with our very young toddler." — Lewina L., Arlington
"We still don't know the impact of long COVID or the effects of COVID on development. Anything to reduce the risk — including immunizations like we do for other childhood diseases — seems to make the most sense to me." — N, Lincoln
"Hell yeah! I have been waiting for this for so long. We can finally live a normal life again without worrying whether my son is going to catch COVID in a non-masking world. We can fly and visit family, he can go to indoor play groups and birthday parties! Woohoo! Life will be so much less stressful." — Gwen M., Roslindale
I'm not sure yet.
"Family will be angry if we don't choose to vaccinate. My spouse is for it, I'm unsure." — LSM, Boston
"We've all already had COVID despite being vaccinated and boosted. I just don't want my immediate desire to protect our children from further/future illness to compromise their long-term health outcomes." — Katie, Hudson
"I will be vaccinating my 4-year-old but am hesitant about moving forward with vaccinating my 2-year-old. Having my 4-year-old vaccinated will give our family more peace of mind, and be open to playdates but with one member still unvaccinated, we will still be cautious." — Laura, Acton
"We are still waiting to vaccinate our oldest. Maybe at the end of the summer before school starts back. Our two youngest will remain unvaccinated for the foreseeable future. We may get them vaccinated before they start school, but that is a big maybe." — Pia M., Boxford
Boston.com occasionally interacts with readers by conducting informal polls and surveys. These results should be read as an unscientific gauge of readers' opinion.