Readers Say
'My mood has been so much better': Why readers are loving the mild winter
Nearly 150 readers shared their thoughts on the recent warm temperatures.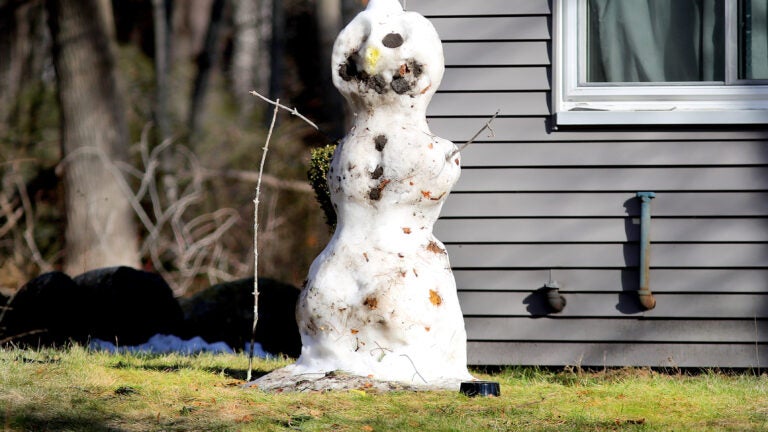 Most readers agree — they are enjoying the warmer weather. In a recent Boston.com poll, we asked readers if they were enjoying the warmer winter or missing the snow. Results from our nearly 150 respondents to show that 54% are OK with the mild temperatures, and don't mind avoiding the snow.
Boston has been experiencing spring-like weather the past several days following an arctic blast that brought extreme wind and cold last weekend. This is a stark contrast from last February when some storms brought almost 10 inches of snow. However, February last year also experienced high temperatures right before a big storm that left people grumbling and shoveling.
The mild winter we are experiencing received more praise from readers than the usual Boston winters with more cold and snow — which 42% of readers said they missed. The divide among respondents was not a huge gap, and many readers had different reasons for their winter weather preference. Some were even conflicted.
Do you miss winter or are you happy with this mild season?
I am enjoying the mild season we are having.
I miss winter.
Other
Ahead, read a sampling of reader responses.
I am enjoying the mild season we are having.
"This winter, save for the few snowstorms and the couple brutal cold days, has reminded me of winters where I grew up in Northern California. I have to say, my mood has been so much better since I'm not worrying about shoveling snow, but I know my husband and kiddo love the snow so I am a little bummed that they aren't getting it."

– Gina B.
"Hate shoveling. Hate plowing. Hate tossing ice melt. Hate warming up the car."

– Patti, Arlington
"When it snows, the snow plow always blocks my driveway. The word for New England is just "Wait a Minute" and the weather will change… I am not unhappy with the weather the way it is."

– Mae E.
"I strongly dislike winter. Mild weather allows for so many more outdoor activities."

– Sean, Brookline
"The older I get the more I appreciate mild winters and less shoveling of snow. Also as I get closer to my retirement years I contemplate moving south for the milder winters, but if NE can migrate toward warmer winters that will influence if I move or not."

– Paul M.
"It is much easier to go out and enjoy ourselves. No shoveling. Great weather! "

Philip W.
"Winter is the worst."

– Michael, Marlboro
"I don't like cold, snowy weather. Period."

– Glenn, Forestdale
"Who on earth enjoys being cold?"

– Drew E.
"I am mobility disabled and snow makes it difficult for me to get out much. Snow is pretty to look at but creates difficulty for people like me in being out in it. We had enough winter and cold to freeze up all the bad stuff in the environment, and if you want to ski, you can always go north."

– A reader from Allston
"I'm saving money normally spent on heating oil."

– August M.
I miss winter.
"Snow at Christmastime, an occasional snow day for the kids in January, sledding down a hill, and snowball fights after building a snow fort — for me, those are the parts of a typical New England winter that mark the season and that create childhood memories we carry with us for many of our days. The current in-between weather — not cold enough for snow, not warm enough for non-winter activities — leaves us in a weird place where we aren't able to enjoy the hallmarks of this season."

– Steve C.
"I love the coziness of winter. I want snow! The silence after a snowfall is the best."

– Donna M.M.
"I like the cold; I don't mind shoveling."

– Steve Z.
"I miss the beauty of snow falling and children enjoying sledding and building snowmen. I also like to ski and snowshoe without traveling 3 hours to more north states."

– Sheila M.
"I want to take my little kids sledding for the first time! They have a sleds and snow suits- they're disappointed and so am I. It's also scary to think what the summer will be like."

– Nancy, Milton
"I'm a millennial concerned about climate change. This winter has been abnormal and I'm seriously concerned about how winter will look 10 years from now."

– Chev, Boston
"Skating, sledding, dogs enjoying the snow. Snowbanks the radiant cold and the smell of cold."

– Kathy L.
"I like the change of seasons and snow is part of winter."

– A reader from the South End
"I love the winter. It is quintessential New England. I want my kids to have the same kind of experiences I had has a child with days off from school, snowball fights, fort building. It's only just not the same with the winters being so mild. I've been running my daughter to the bus stop in shorts and a sweatshirt most days this winter without even a jacket. It's ridiculous."

– Jen, Quincy
"It seems as if for years now, pond hockey is a thing of the past with barely any ice freezing let alone thick enough to safely skate on. The scenery of snow-covered fields and mounds of snow all over the place are things I miss as well. Just not the winter I used to know."

– Michael C.