Readers Say
Is pickleball the next big sport? Boston.com readers say it's 'very addictive.'
Most respondents are already hitting the courts.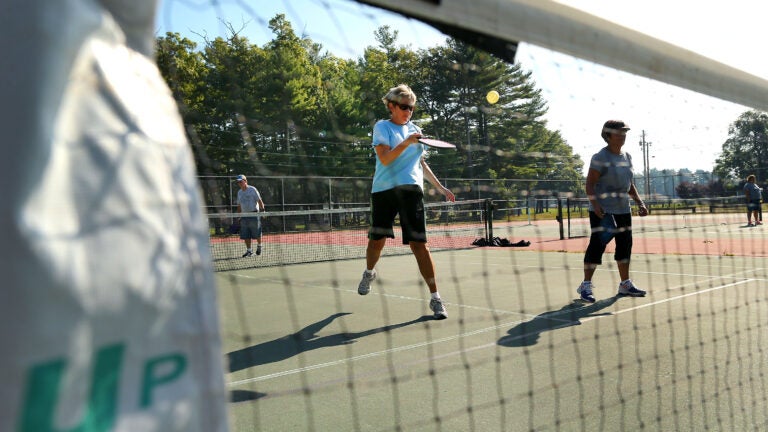 Pickleball is netting a huge following.
As one of the fastest-growing sports in the U.S. and April being National Pickleball Month, Boston.com recently asked readers if they had picked up or were planning to pick up the sport, which is a mix of ping-pong and tennis.
Most of the 110 readers who responded to our poll said that they are already playing the game (66%) or at least planning on trying it soon (10%).
"I have been playing 16 years and the people are fantastic. It is competition with fun, and addictive," said Bill P. in Dennis.
Pickleball courts are popping up across Greater Boston, too. PKL Boston, which opened as a pop-up space in Assembly Row last summer, plans to open its first location in South Boston next month.
"Pickleball is an extremely approachable sport," said Brian Weller, part owner of PKL Boston. "You can take it as seriously as you want and still have an absolute blast playing."
About a quarter of respondents (24%) said pickleball is not for them.
"[You] wouldn't catch me dead," one reader from Quincy said.
Are you joining the pickleball craze?
Yes, I plan on trying it soon!
Ahead we share a sampling of reader responses on why they're loving or avoiding the sport.
Some entries may be lightly edited for clarity.
Most readers are hitting the courts to play the growing paddle-and-ball game.
Most respondents said that they were already playing pickleball, many saying they loved the accessibility and social aspect of the game.
"I needed another sport when I stopped playing volleyball (30 years). I loved pickleball right away. Met a lot of great friends and I still have competitive fire at 68 years old. I am headed to Naples, Fla. tomorrow to play in the U.S. Open. I also played in the Nationals in Indian Wells, Calif. last December. I play 5 times a week. Hoping to play more once I retire. My wife also plays pickleball."

—Jim H., Augusta, Maine
"At 58 and with knee issues, my days of playing basketball, racquetball, and squash are behind me; but pickleball is a sport I can still play. It's adding something back into my life I've been missing for a long time."

—Stuart, Newton
"I play because it's a great sport for the older generation and a great way to socialize."

—Mike, North Andover
"Great game where most players pick it up to just have fun. Very addictive and good exercise."

—Rick I., Narragansett, R.I.
"It's a fun way to move my body and my friends and I always laugh when we play!"

—Lauren W., Westwood
"Great fun with a wonderful group of women in Bridgewater/Raynham."

—Tina, Bridgewater
"Loved playing tennis but knee injuries make it difficult. Pickleball is as much fun but less court area to cover."

—A Boston.com reader from New Jersey
Interested in hitting the court soon.
Some readers said that they were interested in trying the sport or had even played the game once before and were interested in picking it up more regularly.
"The past year I had a knee replacement, hip replacement, and most recently foot fusion surgery. Once I get back on my feet (literally) I need to do something. Golf would be an option, but this seems more appealing."

—Paul, Weymouth
"We have played and it is a great time."

—Annemarie, Atkinson, N.H.
"Played tennis for over 40 years, would like to try as many older tennis players have given up the sport."

—Gil, Canton
Other readers are not interested.
Readers not playing pickleball expressed interest in other more appealing activities or wanting to avoid injury.
"I might be interested later in life, but that choice wasn't available on the survey. I just have plenty of other activities that I enjoy now."

—Dave H., Arlington
"When I don't have knees anymore, I'll take up pickleball."

—Rob P., Acton
"Went to an introductory training did not like it balls bounce low so you tend to lean over and are off balance. I know some seniors who hurt themselves when they fell."

— A Boston.com reader
"The greatest boon for pickleball has been for Orthopedic surgeons….more injuries than any other 'weekend warrior' sports."

—A Boston.com reader
Boston.com occasionally interacts with readers by conducting informal polls and surveys. These results should be read as an unscientific gauge of readers' opinion.
Get the latest Boston sports news
Receive updates on your favorite Boston teams, straight from our newsroom to your inbox.