Readers Say
Readers want to brave a 'tripledemic' without vaccines. This expert shares why they shouldn't.
Rising COVID, flu, and RSV cases could overwhelm hospitals this winter. Still, many readers don't want the latest vaccines.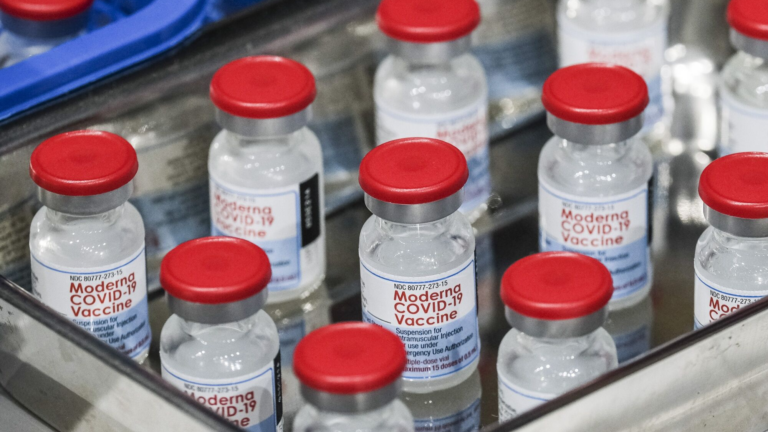 An updated COVID-19 vaccine was approved earlier this month, just in time for flu and RSV season. With shots for all three viruses available to the public, experts are hoping to avoid overburdened hospitals this winter. Boston.com readers, however, are willing to take their chances against a "tripledemic."
We asked readers if they plan to get vaccinated against COVID-19, the flu, and RSV, if eligible, and the majority of the 1,124 people who responded to our informal survey said they wouldn't get the updated vaccines. Our poll found that 60% wouldn't get the latest COVID shot, and 66% wouldn't get the trio of vaccines.
The Centers for Disease Control recommends that everyone who is eligible stay up to date on their COVID-19 vaccinations. That means everyone five years and older should get "one updated COVID-19 vaccine, at least two months after getting the last dose of any COVID-19 vaccine."
Dr. Larry Madoff, medical director of the Department of Public Health's Bureau of Infectious Disease and Laboratory Sciences, told Boston.com that he and every clinician he knows are hoping that people get their updated vaccines.
"Getting an updated shot now will dramatically boost your immunity and it will reduce your risk of infection. And it will reduce your risk of severe outcomes," he said.
The other two viruses to look out for are the flu and RSV, or respiratory syncytial virus. Most healthy adults who get RSV will get cold-like symptoms, but children under five and older adults are at greater risk for severe complications. If you're over the age of 60, the RSV vaccine is available to you.
Despite the risks, readers said they prefer to fight the viruses with natural immunity and worry about the potential long-term risks of getting the updated vaccines.
Will you get the updated COVID vaccine?
Will you get the trio of fall vaccines (COVID, RSV, and flu) when you're eligible?
Many readers also expressed distrust of the CDC and FDA's handling of the vaccine roll-out since the start of the pandemic. A survey published by the CDC in March found that 37% of Americans have a "great deal" of trust in the agency's recommendations. Another 37% trusts the agency "somewhat" while about a quarter of the population trusts the agency "not very much" or "not at all."
Still, hundreds of readers plan to follow CDC guidance and get all the vaccines available to them.
"I'm elderly and I don't want to get sick. I know that the vaccines are one of the best ways to avoid getting COVID, the flu, or RSV. The vaccines are safe, much safer than taking the risk of severe illness," said V. Vaughan from Cambridge.
Bonny from Somerville is immunocompromised but won't get the COVID or RSV vaccines due to "a history of medication intolerances and adverse drug reactions." Because of this, he said he hopes others in his community will do their part to keep people like him safe.
"I'll get the flu shot because I have a history of tolerating that. I wish I could be part of the herd. Now, I am dependent on the herd for protection," he said, adding a plea for other readers. "Please get your shots to protect those who medically cannot."
Hundreds of readers shared how they'll approach getting vaccinated this respiratory season and Dr. Madoff addressed some of the concerns readers shared about getting their updated vaccines this respiratory season.
Some responses have been edited for length or clarity.
Vaccine fatigue
For some Americans, the urgency to stay up to date with COVID shots has waned as the pandemic has gone on. The last time a COVID booster was made available to the public was in September 2022 and only 17% of the population got that shot, according to the CDC.
"I'm done with the vaccines," Peter from Woburn told Boston.com. "When one looks at the high profits generated by pharmaceutical companies like Moderna over the past few years, I believe this is another campaign on the part of these companies to generate business and profits."
Madoff said he understands why these sentiments are growing, especially among those who aren't at high risk for infection.
"This has been a marathon with COVID, and at this point, many people have gotten several vaccinations already against COVID so there's understandably some fatigue about getting another vaccination," he said. Still, he urges everyone eligible to get the vaccinations recommended to them.
Why? The new vaccine is directed at the strains that have been circulating most recently and will better protect against severe infection. Immunity from prior infection wanes over time, so getting boosted is the best way to make sure you don't get severely ill or put others at risk.
Natural immunity
There have been over 100 million cases of COVID in the United States since January 2020, according to the World Health Organization. So chances are, you've contracted the virus or know someone who has. Readers who've had COVID in the past said they're ready to let their natural immunity fight against the disease.
"I would rather let my immune system work and help support it by rest, eating healthy, and exercise," said C from Hingham. Peter K. from North Andover is one of several readers who has gotten the COVID vaccine in the past, but said he'll be skipping the shot this time around.
"The last round wasn't as effective as promised," he said. "I'll let natural immunity take its course."
It is true that prior infection and prior vaccines will help prevent infection, according to Madoff, but if you want to get the most out of your immune system, the best course of action is to get the updated COVID vaccine.
"The longer you go, the more likely it is that you're going to get reinfected and that you're going to have a serious outcome. The best way to protect yourself is to get the updated shot, just like we get flu vaccines every year," he said. "We know that immunity fades from a vaccination or from illness, and you need to retrain your immune system with the new vaccine."
Short- and long-term side effects
One of the biggest deterrents for readers is concern about how the vaccines will impact their bodies. Side effects after getting a COVID-19 vaccine "vary from person to person," according to the CDC, but "generally go away in a few days and tend to be mild and temporary." These include fatigue, fever, and pain at the injection site.
"I'm sick and tired of getting shots. I feel like crap for two days following a shot," said Carl N. from Needham. "I'd rather feel like crap with COVID and let my immune system take care of the rest."
For other readers, the bigger concern isn't discomfort in the days following injection, but the potential long-term risks of the vaccine. Some expressed more comfort with the flu vaccine, because it's been those shots have been around longer.
Madoff emphasized that while no vaccine is 100% effective, the COVID vaccines have been in use globally for three years now and have proven to be "very safe and highly effective."
"The new vaccines are very similar in their profile to the older vaccines and these vaccines are not so new at this point, right? These vaccines have been around for three years now," he said. "Globally, billions of people have gotten these vaccines, and we have not seen long-term or unexpected consequences from the vaccines."
Skepticism about mRNA-based vaccines
Vaccines work by introducing the body to a weakened piece of a particular bacteria or virus and triggering an immune response. The COVID vaccine was developed with a method that used mRNA rather than a part of the actual virus. It's a technology that has created skepticism among some readers.
"Vaccine hesitant 53-year-old male with no comorbidities, not anti-vax. I am having a hard time with the increased marketing of injections using MRNA technology that is only a few years old," said John from Shrewsbury. "With all due respect, the efficacy is a best guess. I have the freedom and so do you."
While the method is newer, Madoff said mRNA vaccines were thoroughly researched by the global scientific community for years before the COVID vaccine was developed.
"When COVID came along, it was a chance to apply that technology but those vaccines for other diseases have been studied for a number of years," he told Boston.com. "Anything new, there's always some fear associated with it, but the vaccine community, the public health community, the medical community, are all confident that these vaccines are safe."
Madoff said he trusts the vaccine enough to encourage loved ones and patients to get the latest dose.
"I've received them and all of my family members have received them and I would not hesitate to recommend it to any of my patients," he said.
Protecting the community
As we get further into the respiratory virus season, the risk of a tripledemic increases. Many hospitals in Massachusetts are already running at, near, or over capacity, according to Madoff.
To protect herself this fall and winter, Margaret from Milton said she'll get flu shot but not the updated COVID shot.
"I'm a healthy mother of two who plans on getting the flu shot as I know that there are real risks to my demographic from complications from the flu. I will not, however, be getting an additional COVID vaccine at this time, as the risk of serious illness for me remains low."
Like Margaret, many people make their decision about getting vaccinated about their individual health, but Madoff encourages the public to think about their greater community as well.
"By being vaccinated, you protect not just yourself but those around you," Madoff said. "It's not just about you and your own risk of disease, but also about those who you may contact who are at greater risk for disease. I hope that more people will come to realize that and get vaccinated."
For readers who do plan to get their updated shots this fall, the most common reason was to help curb the spread of infection.
"Vaccines are a safe and reliable way to fight communicable diseases. My vaccine status may affect many more than just me. It may save someone else from contracting the disease," said David K. from Dorchester. "I have been getting a flu shot for many years to prevent bringing the flu into a home with a handicapped individual. Why not get vaccinated for all three?"
Talk with your doctor about RSV, the flu, and COVID
Despite growing distrust in public health institutions like the CDC, most trust their doctors and other healthcare professionals, according to a study by the Pew Research Center.
If you have questions about getting vaccinated, Madoff encourages you to speak with your doctor about your unique health risks. This is especially important for pregnant women and adults over 60 who are eligible for the new RSV vaccine. The CDC recommends that anyone eligible make an informed decision with the help of a provider.
Madoff got the RSV vaccine to avoid another respiratory infection, but there are many reasons why someone might get the shot themselves. He expects many people will get the vaccine after speaking with their doctors.
"We want people to stay healthy and vaccines are such a safe, effective, and easy way to do that. Nobody wants to get the flu, nobody wants to get COVID and RSV, and going to your local pharmacy or to your provider and getting those shots that are appropriate for you is the best way to keep yourself healthy during this respiratory virus season," he said.
Boston.com occasionally interacts with readers by conducting informal polls and surveys. These results should be read as an unscientific gauge of readers' opinion.
Boston.com Today
Sign up to receive the latest headlines in your inbox each morning.