Readers Say
'Zero semi-automatics': Here's how readers would shape gun control
"The right to have guns doesn't and shouldn't mean the right to have every kind of gun imaginable."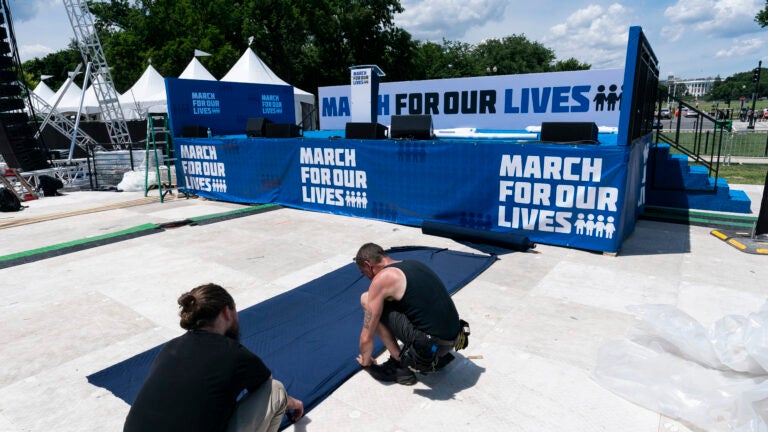 The Senate is getting closer to a bipartisan gun safety bill just as the Supreme Court dealt a blow to national gun control efforts, with a ruling that could potentially upend gun laws in several states.
On Thursday, the Supreme Court struck down a New York gun law that could have ramifications for gun control here in Massachusetts and elsewhere. The court deemed it unconstitutional for New York to put restrictions on who is allowed to carry a concealed weapon in public. This decision comes as advocates push for more impactful gun control measures in the wake of the high-profile mass shootings in Uvalde, Texas, and Buffalo.
As the Senate works on its gun safety bill, we asked readers if they thought the proposed measures went far enough to curb gun violence in the country. The bill could offer federal money to states with "red flag" laws, make the juvenile records of gun-buyers under age 21 available for background checks, and require more people who sell guns to obtain federal dealers' licenses.
Most of the 108 readers who responded to our survey said the proposed gun control agreement doesn't far enough.
"The right to have guns doesn't and shouldn't mean the right to have every kind of gun imaginable," Sarah from MetroWest said. "Military weaponry should not be legal for regular citizens to own. Keep your hunting rifles and self-protection handguns and implement MUCH STRICTER background checks and screenings for gun ownership."
Do you think the proposed gun control agreement goes far enough?
Yes.
No.
Other
Sen. Ed Markey and Reps. Jake Auchincloss and Lori Trahan voiced their support for the deal but have still called on Congress to take more critical steps.
"This compromise is like moving deck chairs on the Titanic while there's a gaping hole in the hull," John Rosenthal, the co-founder of Stop Handgun Violence, told The Boston Globe in an interview. "It's a Band-Aid on a broken bone."
Some readers said the nation should look to the gun laws of states like Massachusetts to get an idea of how to address this problem. Fred T. from Needham said he got his license to carry in Massachusetts and the process he went through could be replicated nationwide.
The Bay State has some of the strongest gun laws in the country and is ranked fifth in the nation for gun safety by the Giffords Law Center to Prevent Gun Violence.
"I took all the courses [to carry] and learned a lot. I think they should be required. The process was long and involved, but in the end, I have my [licesnce to carry]," Fred T. said. "The system works. What I would like to see is a national ID, so if I pass in Mass., I can go to a range for sport or hunting in different states without fear of licensing issues."
Readers shared what they'd like to see lawmakers do to better protect Americans from gun violence and mass shootings. Below you'll find a sampling of their responses.
Some entries may be edited for length and clarity.
What, if any, gun control measures would you like to see the Senate agree on?
Assault weapon bans, background checks, age limits, and more
"Complete assault weapons ban of the kind that allowed these Senators to survive their youths and grow old enough to repeal the ban in the '90s and watch subsequent generations die." — James M., Randolph
"Get rid of assault weapons entirely. There is absolutely no argument that justifies their use outside the military. One definition of insanity is 'doing the same thing over and over again and expecting different results.' That's what the pro-gun legislators have been doing for years." — Lorraine, Woburn
"There needs to be a national ban on assault rifles like there was under the Clinton administration. The number of mass shootings in this country dropped dramatically during that time period but went back up again once the ban was lifted. There is absolutely no reason a civilian needs an assault weapon, and they should be banned. I am not opposed to guns for hunting or target practice, but responsible gun ownership does not need to include a weapon with no other purpose than to instantly kill large numbers of people." — Jennifer D., Peabody
"Limited access to high-capacity automatic weapons and high-capacity cartridges, background checks on EVERYONE buying handguns or automatic weapons, and a 72-hour waiting period while a background check is being done. I'd also like to see the Federal government fund a buy-back program for all guns, with automatic weapons being a priority." — Ruth R., Stoughton
"No semi-automatic weapons. No guns for kids under 21. People should not only have their background checked but should also be required to pass a test to get a license to use one. We require that for automobiles, which is also a deadly weapon. Why not for guns?" — Trudy M., Melrose
"Background checks for everyone. Thirty-day wait time. No military-grade weapons for the general public. They are all sitting on the hill, doing nothing, taking graft from lobbyists, and spewing BS. Vote them ALL out." — Ann M., Beverly
"Zero semi-automatics. Zero purchases under the age that the pre-frontal cortex is more fully developed in males. Same age as the ability to rent a car — 25. It's that age for a reason." — Rick, Plymouth
Current gun control goes far enough
"Red Flag laws infringe on our due process rights under the Constitution. Other parts of what the House passed infringe on our rights under the Second Amendment. There are plenty of gun laws on the books now. Many are unconstitutional. We need to focus on mental health treatment and also on taking crime seriously, but actually putting violent criminals behind bars for a long time." — Dave W., Leominster
"I can agree with age restrictions on firearms, and red flag laws do hold out some hope that firearms can be taken from potential mass shooters. Therein lies the problem with red flag laws — the potential for abuse by any state wanting to eliminate private gun ownership. We must have protection in those laws to stop angry neighbors or a spouse from lodging a fraudulent complaint that allows our firearms to be confiscated, requiring a lengthy and expensive court process to get them back." — Edward T., Abingdon
"Guns do not kill people, the people kill other people. Put more restrictions and better investigations into who receives a license to carry or permit." — Alex J., Dorchester
Boston.com occasionally interacts with readers by conducting informal polls and surveys. These results should be read as an unscientific gauge of readers' opinion.