Readers Weigh In
We asked Boston renters for their best tips and tricks. Here's what they said.
The advice ranged from what to look for in an apartment and how to survive hectic move-in days. Search the latest rental listings at realestate.boston.com.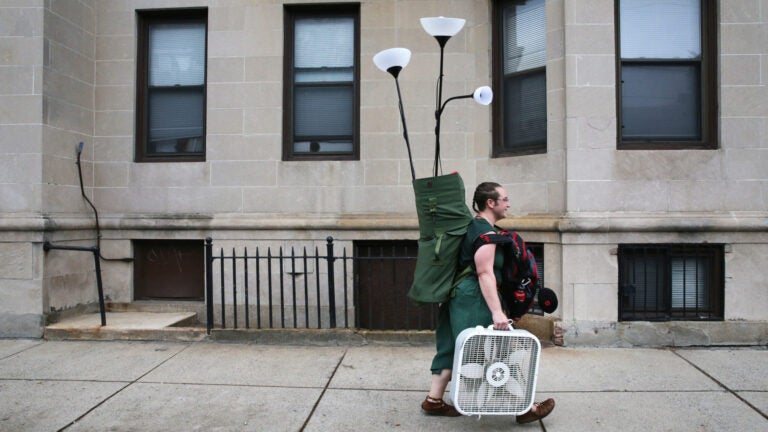 Boston attracts people from all over the world, and most of them make it a home by renting.
Nearly 65 percent of the city's residents are renters, according to a 2019 report from the Boston Planning and Development Agency. Boston's longtime renters have weathered the ups and downs of apartment searches and moving, so they have a lot of wisdom to pass on.
We asked readers to share their tips and tricks for renting in Greater Boston — the things they wish they knew on Day One. Here is how some of them responded:
Start early and plan ahead
Applying for a parking permit before you move could save a lot of stress, said Rachel Symes of Dorchester.
"Apply for a moving parking permit from the city if you're bringing a U-Haul, because you will get beeped at excessively for even slowing down on a one-way looking for somewhere to pull it over," she said.
Demetrios Salpoglou, chief executive officer of BostonPads, said his best advice is to get the day started as early as possible.
"Set your alarm early to get the key so you can avoid a lot of the traffic, and you can get a better parking space," he said. "The later you get there, the more it gets chaotic."
Check your credit
"The market is stupidly competitive compared with other cities. Plan to have a huge chunk of money saved up, as you may need first, last, security deposit, and realtor fee to be able to secure an apartment," said Shelly from Cambridge, who's been renting in Boston for several years. "And check your credit before even thinking about applying to more desirable places. One half of a couple with poor credit can ruin your chances, even if the other has perfect credit."
Despite an uptick in vacancies at the height of COVID-19, Boston's rental market is bouncing back to pre-pandemic levels. In September 2019, just 1.8% of the rental units in the city were vacant, according to Salpoglou. That number hit 9.1% in 2020 and now sits at 1.5% ahead of fall lease turnovers.
"It's still a great time for renters right now," Salpoglou told Boston.com, adding that 45% of landlords are still willing to pay broker's fees. Pre-pandemic, less than 5% were willing to do that. "In June and July, there was that perfect combination of events where things were renting like crazy and there was good inventory."
Take notes as you tour
The average client looks at four to seven units before deciding on which to lease, according to Salpoglou, noting that renters should take notes throughout the apartment hunt to keep track of what they like, and don't like, about each apartment.
Know your must-have amenities
Some of the amenities on readers' checklists include an in-unit laundry setup, a dishwasher, inclusive heat and hot water, and parking spaces.
"Parking is crucial. Finding a place with a lot may be harder, but between weather emergencies, street cleaning, and permit versus non-permit parking, my friends stay drowning in tickets. Their cars [are] regularly towed away and nowhere to be found in the morning," Symes said.
If you don't have a car, then easy access to public transportation is essential, according to Symes. She said her rule of thumb is no "more than a nine-minute walk" from your apartment.
André Beriau, a decade-long renter in Allston, said to look for apartments away from busy streets like Commonwealth Avenue: "Try to look for an apartment that is tucked down a side street. It may be a bit of a walk, but the peace and quiet is worth it — and it might be a little cheaper to rent."
Know your rights as a tenant
Salpoglou said he's noticed more renters doing their own research about landlords and properties prior to signing a lease, something several readers said was important to do. Knowing your rights as a tenant could save you time and money.
"Check public records and reviews of the management and unit or building," said Carrie Woods, a renter in Fenway.
Avoid Sept. 1
Once you've found a place you love, the next hurdle is getting through move-in day. In Boston, many leases turn over on Sept. 1, which leads to a day so frenzied that the city offers guidance on how to get through it. A couple of readers advised against signing a Sept. 1 lease to avoid the headache altogether.
"Find an off-cycle lease like a June 1 start date so you don't have to compete with everyone else for Sept. 1 moving day," said Lindsay from the North End, another decade-long Boston renter.
But given the number of units on the Sept. 1 cycle, it would be impossible for every renter in the city to avoid that moving day even if they wanted to. If you do have to find an apartment on that schedule, readers had advice on how to make the process easier. No matter the move-in date, they noted, some of the most important advice was for the little things that might slip one's mind. And one big one that could result in a jarring reminder.
Don't get 'Storrowed'
Storrow Drive is notorious for ripping the top off of moving trucks with its notoriously low overpasses. "Don't get Storrowed. It didn't happen to me but always happens to someone without fail," said Lindsay from the North End, adding, "Measure your mattress, furniture, and staircase before you try to carry it all up a three-flight walk-up."
Despite how complicated and frustrating the experience of renting in Boston can be, readers said the hassle could still be worth it.
"I love living here so much even with the cost. Don't let anyone scare you from coming," said Symes. "The great definitely outweighs the bad. And don't worry, you'll learn quickly!"
Subscribe to the Globe's free real estate newsletter — our weekly digest on buying, selling, and design — at pages.email.bostonglobe.com/AddressSignUp. Follow us on Facebook, LinkedIn, Instagram, and Twitter @globehomes.