Readers Weigh In
'Allston Christmas' is almost here. What are your all-time best curbside finds?
Sept. 1 is the day many leases turn over and people comb the streets, looking to turn someone's trash into treasure.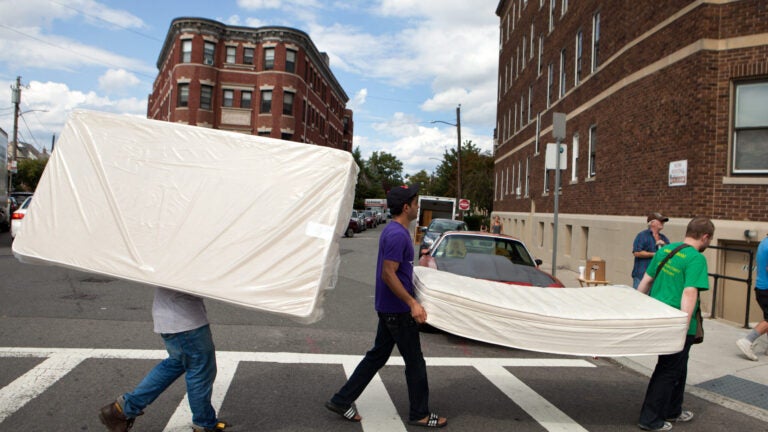 Tenants across the city are bracing themselves for Sept. 1, and not just because of the headaches that come with moving on the day with the highest volume lease turnover in the city. For the eagle-eyed renters among us, Sept. 1 is also the perfect day to stock up on secondhand household items in the "Allston Christmas" rush.
Every year in Boston, thousands of college students and other renters move on this day. Forty-one percent of all students attending Boston universities live off-campus, either alone or with roommates, according to the Department of Neighborhood Development's 2020 report. "Allston Christmas" is the nickname for the day many of those students move into their new apartment, leaving behind furniture and decor curbside in the city.
The most popular neighborhoods for students are Fenway-Kenmore, with 5,725 students, and Longwood/Mission Hill, with 5,009. Allston, the holiday's namesake, has 4,764. On Allston Christmas, these neighborhoods will be filled not just with moving trucks, but with people looking to turn someone's trash into treasure for their own apartment.
What are your favorite Allston Christmas finds? We want to know whether there are any treasured items in your home that you found in Allston Christmases past. Is there a showstopping piece of furniture you consider yourself lucky to have found or something practical you'll be keeping with you for a future apartment? Let us know by filling out the survey below or e-mailing us at [email protected].
Subscribe to the Globe's free real estate newsletter — our weekly digest on buying, selling, and design — at pages.email.bostonglobe.com/AddressSignUp. Follow us on Facebook, LinkedIn, Instagram, and Twitter @globehomes.