Readers Say
Biden announced new vaccine mandates. Does it go far enough?
Let us know what you think about the new COVID-19 vaccine mandates that will affect 100 million Americans.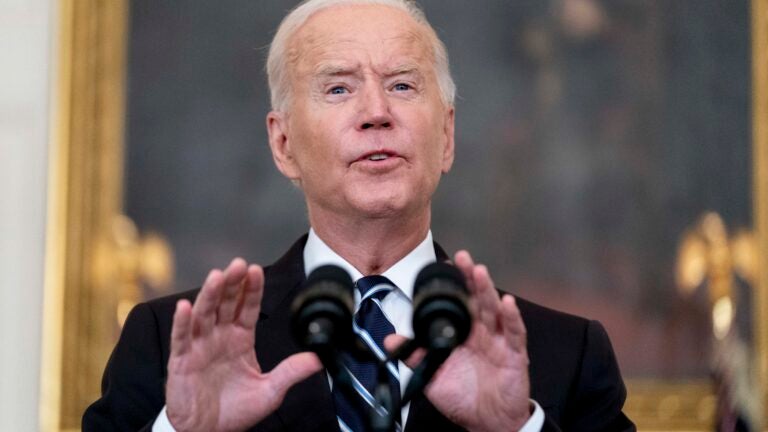 In a move to take harsher measures against the spread of the coronavirus, President Joe Biden on Thursday announced sweeping vaccine mandates for roughly 100 million Americans.
The new mandate requires all employers with more than 100 workers to either be vaccinated or agree to weekly testing for the virus. This will affect roughly 80 million Americans. The mandate also requires that the 17 million workers at health facilities that receive Medicare or Medicaid funds also be fully vaccinated.
During his announcement, Biden was critical of the tens of millions of vaccine-eligible people who have not yet been vaccinated.
"We've been patient. But our patience is wearing thin, and your refusal has cost all of us," he said. The unvaccinated minority "can cause a lot of damage, and they are."
In Massachusetts, more than 4.5 million people, or 66% of the population, have been vaccinated against the coronavirus. Elsewhere in the nation, however, vaccination rates continue to lag and hospitals are reaching capacity as the Delta variant surges.
The new vaccine mandates are part of a new plan of attack against coronavirus from the Biden administration. The plan also includes doubling federal fines for airline passengers who refuse to wear masks on flights, increasing the supply of at-home virus tests at national retailers, and sending additional federal support to schools to assist in safety measures, and more.
These new measures have been praised by the American Medical Association, the National Association of Manufacturers, and the Business Roundtable. Critics of the new mandates, however, argue that the president is overreaching.
Gov. Henry McMaster of South Carolina said in a statement that "Biden and the radical Democrats (have) thumbed their noses at the Constitution."
What was your reaction to the new vaccine mandates? Have you been waiting for Biden to take a firmer stance and require more Americans be vaccinated or have you been dreading the day a vaccine mandate like this would be enforced? Whether you've been vaccinated or not, we want to know where you stand on these stricter vaccine mandates.
Let us know how far you think vaccine mandates should go by filling out the survey below or e-mailing us at [email protected] and we may feature your response in a future article.
Newsletter Signup
Stay up to date on all the latest news from Boston.com