Readers Weigh In
We asked, you answered: 'Living in a haunted house is not all bad or scary'
If the only compromise to a dream home is a paranormal roommate, then Boston.com readers are willing to take the risk.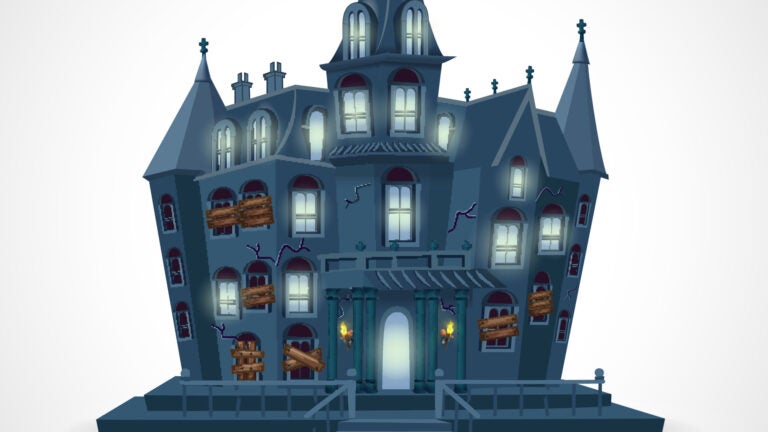 If landing your dream home comes with dealing with some otherworldly houseguests, then so be it, Boston.com readers say.
After a recent survey by Real Estate Witch suggested that most home buyers have no issues purchasing a haunted house, we asked readers for their reactions and to share their own spooky experiences. Fifty-eight percent of the 48 readers who responded to our poll said they'd never lived or stayed in a haunted house, while 42 percent said they had. Some of our readers consider themselves among the group unfazed by haunted real estate.
Related stories:
A list of the scariest homes in New England
Some cited past experiences with ghosts to justify why they'd be comfortable in a haunted house.
"While unnerving at first, living in a haunted house is not all bad or scary. It helps to know whose spirit may be there and why," said Karen F. of Newburyport, who said she's had past experiences living with a ghost. "We knew who was walking our halls and why — gassed during World War I — so we kept providing information about those he was looking for and considered him a part of the family."
There were, of course, some readers who have no qualms about living in a haunted house, not because they aren't afraid of ghosts, but because they don't believe in the paranormal.
"I don't believe in such things as a house being haunted," said David of Ayer. "If it deters other buyers, that works to my advantage."
For those readers, there are plenty of real-life frights that come with homeownership to worry about instead. Forty percent of the readers polled said the real horror comes from problems with a home's foundation.
Other top concerns included mold and water damage. Some readers named other potential issues that weren't included in our survey like natural disasters and annoying neighbors.
Although most readers polled said they don't have any personal experience with living in a haunted house, they still had opinions about whether or not they would be open to the idea. Below, you'll find a sampling of responses from readers — both supernatural believers and not — about whether or not they could see themselves sharing a home with ghostly roommates.
Responses have been lightly edited for length and clarity.
"It wouldn't dissuade me"
"In this market, if the price for securing a home is a few unwanted ghostly housemates, I'd do it. So long as we all can come to an agreement about the space, why not!" — Anonymous
"I see 'ghosts' or whatever you want to call it all the time. They're everywhere. I don't seek it out, but if I loved the house and it was a good price it wouldn't dissuade me from the purchase." — RB, Marlborough
"I unfortunately just recently bought a town house with a myriad of problems that weren't apparent at the inspection. Water damage, mold, bugs, and structural issues on top of noise and difficult neighbors. I'd gladly trade all these things in to be haunted daily by the paranormal. What a welcome relief that would be." — Em, Canton
"[Going to] haunted houses when I was a kid was always fun. I bet living in one would be even more fun. Who wants to be packed into a sardine can luxury box apartment?" — Jake, Chelsea
"I was always nervous about what was going to happen next"
"I lived in a haunted house for 10 years. I came close to selling it within the first year I bought it because there was a lot of activity and I couldn't sleep. After the first year, things quieted down (but occasionally unexplained things would happen) and I grew to love the house. It was my favorite house, but I would not move into a house again that I knew was haunted. It's a lot of work!" — Nancy, Peabody
"After living in a house built in the late 1700s for about 10 years, I vowed never to do that again. I had things thrown at me, lights in a room blow out when footsteps were heard, and saw apparitions. It got to the point I couldn't sleep as I was always nervous about what was going to happen next. Never again!" — Tim S., Waltham
"The idea of it interests me, but I think once I actually heard a bump in the night I would be running out of that house — no shirt, no shoes!" — Keith, Dorchester
"I grew up in a haunted house and I would not live in one as an adult. I want my home to be a space for my energy and the energy of my family, not the energy of all those who were in the space before." — Elizabeth, Medford
Boston.com occasionally interacts with readers by conducting informal polls and surveys. These results should be read as an unscientific gauge of readers' opinion.
Subscribe to the Globe's free real estate newsletter — our weekly digest on buying, selling, and design — at pages.email.bostonglobe.com/AddressSignUp. Follow us on Facebook, LinkedIn, Instagram, and Twitter @globehomes.