Readers Say
Book Club's next read is 'Yonder' by Jabari Asim
Join the virtual author discussion on Jan. 25.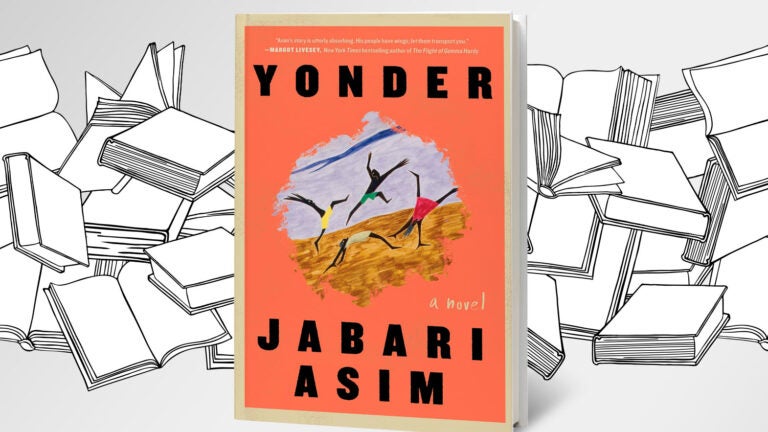 For the first pick of 2022, we're turning back to fiction, after a three-month streak of non-fiction titles. Book Club's pick for January is "Yonder," by local author Jabari Asim. A work of historical fiction, the structure of "Yonder" is of a group of slaves yearning for freedom, their quest to get it, and their love for each other, but it's about so much more than that.
That applies to Asim as well, as simply calling him an author is woefully insufficient. To be sure, Asim is certainly a prolific author, and has authored more than 20 books across multiple genres – fiction, non-fiction, children's fiction, children's non-fiction; essays, memoirs, novels, history, short stories, cultural criticism, etc. But at various times throughout his life he has also been a poet, playwright, editor, critic, and professor. In the past, he has been the editor-in-chief of The Crisis magazine — the NAACP's flagship journal of politics, culture, and ideas that was founded by W.E.B. DuBois in 1910. He has been the deputy books editor for The Washington Post and was the book editor of the St. Louis Post-Dispatch. During his time at the latter newspaper, he was the only African-American books editor in the country. He has been a Guggenheim fellow, a National Book Awards voter, and a vice president of the National Book Critics Circle.
In other words, while many people claim to have been there and done that, Asim truly embodies the phrase. These days, he is a professor at local Emerson College, where you will not be surprised to learn that he wears many hats. His email signature runs seven items deep. He is a professor, the MFA program director, an Elma Lewis Distinguished Fellow in Social Justice, and the program director of the school's James Baldwin Writers Colony. He deftly brings all of this experience, these forces, to "Yonder."
The novel, Asim's first since 2015's "Only the Strong," focuses on a small group of slaves, though they don't refer to themselves as such — they call themselves "the Stolen," their masters, "The Thieves." The narrative moves back and forth between the perspectives of the Stolen, as they consider the ideas of freedom presented to them by a visiting preacher, who may not be quite a preacher, or may not be only a preacher. The story is beautiful and pointed, and has earned starred reviews. "Jabari Asim's masterful 'Yonder' has no doubt set our Ancestors to dancing and rejoicing," writes Deesha Philyaw, author of "The Secret Lives of Church Ladies" and prior Book Club moderator. "This novel made me shout, cry, laugh, and, most of all, believe." In her review earlier this week in The New York Times, Vanessa Riley wrote, "With his handling of Black love, showing how it existed amid the worst circumstances, tender and memorable, Asim delivers a fresh, sweeping, must-read tale."
Joining Asim for this conversation will be Lily Rugo, shift supervisor at Harvard Book Store, located in the heart of Harvard Square in Cambridge. A native of St. Louis, Rugo moved to Boston for college, and has worked at Harvard Book Store since 2019. She also met Asim during her days at Emerson College through an event they both spoke at for the school's Publishing Club, which makes this pairing of author and bookseller really fun and unique! In addition to her work at the bookstore, Rugo also formed the Boston Asian Book Group (and newsletter) to encourage AAPI millennials to read more Asian and Asian American authors, and is the co-host of the "Earth's Mightiest Fangirls" podcast, which focuses on the Marvel Cinematic Universe and other things sci-fi.
Harvard Book Store is of course a local institution, having been in business since 1932. Opened for the tidy sum of $300 by Mark S. Kramer, the store was run by the Kramer family for more than 75 years before being purchased by Jeff Mayersohn and Linda Seamonson in 2008. (John Henry, who also owns The Boston Globe, also recently purchased a stake in the bookstore.) In addition to being one of the best bookstores in the region, Harvard Book Store also is famous for its author events series, and in fact hosted Asim this Tuesday, the day the book was launched.
​​Join the Boston.com Book Club on Tuesday, Jan. 25 at 6 p.m. for a virtual discussion with Harvard Book Store's Lily Rugo and author Jabari Asim on "Yonder."
Buy "Yonder" from: Bookshop | Harvard Book Store
Join the 'Yonder' virtual discussion with author Jabari Asim
Book Club discussion | Jan. 25 at 6 p.m.
---
Boston.com Book Club picks: