Readers Weigh In
'Have you seen the sidewalks?' Readers weigh in on whether you should shed your shoes indoors
We asked Boston.com readers for their opinion, and they weren't shy about shedding light on how they feel about shedding shoes.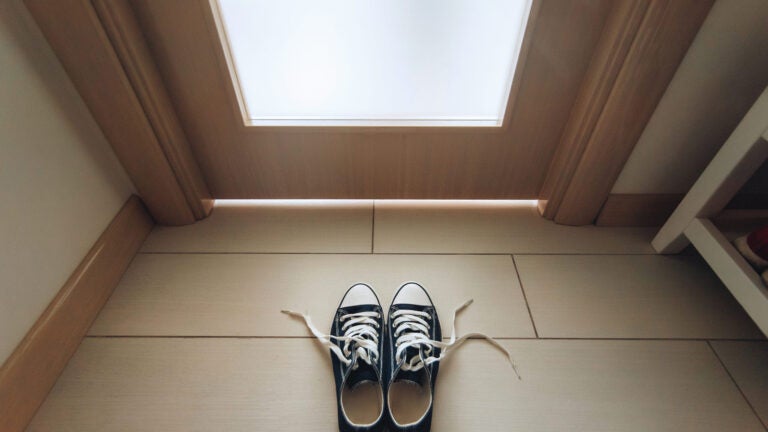 As April showers move into Massachusetts, wet boots and muddy sneakers are bound to follow. Though most people agree that you should remove visibly dirty or wet shoes before you tromp inside, an op-ed The Wall Street Journal published in February argued that this should be one of the only times guests ought to be required to kick it barefoot in someone else's home.
If your footwear isn't covered in "snow, mud, blood, condiments of any sort, lava, excrement, concrete dust, or biomedical hazardous waste," Kris Frieswick wrote in the op-ed, hosts should not require you to remove said footwear before entering their home.
The article set off a heated debate on Twitter and garnered reaction from news outlets taking the opposing stance. The verdict is now in from scientists, who were solidly in the shoes-off-inside camp, noting that drug-resistant pathogens and cancer-causing toxins can easily hitch a ride on your shoes into your home.
"Beyond the occasional stubbed toe, from an environmental health standpoint there aren't many downsides to having a shoe-free house," an online article from Popular Science said.
We asked Boston.com readers what they thought, and 66% of the 961 people who responded agreed: Take your shoes off when you go inside someone else's home. About 25% percent said it depends on the situation, while just over 8 percent said you should keep them on.
Of those who voted shoes off, many were focused on cleanliness. "I don't want dirt dragged into my house, so why would I do that in someone else's home?" said Eileen from Stowe.
"Have you seen the sidewalks?" asked Kahlil from Dorchester.
For others, it was less about the act of leaving your loafers at the door, and more about the meaning behind it. "Shoes off, it fosters comfort and shows respect," said Ben W. of Malden.
Those who voted shoes on voiced two main concerns: comfort and odor.
"What if your feet stink? (Asking for a friend)," one reader asked anonymously.
If that's the case, Brian from Roslindale, who voted with the it depends group, would be happy to accommodate. "I'd rather get a little shoe dirt on my floors than have your sweaty sock feet stinking everything up," he wrote.
Though most of those who said it depends noted that guests should be respectful of their host's wishes, they also acknowledged that the homeowners have a responsibility to ensure their guests are comfortable.
"Hosts requiring shoe removal should notify guests in advance," said Will of Cambridge. "Although removing shoes may be the norm in some cultures, it is not the norm here in the US. Giving advance notice helps guests feel at ease by letting them know to wear appropriate foot apparel (i.e. socks). Giving advance notice lets all parties be at ease."
Megan from Canton added: "It's up to the host if they want shoes on or off. Some people don't care if their floors get wrecked, while others do. But if a host expects people to remove shoes, they should provide booties as an alternative so people can easily slide those on over their shoes."
The safest bet, Jen from Attleboro said, is to emulate the host.
"I think you should follow the rules of the home. If they wear shoes in their house, then so can you. If they do not, then take yours off. Their house, their rules," she wrote.
In other words, when in Rome, shoe as the Romans shoe.
Here's more of what readers had to say:
Yes, of course!
"I can understand reasons to ask others to take their shoes off (cleanliness, culture), and I have never said no to that request. However, unless you tell your guest upfront or give them other options, it can make people uncomfortable. Most people understand if they walk in from inclement weather it is kind to take off their shoes, so no need to make it a rule. Many of my favorite shoes require no socks, and walking around barefoot unexpectedly is no fun. I prioritize comfort and fashion choices over my floors. Please refer to the episode where Carrie Bradshaw loses her Manolo Blahniks." — LEANNE, Brookline
"If I am at a hosted party with a number of others, or [a] slightly more formal small gathering wearing dress shoes, I would tend to leave them on. If I have dirty shoes (snow, mud, etc.), I absolutely take them off. For all other cases, I ask the homeowner their preference." — CHRIS D, Medford
"I would never push back against someone asking me to take my shoes off in their home. It's a sign of respect. The host has been gracious enough to let me into their home; the least I can do is respect their house rules." — BILLY G., Whitman
"Shoes off unless you bring a separate pair of indoor shoes or some other covering. Shoes worn outdoors are naturally dirty and it's incredibly rude to track dirt/water/whatever all over someone's house that the homeowner is likely struggling to keep clean as it is. The worst is when guests are aware of the homeowner's preference and insist on boldly walking in with wet shoes squeaking with every step." — JASON, Medway
It depends …
"If your shoes are wet, dirty, or sandy, take them off. If the house is not super clean, I prefer to keep my shoes on. Don't want to walk with socks on an unkempt floor. I usually take off my shoes when I know the host prefers that." — WAYNE, Provincetown
"It depends: It's incumbent upon guests to accommodate the preferences of their hosts. If shoes are needed for medical or other reasons, the wearer should request accommodation and clean them to the best of their ability before entering the home where shoes are not typically welcome. Or bring a pair of indoor shoes that meet the need being served." — TRACY G., Medway
"It's up to the host. We're a shoes off family, but I don't ask guests to remove shoes. I know some people aren't comfortable walking around someone else's home barefoot or in socks." — LIZ, Plymouth
"​​My daughter lives in Denmark, and it is customary for everyone to remove shoes, so I follow the local custom. In US, it is in general, not customary, so no I prefer to keep my shoes on, since walking barefoot hurts my feet. Of course, if my shoes were muddy or wet, I would remove them." — JANE V., Needham
No, don't bother
"I hate to walk without footwear. I feel uncomfortable barefoot. I always have footwear on. Let me know ahead of time and I will bring my slippers." — Swansea resident
"Because socks absorb bacteria and dirt. So when you put your shoes back on, they're contaminated. Disgusting. Provide slippers." — DAVID, Brookline
"I have foot problems and need a good (sole) support. Walking in bare feet with socks or without is very uncomfortable. Either way, I don't want to see or smell someone's feet! Not to mention, good manners is that one always wipes their feet before they enter a home." — PAULA M., North Quincy
Subscribe to our free real estate newsletter at pages.email.bostonglobe.com/AddressSignUp. Follow us on Twitter @GlobeHomes and Boston.com Facebook.