Readers Weigh In
'Why should I have to pay more to commute?': Readers say state should steer clear of congestion pricing
"With its recent struggles, no amount of tolling would convince me to switch to public transportation."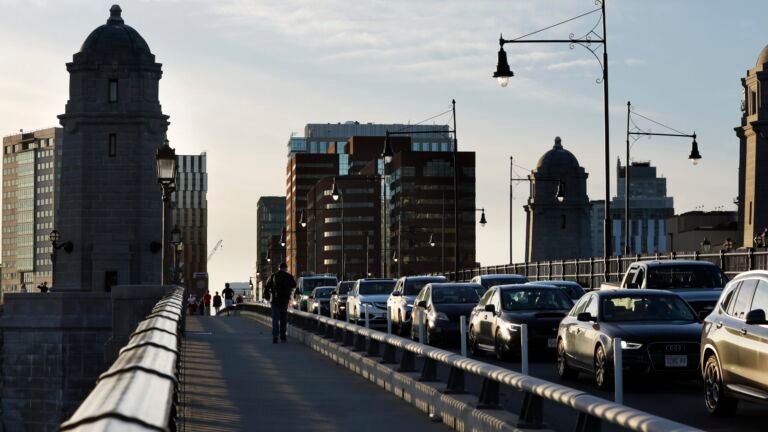 With some of the worst traffic in the world, Massachusetts and Boston residents have long been promised improvements to the city's congestion issues and public transportation problems. But as traffic has only risen, and hopes of these promises being fulfilled has dwindled, we asked you: How would you fix Massachusetts' traffic?
State legislators have been tackling the same question, with some proposing a mobility pricing commission that would look to implement traffic-reduction techniques like congestion pricing and restructuring the MBTA fare price structure. While the proposed commission would look for ways to best implement these techniques, Boston.com readers agreed: Massachusetts should not charge people more for driving cars, and should instead look to increase public transportation affordability and accessibility.
The nearly 600 readers who responded repeatedly stated that proposals like congestion pricing, charging more for certain car use, and increasing prices on specific lanes would cause more problems than it would solve, and the commonwealth should focus its energy on fixing an ailing MBTA.
"The first step in the process would be to make the MBTA a safe, efficient and viable solution to more people," said Brett, a Boston.com reader from Hanson. "When I was taking the Red Line from Braintree to UMass Boston everyday, the trains were dirty, overcrowded, and were often late/slow enough that it saved me significantly more time to drive to school, even with the traffic on Route 3 and 93.
"With its recent struggles, no amount of tolling would convince me to switch to public transportation without completely overhauling the existing system," Brett wrote. "I prefer my means of transportation not regularly catch fire or break down resulting in massive delays."
It's also worth noting that while lowering public transportation fares and capping fare expenses were much more popular in our poll than toll-related solutions, one option finished well ahead of all of the suggestions: "None of the above."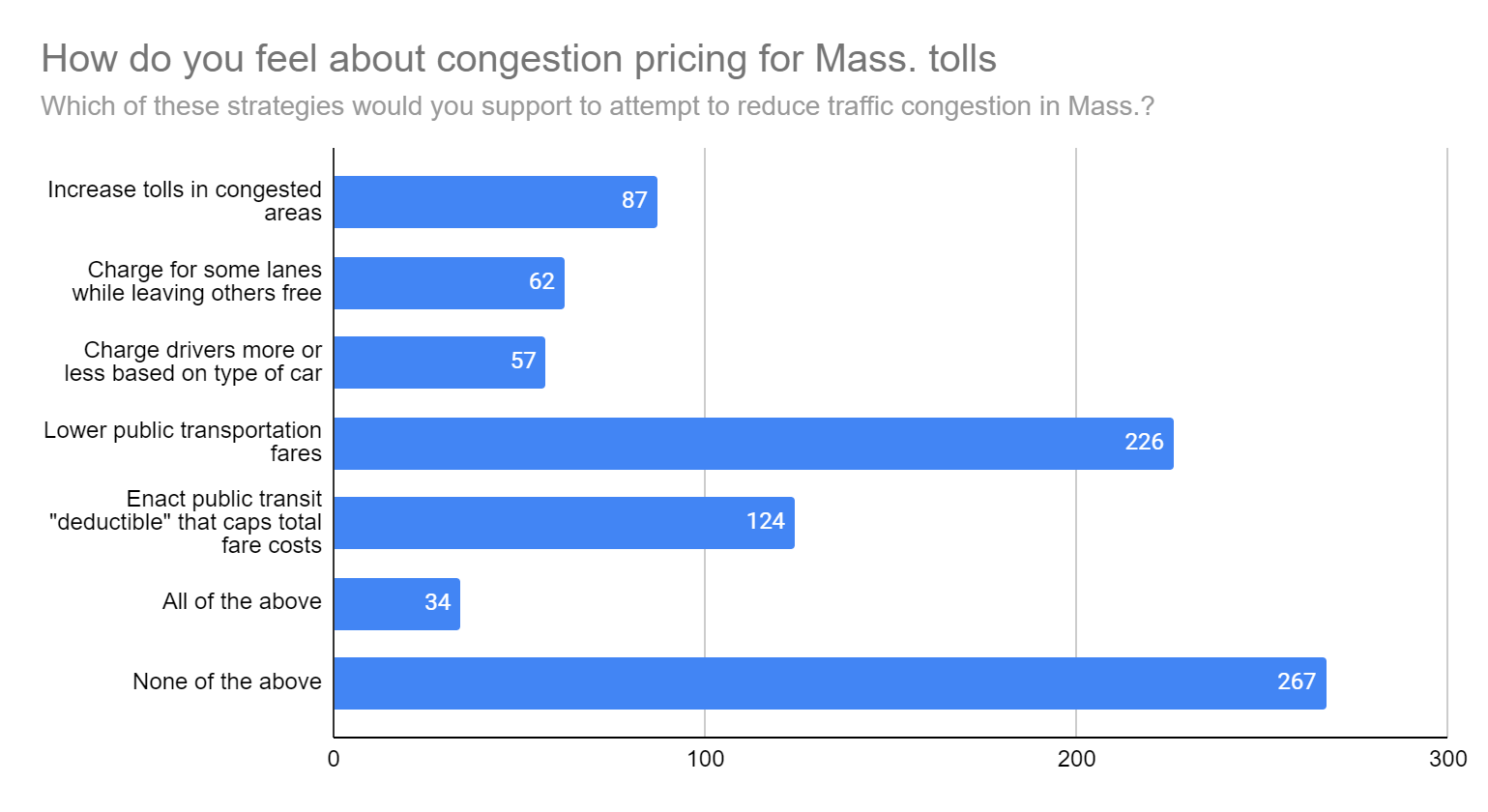 While the proposed commission would consider measures like congestion pricing to reduce traffic and raise revenue, lawmakers have said that its purpose is to examine how Massachusetts could implement policies equitably and in a way best suited for the commonwealth's drivers. On average, Boston drivers lost $2,270 and 134 hours waiting in traffic in 2022 — and Rep. Steven Owens, who proposed the bill in the House, says that the commission would keep Bay Staters' concerns in mind.
"My chief concern is that this will be borne on the backs of the people least able to afford it," Owens said. "Our traffic is already costing people $2,270 a year … so if we reduce that number more than we increase the cost … that's going to help."
No on congestion pricing
While readers emphasized the need to improve the T, many also expressed concern and frustration for one of the proposed mobility pricing commission's key potential policies: congestion pricing. Congestion pricing, in short, charges drivers more during times of high traffic congestion, and less during times of low congestion.
The policy has seen success in several different cities, but many worry that it will hurt people whose schedules force them to drive during times of high traffic. For Boston.com readers, the policy proved unpopular, with only 19.4% of respondents showing support.
Here's what readers had to say:
"How, exactly, will charging workers more on their commute reduce congestion? This is just another money grab by the state. Most people commuting are doing so for a reason — their employers demand they be at work at specific times. This seem[s] more like punishment for having a job in Boston than a means to reduce traffic. And just what will the state do with the revenue collected? Give themselves another 20% raise?" — Todd, Northborough
"On weekdays, most workers have to be in the office before 8 or 9 and leave for home after 5. If this population constitutes [a] big part of the congestion, it does not make sense to punish them with more fees." — Karen T., Lincoln
"Boston is a terrible city to consider using congestion pricing. There are thousands of people who need to go to hospitals, and even more workers that have to go to those same hospitals. Why should people who need timed medical procedures (daily radiation for cancer, for weeks on end) or employees who need to be there for those same procedures pay to commute? What about healthcare workers who are on call? Why should they pay more to commute if they have to go in for an emergency procedure? The T is not an option for many of these people." — Peter H., Woburn
"Most importantly, we need the T (especially the commuter rail) to run more often, more reliably, and be more affordable, especially for families traveling together. Then, we need to charge drivers more to drive and park in congested areas, both to reduce congestion, and to incentivize people to use public transportation, bicycle, or walk instead of driving." — Charles D., South End
Yes on fixing public transportation
Out of nearly 600 responses, 226 said they would like to see lower public transportation fares. And several respondents indicated that affordability is one of many MBTA related problems they would like to see fixed.
Here's a sampling of their comments:
"PUBLIC TRANSIT! Public transit is the cornerstone of a functional society. Traffic would be an entirely different scenario if the MBTA wasn't made out of popsicle sticks and glue. If trains and buses ran every 5/10 minutes, that would sway a lot of people from taking their personal vehicles. Also, if Boston had a giant ring around it (like Berlin has), that would be absolutely killer." — Alex P., Allston
"Fix the T! It is no wonder that people are choosing to drive. So the proposal is to charge them even more to try and fail to make them ride the T instead. Just take the money you would waste on congestion charge tech, and make public transit a viable option." — Dan C., Cambridge
"We need to greatly enhance public transit, both within the city and suburbs, and to major transportation hubs (Amtrak and Logan). People need to view public transit as far more economical and convenient than driving into the city. Washington D.C. did it. London imposed tolls for driving into "hot spots" in the city, coupled with a very convenient transit system. Doing the same in Boston is long overdue." — Richard S., Rhode Island
"If you fix the T and make it a pleasant commuter experience, people will use it more often. The money for this should NOT go to salaries, pensions and healthcare for employees — it needs to go directly into MBTA station improvements and related infrastructure needs. The world is laughing at our decrepit public transit in Mass. and the waste and cronyism that has always been associated with it." — Jeff M., Lower Mills, Dorchester
"Make public transit more reliable. The commuter rail is a disaster — so even when people want to use that (rather than drive), it is consistently unreliable … I would love to take the train and avoid costs for parking, gas and tolls as well as decreasing my environmental impact and having a little time to read or listen to music — but I would also love not to get fired by missing shifts and creating problems for my coworkers and patients. So until the longstanding issues of the MBTA are resolved and public transportation is reliable (which so many other cities have managed to do), I and thousands of others will continue to drive and traffic will remain an issue. Or people will get fed up with being told to pay an additional 'traffic congestion fee' without a reasonable alternative for transportation and leave Massachusetts altogether." — Kelly B., Grafton
Comments may have been edited for length or clarity. Boston.com occasionally interacts with readers by conducting informal polls and surveys. These results should be read as an unscientific gauge of readers' opinion.
Newsletter Signup
Stay up to date on all the latest news from Boston.com