Readers Say
Boston.com readers wish they could fix the MBTA. Here's how they'd do it.
"It is time for Boston, the oldest big city in the U.S., with its antique commuter rail system, to come into modern times."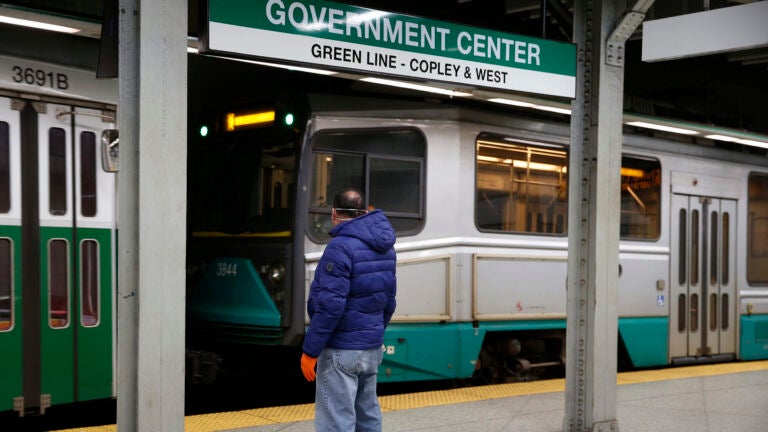 MBTA ridership is slowly rebounding after several pandemic-induced dips over the last year, just in time for the rollout of several changes to the transit system.
Many commuters will be making a spring return to the office and Boston.com readers are already bracing themselves for the headaches that come with a regular commute, whether by commuter rail, the T, or bus.
As thousands of riders return to their daily commutes, the MBTA has started to roll out some upgrades to the system that it says is part of a 5-year $2.2 billion investment plan to "modernize" the T. Part of those changes include updating the ticketing system for the T and a new Green Line extension to Union Square set to open March 21. In the last year, new stations have come to both the T and the commuter rail.
Given that more people may need to more frequently ride the T, commuter rail, buses, and ferries, we wanted to know what improvements readers most urgently want to see brought to the transit system.
The T was voted by readers as the branch of the MBTA that needs the most upgrades, with many readers expressing concerns about timeliness, safety, and efficiency.
"I bought a home on the D line 20 years ago for ease of commute into the city. The last 5-8 years have been the worst. I just want a reliable ride," said Michelle O. from Newton Highlands. "No more waiting for trains that never come, trains too packed to board, express trains that I need to disembark to wait for another train. No more planning 1.5 hours into my 30-minute commute because I never know what to expect from the T. I'm done. I bought an electric bike and drive in bad weather. Goodbye MBTA. You lost a lifelong Bostonian rider."
Which MBTA service do you think needs the most improvement?
The T
Buses
Commuter rail
Ferry
Readers also said they wanted to see the MBTA double-down and move faster on extending the T to more neighborhoods. While the Green Line extension is ongoing, readers said the city would benefit from an extension of every T line.
"Expansions should not just be for cities outside of Boston," said Elizabeth B. from Charlestown. "Neighborhoods within the city, such as Southie, Charlestown, and South Boston all have stations on the outer edge of the neighborhood. In order to access the T, many residents must take a bus to the nearest station."
For readers who rely on the commuter rail to get in and out of the city, the most recurring suggestion was to transition from diesel-fueled to eclectic trains on the commuter rail.
"I believe the commuter rail needs to be upgraded to a modern, electric system as it is in Europe. The diesel locomotives are unreliable in our weather and of course, leave a bigger carbon footprint," said John from Danvers. "It should be easy and a no-brainer for people in the suburbs to be able to go into Boston on the commuter rail, but it is currently not feasible for everyone due to lack of service and reliability."
Whether readers regularly use the T, commuter rail, or bus, they were all in agreement that the more changes made to the MBTA, the better. Below you'll find a sampling of their suggestions of how to improve the experience for riders in and out of the city.
Responses have been edited for length and clarity.
The T
"Cosmetic improvements are great, but the trains need to run later. I have friends who work in foodservice and it was impossible at certain points during the pandemic and very difficult at other times to find a ride home. Imagine this would also limit the number of people driving drunk. I don't think 2:30 a.m. on Fridays and Saturdays should be unreasonable. Use the money to pay the operators more." — Ash R., Southie
"How about not hiking rates without improving any sort of functionality in terms of service itself? I've seen the rate go up on the Green Line three times since I've moved back to Boston, and I fail to see any improvement in terms of the reliability or frequency of schedules, the trains themselves, or anything else. It's ridiculous and frankly, it reeks to me of being taken advantage of." — Andrew R., Chestnut Hill
"They should focus on doing whatever it takes to decrease signal delays and broken down trains. I ride the Red Line most frequently, and the amount of times that disabled trains or signal delays cause disruption is absolutely unacceptable for a public transit system. Those delays and issues cause a domino of issues and stress, especially during busy commuting times. The train cars need to be kept up better as well. The number of lights out, or doors that don't work or air conditioning that doesn't function is horrible." — Katie C., Quincy
"Getting from point A to point B in a timely, safe manner is what the MBTA should focus on. It is its main purpose in my opinion and the subway fails in this all the time. Pre-pandemic I had only to take the Red Line to get from home to work (Dorchester to Cambridge.) There were delays daily, stopping somewhere on the tracks mid-trip for a myriad of reasons. Whatever those 'reasons' are should be prioritized and fixed. Of course, safety issues should also be addressed. In its current state riders cannot rely on the T to get them to their destination timely." — Kat, Boston
"Since moving to Boston over a decade ago I've been a firm believer that there should be a series of C-shaped lines that more efficiently connect from coastal communities out towards Newton/Waltham and back. Think of it like a highway 95 but for the trains. People don't have to waste time going all the way into Boston that need the train to get out. Overall I feel it would cut reliance on cars and could even run along the highway if clearing space is a concern. Whether this is a commuter train or a T I'll leave that to the officials to make, but perhaps part T and part Commuter rail adjustment overall. Combo bus/bike lanes would also be on my list of improvements, the way it is done in London to expedite bus travel and clear the way for those who choose to bike to the city." — Ben W., Malden
"The fact that there isn't an app-based fare system or even contactless option at this point in time showcases how behind the T is. In Boston, there are so many options to make this happen. Need an app? Hold a weekend hackathon. With all of the amazing engineering schools, passionate programmers, and support from companies like Amazon, Microsoft, and Meta here in Boston, you would end up with a robust integrated option in less than 48 hours. Be creative T folks, be innovative — it will pay off." — Kate D, Everett
Commuter rail
"Electrify the entire commuter rail system, starting with the lines that serve the most passengers. This will also make commuter rail far more reliable and increase the frequency of trains. Also, the North Station-South Station connector should be completed to allow trains to run through the entire system." — Brad, Beverly
"Please electrify the commuter rail. Get rid of the noisy diesel belching locomotives in population-dense Metro Boston. Improve the health of everyone with the elimination of diesel fumes and decrease global warming. Electric trains also have faster acceleration and lower maintenance/breakdowns. Put in all elevated platforms with automated entry/exit gates and multiple doors on the electric trains for quick loading/unloading. Europe and Japan have had nearly all-electric train service for decades. It is time for Boston, the oldest big city in the U.S., with its antique commuter rail system, to come into modern times." — Charles, West Roxbury
"On-time service on the Fitchburg line, better coordination of freight train usage and travel during the day, better signal coordination, extending the Fitchburg service further out west, as well as lower-cost ticketing and parking fees." — Jacqueline D., Athol
"Commuter rail stations parking is a huge problem. Building multi-level parking garages would be helpful. Even better would be a garage with a coffee store, wi-fi, waiting area for trains. Acton train station, for example, has assigned parking spots, leaving many spots empty if the parking spot owner doesn't use it that day rather than a first come first serve policy for spots. The reserved spots are inefficient and reward older town residents who hoard the rare spots. Extending the Red Line out to Lexington or beyond would also be beneficial." — Harry, Acton
"We need to get commuters from the suburbs out of their cars and on a frequent and reliable commuter rail to enhance the environment. Yes, the subway needs investment but it won't matter if climate extremes shut down the regional economy. I recently moved from Lincoln to Somerville because I could not rely on the commuter rail and refuse to pollute by driving my car." — Laura S., Somerville
"I'd be happy if it ran on time. My Newburyport line train is late every day. Sometimes it's just a few minutes and sometimes it's many minutes, but late is late. I cannot depend on this service to get to work on time but it's this or paying $400/month for parking in Boston. Other countries have figured out how to get their trains to run on time so I know it's possible." — Scarlett, North Shore
Buses
"Please restore full service to the 55 bus. So many elderly, disabled, and workers depended upon it. The current half schedule from 10 to 3 is insufficient." — Philip Wright, Fenway
"Make the Silver Line a light rail/train like it was initially intended to be. The Seaport and Logan are growing above the capacity that a bus system can handle. The Silver Line should also be a light rail in the Washington St./Nubian area." — Amir, Roxbury
"Unreliable service, late or missing altogether. The transit app is useless. I take 65 every day and it's infuriating watching the bus just 'disappear' from the schedule and not show up." — Alina B, Brookline
"We need dedicated bus lanes, bus priority over single-occupancy vehicles, prepay or other faster methods of boarding, and on-time scheduling." — Andrew Fischer, Brookline
Boston.com occasionally interacts with readers by conducting informal polls and surveys. These results should be read as an unscientific gauge of readers' opinion.