Readers Say
More than 6,000 readers voted, here's how they feel about masking in schools
"The adults have the power to make the decisions and the children in Massachusetts are taking the hit. It's heartbreaking."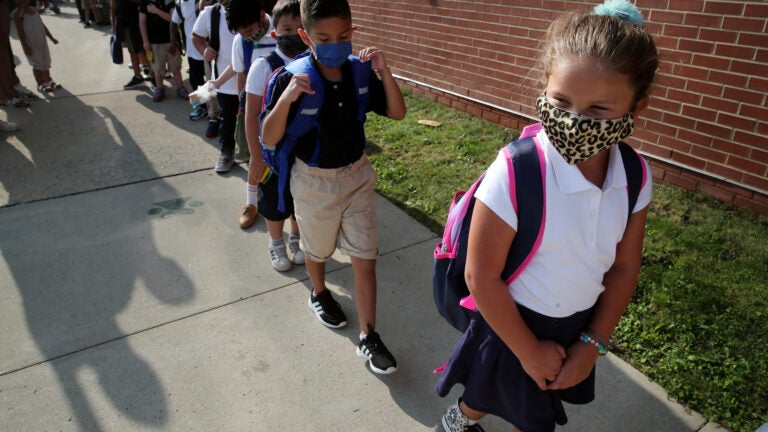 As the omicron surge passes as we begin to see case numbers drop, some people — including doctors and government officials — are starting to openly discuss what it would take to move on from COVID-19 protections like masking.
Schools have come to the forefront of conversations about easing restrictions, particularly as the vaccination rates among school-aged children increase. Just last month, three Boston-area doctors called for the end of mandatory masking in schools in a Washington Post op-ed, writing that it's "time for us to give them their childhood back."
There is currently a mandatory masking requirement for all K-12 public schools in Massachusetts.
We asked Boston.com readers if they agreed with the calls from some doctors and officials to remove COVID protections like mandatory masking from schools, and of the more than 6,000 who responded to our poll, most readers said it was time to remove the masks and return to normal conditions.
Readers pointed to the high vaccination rates in the state and the relatively low infection rates in schools as reasons why mandatory masking is no longer necessary.
"As soon as the omicron wave has subsided, masking should be optional in schools. Children can get the vaccine, and schools have had plenty of time and funding to upgrade HVAC systems," Linda G. from Braintree said. "It's okay if people make the transition at their own pace. We cannot expect everyone to have the same risk tolerance."
Should we end mandatory masking in school?
Dave from Attleboro said he felt the best practices for schools should be, "in-person learning, optional masking for students, optional masking for vaccinated teachers and staff, and mandatory masking for visitors and unvaccinated teachers and staff."
Many readers said it was time to remove all restrictions and treat the virus as endemic, but many health officials have said it's too soon to say COVID-19 can be consistently maintained. The World Health Organization has said endemic status is still "a ways off." For some, the push to declare the pandemic over could be influenced by political interests, rather than science.
"It's somewhat a subjective judgment because it's not just about the number of cases. It's about severity and it's about impact," Dr. Michael Ryan, the WHO's emergencies chief told the Associated Press.
In Massachusetts, COVID cases are declining as we move past the worst of the omicron surge. The positivity rate is down to 5.89% after being in double digits at the start of the new year.
Some readers said that restrictions can tighten should positive case numbers rise again, but until then, mandatory masking shouldn't be enforced in schools.
"Seasonality adjustments between Thanksgiving and Valentine's Day like COVID testing should be considered but all other restrictions can be dropped," John from Quincy said.
For the more than 600 people who said they think masking in schools should continue, for the time being, a big concern was mitigating risks for more vulnerable people, including some children. Jen D. from Jamaica Plain noted that masking is especially important in school buildings that have "uneven ventilation (old buildings without HVAC, relying on open windows in winter, etc.)" and low vaccination rates.
She said her kids attend a school with just 25 to 30% of the students vaccinated.
"And for what it's worth, my children have no complaints about wearing masks — doesn't seem to have crossed their minds to question it. It's just something we're doing to protect one another," she said. "Every time we make it through a surge there's a big push to pretend that another one isn't coming. Let's keep using the tools at our disposal while working to improve ventilation and vaccination rates."
The American Academy of Pediatrics recently updated its pandemic guidance for schools and recreational sports for children, stating that school mask requirements should continue. The Centers for Disease Control and Prevention also recommends "universal indoor masking" in schools.
The statewide mask mandate is in place until the end of February, and many readers said March would be a good time to reassess what role masking should play in schools.
Jaimee S. from Lowell said schools should keep the mandates in place but start thinking about what steps would need to be taken to safely peel back restrictions.
"I would love to see schools in Mass. run a trial and end mandatory masking maybe in the spring after April vacation when there's not much school left on the calendar," Jaimee S. said. "It would allow the schools to monitor the health of the children during a sample period (end of the school year) coupled with the nicer weather. I think it would give us a good idea of what to expect come September."
Ahead, you'll find a sampling of responses from readers on how they feel about masking in schools and what, if any, recommendations they have for how schools should handle COVID protections at this stage of the pandemic.
Boston.com occasionally interacts with readers by conducting informal polls and surveys. These results should be read as an unscientific gauge of readers' opinion.
Yes, remove the masks.
"Schools should move on with education as usual. When symptomatic, test, and if positive, follow the current recommendations for a retest on day 5 and return if negative and feeling well. Stop random testing of asymptomatic and let's move forward! If you want to put your 5-year-old in a fitted N95 mask all day that's absolutely your choice…I'd rather not." — Sarah, Hopkinton
"Please consider allowing optional masks. Most people will still wear them, but this allows for students with disabilities and special education needs to have the option to remove them. Where we do have the vaccines available, it seems unreasonable to ask that everyone, especially children, wear masks for consecutive hours." — Rachel, Wilmington
"Teachers/staff should be required to be vaccinated unless they qualify for an exemption. Children should be encouraged, but not required, to be vaccinated. Continue pool testing, but otherwise, go back to normal. At this point, everyone who wants to be vaccinated has done so." — David, Roslindale
"No masks starting sometime in March as case levels drop. But continue comprehensive testing through the end of the school year. No masks for outdoor school sports and indoor sometime in March (coordinate same timeframe as in school). Continue to advocate for vaccines of all ages. Work with teacher unions on hazard pay to offset risks." — G, Boston
"We should require COVID vaccines just like other immunization requirements in schools. Otherwise, it is time to move forward like we have with the flu or other illnesses before COVID. The mental health cost, the impact on student development, and broader impacts on the economy (which do impact families and children) are just no longer worth it. We also need to take a hard look at the actual health benefits of COVID restrictions in a highly vaccinated community like Massachusetts and more critically consider if our restrictions and mandates are deferring to the risks that the unvaccinated-by-choice have chosen to put upon themselves. Let's start by dropping mask mandates." — Katherine, Dover
"Requiring K-12 students to mandatory mask every school day for 7+ hours (including bus transportation) while right in the same community, allowing stores, restaurants, events to be mask-optional for everyone is discriminatory and abusive towards children. Why should they continue to sacrifice their mental health and learning efficacy (after 2 YEARS) with cases on a steep decline? The adults have the power to make the decisions and the children in Massachusetts are taking the hit. It's heartbreaking." — Jill H.L., Norfolk
"We need to move into the endemic stage. COVID has shown it can come in waves. We have vaccines and can mask temporarily when we are in a surge. We need to move forward back to normalcy. And at this point, if someone chooses to remain unvaccinated that's on them." — Kate, Westwood
"Cloth masks do not work anywhere near as effectively as an N95 or similar. I believe allowing parental choice is the only way out of this, or institute a policy based on real science such as establishing a benchmark for mask use when community transmission rates statistically affect in-school transmission. The raw numbers exist, it's unbelievable that this type of analysis has yet to be conducted or implemented." — Jennifer G., Williamsburg
"The options are available for people to choose the level of protection they need from serious COVID. Vaccinate, boost, or continue to wear a mask if you prefer but studies have proven the cloth masks most students wear are not effective. But they do inhibit learning and speech, especially in young students learning to read and talk. Speech therapy needs have increased state-wide. My six-year-old says she feels like she has to yell all day to be heard. That is exhausting. So forcing kids that are at minimal risk of severe COVID, whose parents agree the risk to them is minimal, to continue to wear a mask for 8 hours when everywhere else we go including packed stadiums, they do not, is not an effective measure." — Karalyn, Hanover
"Schools should discontinue mandatory masking and implement a mask optional policy ASAP. The academic and socio-emotional damage done by having students masked for the past two years (when they were actually in school) and remote learning will be long-lasting. Schools should continue to invest in proper ventilation, testing capability, and other non-disruptive risk mitigation strategies (i.e. outdoor lunch when feasible)." — Andrew K., Marblehead
No, not yet.
"We need to continue to protect the immune-compromised, and that includes some students. I think when we reach 80% vaccinated in a school we can talk about removing masks but we're a long way off from that point in most schools. We're still at a higher caseload now than we were in last year's surge so we need to keep masking for a little while longer. Schools should have frameworks in place for responding to surges with mask requirements when needed. It has been very clear that some parents are not considering taking care of the overall population when making their own choices about masks. It would also put a huge burden on teachers and school administrators to manage which students/families are choosing to mask and which aren't, especially for younger children who could be very confused about optional masking." — Molly, Westwood
"Start to lift restrictions on attendance at sports and other activities. Then move to masking after you've determined that staff won't be out sick. Don't want a situation where students have subs. Subs this year have been glorified babysitters. That's not learning." — Lisa A., Wellesley
"As an elementary school teacher, aware of dirty building conditions and unaware of vaccination statistics of students and their families, I fear for our collective health if mask mandates are lifted in schools.
"The few doctors pushing for this: What are the mask mandates in your offices and medical practice buildings? Have these few doctors taken the time to consult with school nurses? I imagine that they haven't because the school nurses would be able to share other recommendations as they have been in over their heads, run down beyond the point of physical and emotional exhaustion and sickness.
"So here we are at a crossroads: outsiders making this charged statement that clearly reflects how out of touch they are with the day to day reality of what it is TRULY like working in a school." — DM, Bristol County
"Considering that the CDC just recently updated its mask guidance to recommend using 'the most protective mask you can' because of the highly infectious omicron variant, I'm not clear on why the schools are even discussing ending mandatory masking. Schools without mask mandates have more COVID outbreaks. Period. Yes, cases are declining overall, but they are still very high and omicron is still very contagious. For those who are immunocompromised, it can also be very deadly. Nobody likes wearing a mask – nobody – but we have dealt with this for two years and we may finally be seeing a glimpse of the finish line. We need to keep the mask mandate in place a little longer to keep our students and their families safe. It will save lives." — Ellie, Lexington
"Restriction should be largely removed in March but clear communication needs to be provided around what would cause them to be reinstated (e.g new variants/waves). Schools should be considering a COVID wave Thanksgiving to Feb. break next year as Plan A. Plan for the worst, hope for the best. … I think the majority of the population has no idea what endemic actually means and how far away we have been and continue to be from endemic conditions." — Bob M., Wellesley
Responses have been lightly edited for length and clarity.