Readers Say
Ho Ho Holy Cow! Surprises abound among Boston.com readers' list of favorite Santa movies
See which Kris Kringle readers found to be most Kringle-y.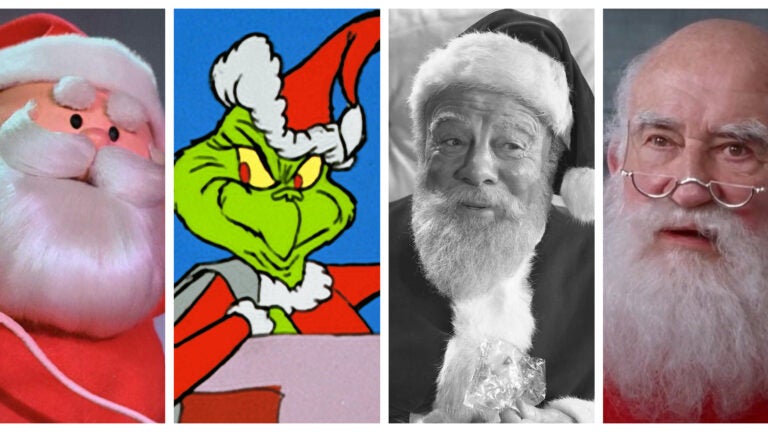 OK, we admit it: We're suckers for Santa. Every year around this time you'll catch us decked out in our red and white PJs, unwrapping those cute little Santa chocolates from Winfrey's and listening to Bruce Springsteen warble "Santa Claus is Comin' to Town," on repeat. We love that jolly old elf. (Santa, not Bruce Springsteen. Well, him too.)
But when it comes to pouring the cocoa and curling up for that perfect Santa Claus movie, it's always a tough choice. Are we in the mood for a Santa origin story? A girl Santa? A Santa who's a homicidal maniac? (Um, that's a no on that last one.)
That's why we left it up to Boston.com readers to let us know their favorite films and holiday specials that feature St. Nick. And they had some opinions. "I hate Christmas movies that depict Santa as a job that gets passed on from one person to the next," said Aaron C. of North Andover. "Santa works best when he's a person, immutable and eternal. And wow, I think I've spent too much time now typing this."
Sonia from Webster, meanwhile, points to Santa's role as purveyor of Christmas spirit. "I remember when I was young and just believing in the spirit of Christmas," she wrote. "Believing there was a Santa Claus and Christ was born on Christmas Day. It was not a movie, it was real life that I remember. Things are so different now. Merry Christmas!!"
Merry Christmas to you, Sonia! Meanwhile, a total of more than 150 readers weighed in; here are their top five picks for favorite movie and TV Santas:
MOVIES:
5. "The Christmas Chronicles"(2018). Who says they don't make 'em like they used to? This recent Netflix adventure features the venerable Kurt Russell as Santa Claus, bringing all the same charm he brought to films like "The Computer Wore Tennis Shoes," "Escape From New York," "Overboard," and "Guardians of the Galaxy Vol. 2." (The man is nothing if not versatile.) Plus, bonus points for taking place in Lowell, Mass.! "The Christmas Chronicles" got 15 votes to grab fifth place. (Streaming on Netflix)
4. "The Polar Express " (2004). This is the film that has the distinction of being the only one ever to make Tom Hanks seem creepy. But in its defense, motion-capture technology was still pretty much in its infancy, so everybody in it was creepy, but in a holiday-cheerful kind of way. And this one also has a Boston connection, in that Aerosmith's Steven Tyler was a motion-capture elf! Surely that was the deciding factor in earning it 16 votes for a fourth place finish. (Streaming on HBO Max)
3. "The Santa Clause" (1994). You've got to admit it's chucklesome to see Tim Allen gradually transmogrifying into old St. Nick, even though the actual Santa has to suffer a painful and untimely death in order for it to happen. (Did we mention it's a comedy?) Allen pulls it off, even if this movie has no doubt contributed to the perennial misspelling of Santa's last name. This one took a big leap up the Santa ladder, with 53 votes earning it an easy third place. (Streaming on Disney+)
2. "Miracle on 34th Street" (1947). Now we're getting somewhere: It's a rare movie Santa who's as clever and downright loveable as Edmund Gwenn's Kris Kringle. Throw in adorable little Natalie Wood, years before she'd go on to "West Side Story" glory, and the most intrinsic artistic use of the United States Postal Service this side of Newman on "Seinfeld," and you've got a Christmas winner for the ages. Readers agreed, coming through with 58 votes for second place. (Streaming on HBO Max)
1. "Elf" (2003). Granted, Santa may not be the star of this comedy classic — that would be Will Ferrell's earnest (and hilarious) Buddy the Elf — but Ed Asner's wise, prickly St. Nick all but steals the movie, warning Buddy about the dangers of New York City ("First off, if you see gum on the street, leave it there — it's not free candy") and then putting his holiday faith in Buddy to eventually save Christmas. There would be far worse ways for the late, great Asner to be remembered than for being cinema's greatest Santa: He had spunk. No doubt that's why Boston.com readers gifted "Elf" 62 votes to earn first-place honors. (Streaming on HBO Max)
Below is how the full list broke down, with "Other" films including 1985's "Santa Claus: The Movie" (a critical flop with 20% at Rotten Tomatoes, but clearly No. 1 in the hearts of at least the three readers who voted for it); "Die Hard" and "It's A Wonderful Life," which are both great Christmas movies which definitely do not feature Santa Claus; and "Santa Claus Conquers the Martians," which got one vote, presumably out of spite.
TV SPECIALS:
5. "Frosty the Snowman" (1969). As you'll recall, Santa Claus's presence in this special was mainly to act as deus ex machina, using his Christmas magic to reconstitute Frosty out of a soggy puddle of corncob pipe and coal. He was voiced by the almost impossibly prolific voice actor Paul Frees, surely the only performer to play John Lennon and George Harrison, Green Lantern, The Thing from the Fantastic Four, and FDR! (And Santa Claus, naturally.) "Frosty" got 17 votes for fifth place in our survey. (Airing Dec. 19, 20, and 25 on Freeform)
4. "The Year Without a Santa Claus" (1974). Frankly we thought this would finish higher, because Snow Miser/Heat Miser. (Enough said.) But it might have gotten a few demerits due to Santa's uncharacteristic decision to cancel Christmas after getting a cold (or something), a most un-Santa-like move. Luckily, his bride saves the day: This special would definitely have the No. 1 Mrs. Claus. It took in 24 votes, good enough for fourth. (Airing Dec. 18, 21, 22, 25, and 26 on AMC)
3. "Santa Claus is Comin' to Town" (1970). Prior to this year's Netflix movie "A Boy Called Christmas," this had been the definitive Santa origin story, explaining everything from the beard to the stockings (and even how Santa and Jesus can co-exist, sort of). It also has a killer Mrs. Claus, a.k.a. Miss Jessica, who at one point has what can only be described as a full-on acid trip. Ah, 1970. (Bonus: Paul Frees is back again, this time as Burgermeister Meisterburger!) With 40 points it was a shoo-in for third place. (Airing Dec. 20, 21, 24, and 25 on Freeform)
2. "How the Grinch Stole Christmas" (1966). It's worth noting that the bulk of the action in this animated classic occurs after Santa has come and gone — he's already left Whoville's presents and taken off for his next destination when the Grinch does his dirty work. But the spirit of Santa hovers over the proceedings, in the Grinch's "quick Santy Claus hat and a coat" and his long-suffering hound's makeshift antlers, not to mention the holiday spirit that (eventually) causes the Grinch's heart to grow three sizes that day. Boston.com readers gave this one 46 votes, for second place. (Airing on TNT)
1. "Rudolph the Red-Nosed Reindeer" (1964). That this is our readers' favorite TV Santa Claus is, shall we say, problematic, in that he's pretty much the exact opposite of Edmund Gwenn's kindly Kringle in "34th Street." As has been well documented, he's judgmental, overbearing and perennially cranky, not to mention abusive to his employees (both elf and reindeer) in a way that would make Jeff Bezos blush. In short, he's the perfect Santa for 2021, or, possibly, Time's "Person of the Year." And who are we to argue with the 72 votes from Boston.com readers, making him an easy first-place favorite? (Airing Dec. 19, 20, and 25 on Freeform)
Here's how the full list broke down, including an "Other" option containing almost exclusively votes for "A Charlie Brown Christmas," which, like "Die Hard" above, also does not feature Santa Claus. (Sorry, Snoopy.)
Boston.com occasionally interacts with readers by conducting informal polls and surveys. These results should be read as an unscientific gauge of readers' opinion.