Readers Weigh In
Winsor Dim Sum Café is Boston's best dim sum restaurant, according to readers
"The food is astoundingly delicious," shared one reader.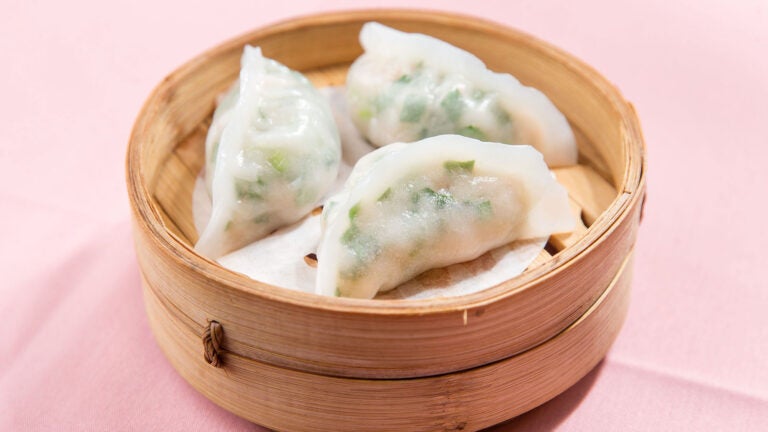 Is there a No. 1 dim sum restaurant in Boston? For our readers, all signs point to yes.
We recently asked Boston.com readers to share their favorite dim sum restaurant, including the dishes they loved to order. The results led to a clear top choice: Winsor Dim Sum Café in Chinatown was chosen by roughly a third of the survey's respondents (Winsor Dim Sum House in Quincy also received a handful of votes, but the Chinatown outpost was far more popular). Dozens of dishes were named as must-try items — just don't expect to order them from roving dim sum carts. Winsor doesn't have 'em.
"One orders items fresh from a menu," shared a loyal fan, noting that they loved the varieties of congee, fish balls, shrimp and chive dumplings, and deep fried red bean paste sesame balls. "Getting up there via several sets of perilous stairs is a royal pain, but it is worth the annoyance to go there. The food is astoundingly delicious."
Lauren from Boston said she loved the restaurant's cozy atmosphere.
"They're always packed but they always get the food out so fast and made to order," she said. "Most delicious dim sum options in Boston, hands down!"
Wendy Y. from Cambidge said her favorites were Winsor's shumai, har gow, steamed barbecue pork bun ("best in town!"), glutinous rice wrapped in lotus leaf, pork and century egg porridge, and tofu pudding, while Shan from Medford called out the spareribs in black bean sauce, deep-fried shrimp rolls, shumai, sesame balls, and "all kinds of dumplings."
"I love their pork buns and sticky rice, and their custard buns are a recipe for a food coma," Leilani wrote, and Cristina from Roxbury praised the restaurant for keeping its food "consistent throughout the pandemic."
The Quincy outpost of Winsor Dim Sum received some love, too. Connie O. in Quincy dubbed it "reasonably priced," and called out the steamed barbecue pork buns, fried shrimp and taro patties, and the S&P chicken wings ("which are addictive").
Another reader favorite: Joyful Garden in Watertown.
Deborah from Belmont praised the restaurant's pork and shrimp dumplings, stuffed eggplant, crab claws, and barbecue pork buns, while Valerie from Watertown said she loved to order the ham sui gok (glutinous rice dumplings) and lo bak go (turnip cake).
"Joyful Garden in Watertown is by far the best dim sum in the area," wrote one reader. "I particularly love their shumai over other places, [and] their marinated sliced beef shin is excellent."
Though China Pearl's location in Chinatown is currently closed for renovations, it — and its Quincy counterpart — also came out as a reader favorite.
Chris from Quincy called out China Pearl's steamed char siu bao, shark fin dumplings, meat balls with tofu skin, shrimp noodle, har gow, and custard tarts, while Don from Westborough noted that "they keep the carts coming around so there is not too long a wait for fresh dim sum."
Check out the full list of reader favorites, plus a map to find the best dim sum restaurant near you.
Changsho (1712 Massachusetts Ave., Cambridge)
China Pearl (237 Quincy Ave., Quincy)
China Star (33 Middlesex St., Lowell)
East Ocean (25 Billings Rd., Ste. 21a, Quincy)
Empire Garden (690 Washington St., Boston)
Great Taste (63 Beach St., Boston)
Hei La Moon (88 Beach St., Boston)
Joyful Garden (550 Arsenal St., Watertown)
Jumbo Seafood (10 Langley Rd., Newton Centre)
Mary Chung (464 Massachusetts Ave., Cambridge)
Ming Seafood Restaurant (477 Hancock St., Quincy)
SunKong Restaurant (275 Eastern Ave., Malden)
Winsor Dim Sum (10 Tyler St., Boston; 706 Hancock St., Quincy)