Real Estate
'Costs through the roof': Why readers are worried this winter
"Do we heat the apartment, pay the rent, or eat?"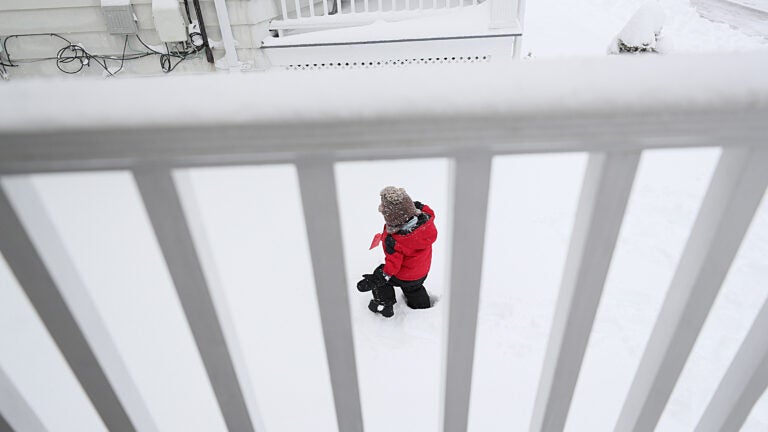 Winter can be a hard time for homeowners and renters. Even without heavy snowfall, our readers are worried about heating costs, a lack of tradespeople, the high cost of living, and more.
We asked readers what worries them most when it comes to safe housing in the winter. Tracy from Westford was among several readers who said the biggest issue they face is paying costly utility bills. Ann from Norwood cited the cost of natural gas in particular.
Experts are hoping that inflation reached its peak at the end of 2022, but Massachusetts residents are still expected to face high heating and electricity prices this season. The Massachusetts Department of Public Utilities approved higher gas and electric rates, which went into effect in November. Some residents could see their bills go up by 22 to 24% compared with last winter.
"Heating and electric bill rates are skyrocketing, so keeping the house comfortable is going to cost a lot more," Stephanie D. of West Newton said. "We are down to one income right now, but even if we weren't, rising costs are still an issue in an already inflated economy."
Another concern for readers is the typical wintertime complication — snow. We've yet to see significant snowfall this season, but when that comes, and it will, it typically brings a number of headaches with it. One reader from Lakeville said he is bracing for icy roads and a snowed-in home.
"Will my back give out shoveling?" he wondered.
Most readers said they're concerned about their utility bills and the general cost of living. We also heard from landlords who are struggling. Below, you'll find a sampling of responses from readers sharing what they're most worried about this winter and why.
Responses have been lightly edited for length and clarity.
What are your top concerns this winter?
'It becomes harder and harder to pay the bills'
"As a partially disabled veteran on a fixed income, I have no control over big oil and gas companies' decisions to increase profits as some of us struggle to pay bills. I can no longer work, and that leaves me stuck on their lack of fairness." — Michael L., Mansfield, homeowner
"My furnace crapping out on me, ugh … already had a small issue but I was able to get it fixed for short money." — Meggie, Hull, homeowner
"Inflation has driven heating costs through the roof. Do we heat the apartment, pay the rent, or eat?" — Gill B., Roxbury, renter
"Heating costs. Moved to Mass. this fall. Paying almost 3.5 to 4 times more in heating costs than we paid back in Michigan to heat our entire home. We are renters in Mass. and did not anticipate the drastic increase in heating costs." — R.P., Newtonville, renter
"It is both heating and electricity. They both have doubled. It is over a thousand dollars to fill my oil tank. Add to that how the cost of everything else has dramatically risen over the last two years, it becomes harder and harder to pay the bills." — John, Norwell, homeowner
"While I'm using about one-third of the electricity I was during the summer when the air conditioning was on, my electric bill is about triple what it was then. These cost increases are out of control, and I don't look forward to seeing what the bills are going to be next summer." — R.J., Bridgewater, homeowner
"The state doesn't seem to do anything to curb the rising cost of utilities. Each utility has to submit to the state for approval of rate increases, and the state always approves it. Shame on them." — Philip W., Boston, homeowner
'It has become increasingly expensive to maintain a home here'
"I live in a house built in 1885. With that age, there is constant maintenance required (I won't dive into heating costs). Today, it is impossible to find honest, dependable tradespeople to do affordable, good work. For example, I explored having the floor replaced on a 10-by-10 deck. I priced out high-end composite deck boards and supplies at Lowes for $1,300 to do the job myself, but figured I would reach out to a "professional" to take something off my plate. After he came to scope the project he sent me a quote — $10,200! This quote was ONLY to replace deck boards, no rebuilding was required or included. Yeah, you can guess that the result is that I will be saving 9 G's and doing the work myself." — K.D., Everett, homeowner
"It has become increasingly expensive to maintain a home here. After pouring thirty years of income and energy into our home (and the community) we have reached the point of either moving or taking loans to keep up with expenses. MA is a terrible place to retire unless you have lots of money." — T, Cambridge, homeowner
Landlord issues
"I have three gainfully employed adults in my apartment who paid only two months of rent in 2022. They refuse to move out until the housing court judge finally tells them that they are evicted. The courts are backlogged, and I can't do a darn thing about these grifters. This is unbelievable that they can continue to live in my house without paying." — Anonymous, Mattapan, homeowner
"As a property owner who rents out a property on a yearly basis, I am concerned with Mayor Wu's reckless interest in revisiting the failed policies of rent control. Although banned by the state Legislature, there is a movement afoot on the part of the city to advocate for 'home rule exceptions' with the new state Legislature and Democratic governor. If anyone is reading this who owns a property in the city of Boston, and who may in the future wish to rent it out, then pay attention. Why should the city dictate how much you can charge to lease out your own property? It unfairly targets a small segment of the city population for excessive government overreach." — T. Kennedy, South End, homeowner
Address newsletter
Get the latest news on buying, selling, renting, home design, and more.