Restaurants
The best places to get a lobster roll in New England
Boston.com readers recommended 160 lobster roll restaurants, calling them 'the taste of summer' and 'the dish you wish you could eat every day.'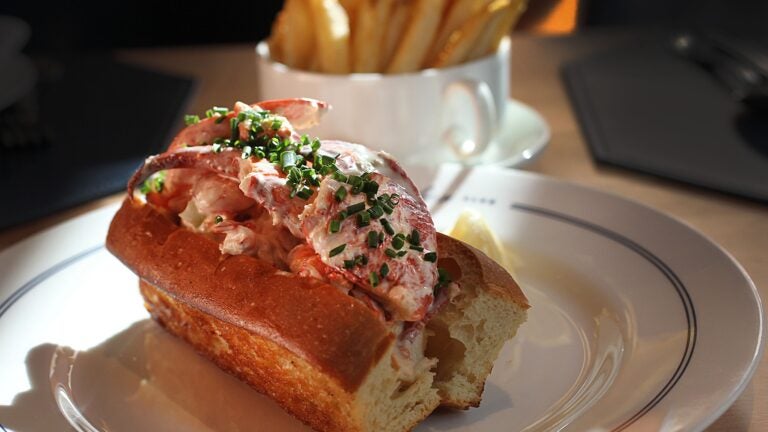 Whether you're sitting down to lunch with friends or grabbing one to go to enjoy by the seaside, there's nothing that says New England more than fresh chunks of lobster nestled in a bun. The lobster roll is a regional delicacy here.
Many lobster roll restaurants said business has been busy this summer. Matt Gelly, owner of Raw Bar in Mashpee, said that for a while, lobster prices were high, too.
"Prices exploded around late June of last year and never came down all winter long; nothing was changing," Gelly said. "They weren't going any higher, but they weren't coming down. That's kind of how it went all the way until early June of this year, when they started to slowly drop."
Because prices were so high, the restaurant decided to offer a smaller lobster roll for those wishing to spend less money and not indulge in a larger dish.
Boston.com readers told us about their favorite places to get a lobster roll, and Red's Eats in Maine took the No. 1 honor with 8% of the vote, with Raw Bar coming in at No. 2.
Readers shared 160 different places in New England where the dish can be ordered, and we've included every recommendation in a map below. Scroll down to see the top five picks, as well as a complete list of the best lobster rolls in New England.
Readers share the best lobster rolls in New England:
A 🏆 means that this spot was among the top 5 in 2021 and 2022. Restaurants are also marked for whether their lobster rolls are served 🦞 (hot) or 🧊 (cold).
Belle Isle Seafood, located in Winthrop, is a classic seafood shack with scenic harbor views. The spot serves a cold lobster roll, with just a dollop of mayonnaise, "just enough to hold it together," owner Jim Costin said. Belle Isle's version uses tail, knuckle, and claw meat from Maine hardshell lobsters. Served on a traditional, lightly buttered hot dog bun, Costin said that Belle Isle's lobster roll stands out because of its simplicity — they don't use celery or tomato, sometimes added for extra color. Taking 3% of the vote, Belle Isle is a standout. Reader Meg W. from Winthrop said: "From the buttered bun to the perfect blend of lobster meat to mayo, it's perfection."
1 Main St., Winthrop
The bustling oyster bar in the North End often draws a line for its raw bar and lobster rolls, earning 3% of the vote. Neptune Oyster uses a warm, toasted brioche roll for its lobster roll, and you can have yours either hot or cold. It comes accompanied by sea salt fries and can also be ordered without the bun. Alan S. from Newton said of the warm version of the fare: "Hot buttered heaven. One of my 10 favorite dishes in the world — and I travel a lot. Succulent, no accessories like mayo or celery needed; the lobster meat sings, and the roll hugs it, and this is the dish you wish you could eat every day."
63 Salem St # 1, Boston
Customers come up to the walk-up window at Day's in Maine, which has been open since the 1920s, and order a lobster roll to eat at the picnic tables outside. Kitchen manager Tracy Hanna said that the fresh lobster, picked every morning, makes the rolls so tasty. "The smaller the lobster you go, the sweeter the meat," Hanna said. "The larger lobsters are tough and not as sweet, the two pounders and larger. Anything under a pound and a quarter is good, tender meat." Day's gathered 4% of the vote. Linda from Freeport, Maine said: "It is prepared the good old fashioned way — in a fresh hot dog roll with a tiny bit of mayo and a secret blend of spices."
1269 US-1, Yarmouth, Maine
Raw Bar, located in Popponesset Marketplace in Mashpee, took 4% of the vote. The restaurant is a favorite among readers, serving up famous, "colossal" lobster rolls. Many customers share the dish, served on a split torpedo roll from a local bakery, and loaded with meat from Maine and Canada hard shell lobsters. They have a light layer of mayonnaise and can be enjoyed with a bit of lemon. "We have a crew of boys that shuck the lobsters and prepare the meat," staff member Annie Murner said. "The lobster is very rich, and you can't beat the flavor." Reader Casey from Raynham said: "When it comes to their meaty lobster rolls, simplicity and size defines what all lobster roll purists seek and, The Raw Bar does not disappoint … Wash it all down with Narragansett for the perfect New England combo!"
259 Shore Drive, Mashpee
A line always forms outside this iconic, red shack in Maine. Red's Eats, which took 8% of the vote, is a destination for many lobster lovers, and their cold rolls are piled high with fresh meat, with a whole, split tail to top it off. They come with a side of warm butter and mayonnaise, and you can taste the saltwater on the lobster. "Each roll has claws sticking out on both ends, the middle is filled with torn up (must not use a knife!) tails, knuckles and claws, and then the top is dressed with an entire tail," owner Debbie Gagnon said in an email. "It's fabulous!"
Reader Jameson from Winthrop said: "Normally, I don't buy into the hype about a restaurant, ever, but this place is truly our favorite for lobster rolls! The hour wait to get to the window to order is unfortunate, to be sure, but the fact that you're going to get something absolutely delicious more than makes up for any inconvenience. Yes, a lot of celebrities, real and imagined, want to have their photo taken at Red's, but don't be put off by that. … The melted butter that comes with it is clarified (thanks for the extra step!), and when you pour it over the sandwich, it becomes the most delicious piece of heaven you can imagine. It's not cheap, but something this good never is. Also, there isn't a gob of mayonnaise and unnecessary debris so that you can't taste the lobster … Really is the taste of summer!"
41 Water St., Wiscasset, Maine
Honorable mentions:
Sesuit Harbor Cafe: The lobster roll, which uses ample claw meat, comes served with lettuce, and fries and homemade coleslaw are on the side. The Cape Cod spot also has great scenic views, making the line worth it, readers say. 357 Sesuit Neck Road, Dennis
The Beach Plum: with locations around New Hampshire, these eateries makes different sized lobster rolls, on a toasted hot dog bun. You can get yours cold with mayo or try the hot sautéed lobster roll, with butter. 2800 Lafayette Road, Portsmouth, N.H.
Here's the complete list of reader-recommended lobster rolls:
A ⭐️ means that this shop was voted among the top 5 at some point over the past two years.
Massachusetts
1048 Bar and Grill, 1048 North Main St., Randolph
167 Raw Nantucket, 167 Hummock Pond Road, Nantucket
99 Restaurants, 317 Salem Street, Lynnfield
Alive & Kicking Lobsters ⭐️, 269 Putnam Ave., Cambridge
Barnacle Restaurant Inc, 141 Front St., Marblehead
Beach House, 95 Otis St., Hingham
Belle Isle Seafood ⭐️, 1 Main St., Winthrop
Blue Marlin Grille, 65 Eastern Ave., Essex
Bob Lobster, 49 Plum Island Turnpike, Newbury
Boston Sail Loft, 80 Atlantic Ave., Boston
Bramhall's Country Store, 2 Sandwich Road, Plymouth
Brax Landing Restaurant, 705 MA-28, Harwich Port
Bridgewaye Inn, 1265 Ferry St., Marshfield
Cafe Chew, 4 Merchants Road, Sandwich
Cafe Venice, 1086 Washington St., Norwood
Captain Jack's Roadside Shack, 102 Northampton St., Easthampton
Cataumet Fish, 1360 Route 28 A, Cataumet
Chart Room, 1 Shipyard Lane, Cataumet
Chatham Pier Fish Market, 45 Barcliff Ave., Chatham
Chatham Squire, 487 Main St., Chatham
Choate Bridge Pub, 3 South Main St., Ipswich
Cooke's Seafood, 1 South Orleans Road, Orleans
Courthouse Seafood, 498 Cambridge St., Cambridge
Cusser's Roast Beef & Seafood, 304 Stuart St., Boston
Edgartown Seafood Market, 138 Cooke St., Edgartown
Eventide Oyster Co., 1321 Boylston St., Boston
Falmouth Raw Bar, 56 Scranton Ave., Falmouth
Friendly Fisherman Restaurant and Fish Market, 4580 US-6, Eastham
Grace Episcopal Church, Woodlawn Ave., Vineyard Haven
Green Harbor Lobster Pound Inc., 131 Beach St., Green Harbor
Haddad's Ocean Cafe, 291 Ocean St., Marshfield
Hingham Lobster Pound, 4 Broad Cove Road, Hingham
Horse N' Carriage, 210 Dedham St., Norfolk
James Hook & Co. ⭐️, 440 Atlantic Ave., Boston
Joe's On A Roll, 61 Federal St., Beverly
JP's Restaurant Pub, 166 Milk St., Westborough
Kay's Dairy Bar, 196 State Road West, Westminster
Kelly's Roast Beef, 410 Revere Beach Blvd., Revere
Kimball Farm, 400 Littleton Road, Westford
Larsen's Fish Market, 56 Basin Road, Chilmark
Legal Sea Foods, 255 State St., Boston
Little Harbor Lobster Company, 3 Beacon St., Marblehead
Lobster Claw, 3 Main St., North Reading
Lobster Express Norwell, 49 Washington St., Norwell
Lobster Hut, 25 Town Wharf, Plymouth
Lobster Pot Express, 5 Ryder St. Extension, Provincetown
Lobster Roll Cruises, 357 Sesuit Neck Road, East Dennis
Lobster Trap Restaurant, 290 Shore Road, Bourne
Longfellow's Wayside Inn, 72 Wayside Inn Road, Sudbury
Lookout Tavern, 8 Seaview Ave., Oak Bluffs
Luke's Lobster Back Bay, 75 Exeter St., Boston
Mac's Shack, 91 Commercial St., Wellfleet
Maguire's Bar & Grill, 503 Foundry St., North Easton
Martha's Vineyard Chowder Company, 9 Oak Bluffs Ave., Oak Bluffs
Menemsha Fish Market, 54 Basin Road, Chilmark
Menemsha Galley, 515 North Road, Chilmark
Mile Marker One Restaurant, 75 Essex Ave., Gloucester
Moby Dicks Restaurant, 3225 US-6, Wellfleet
Mooncusser, 304 Stuart St., Boston
Neptune Oyster ⭐️, 63 Salem St. # 1, Boston
New England Roast Beef, 33 Park Ave., Worcester
Oxford Creamery, 98 County Road, Mattapoisett
Parker's Restaurant, 60 School St., Boston
Quahog Republic, 97 Spring Bars Road, Falmouth
Quincy Market, 206 S Market St., Boston
Raw Bar ⭐️, 259 Shore Drive, Mashpee
Row 34 ⭐️, 383 Congress St., Boston
Roy Moore Lobster Co., 39 Bearskin Neck, Rockport
Sagamore Inn Restaurant, 1131 Sandwich Road, Sagamore
Saltie Girl, 279 Dartmouth St., Boston
Sesuit Harbor Cafe, 357 Sesuit Neck Road, Dennis
Smith & Wollensky, Atlantic Wharf, 294 Congress St., Boston
Somebody's Place, 38 Andover St. #4802, Andover
Stack Shack, 10 Cordage Park Circle, Plymouth
State Street Provisions, 255 State St., Boston
Steve & Sue's Par-Tee Freeze & Adventure Falls Mini Golf, 455 W Main St., Hyannis
Sullivan's Castle Island, 2080 William J Day Blvd., South Boston
Summer Shack, 50 Dalton St., Boston
The Banks Fish House, 406 Stuart St., Boston
The Barking Claw, 29 Locust St., Falmouth
The Barking Crab, 88 Sleeper St., Boston
The Barn Pub & Grille, 5 Ring St., Amesbury
The Bayside Restaurant, 1253 Horseneck Road, Westport
The Canteen, 225 Commercial St., Provincetown
The Lobster Pool, 329 Granite St., Rockport
The Lobster Stop, 723 Washington St., Quincy
The Original Tommy Doyle's Pub & Grill, 37 Oak St. Ext, Brockton
The Red Lion Inn, 30 Main St., Stockbridge
The Seafood Shanty (Buzzards Bay), 803 Scenic Highway, Buzzards Bay
The Seafood Shanty (Edgartown), 31 Dock St., Edgartown
The Take Away, 82 Chapel St., Norwood
The Wooden Shoe, 419 Lower County Road, Dennis Port
Tony's Clam Shop, 861 Quincy Shore Drive, Quincy
Twin Seafood of Acton, 541 Massachusetts Ave., Acton
Union Oyster House, 41 Union St., Boston
Weymouth Lobster Pound, 1350 Washington St., Weymouth
Woodman's of Essex, 119 Main St., Essex
Woods Hill Pier 4, 300 Pier 4 Blvd., Boston
Yankee Lobster, 300 Northern Ave., Boston
New Hampshire
Maine
Rhode Island
Connecticut
Do you prefer your lobster roll hot or cold?
Some take theirs cold with mayonnaise. Others take theirs hot with melted butter.
Sign up for The Dish
Stay up to date on the latest food news from Boston.com.