Restaurants
Hall Pass brings Philly cheesesteaks to High Street Place
Mike & Patty's will transform into the new restaurant at night.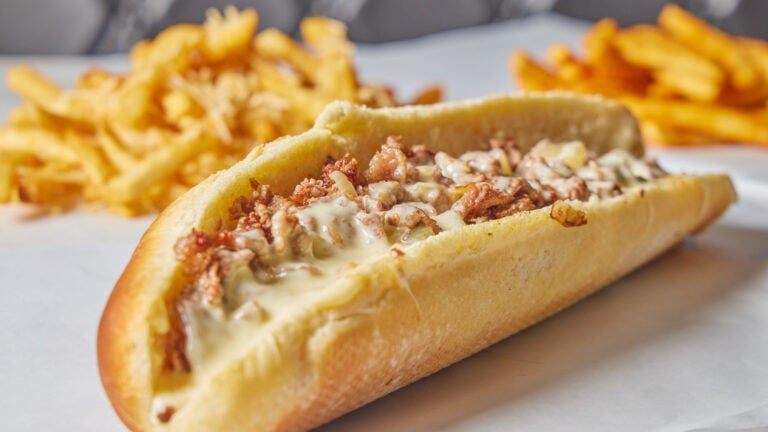 The team behind Mike & Patty's opened a new concept at High Street Place on July 25: Hall Pass, an eatery serving up Philly cheesesteaks. During the daytime, Mike & Patty's will continue to offer its breakfast sandwiches, and after 4 p.m., the space will transform into Hall Pass, with different branding, signage, menus, and all.
"We had to open an evening concept for the food hall. So we thought, we already do some of the best breakfast sandwiches in Boston: what else would correlate with that and also be just as delicious? Since we grew up in the North Shore, we always indulged in steak and cheese sandwiches…," Ania Zaroda, a co-founder said. "Since we're in a food hall, we thought it would be really cheeky to name it Hall Pass. It's sort of a naughty thing to eat; it's not extremely healthy."
On the menu will be the Wiz Wit Cheesesteak, which features shaved steak, griddled onions, and the housemade "white wiz," a cheese sauce. Customers can also build their own, adding toppings like mushrooms, cherry peppers, and pickles. A variety of French fries will be served, including the Dirty Eagle Fries (Philly fries with shaved steak), garlic parm fries, Cajun fries, and ranch fries. All the fries are crispy on the outside and "like soft pillows" on the inside, according to Zaroda.
Zaroda said that she and co-founder Michael Gurevich did lots of food research in Philadelphia to perfect their Philly cheesesteak recipe.
"We visited [about] 15 restaurants and tried numerous … cheesesteaks … just to experience and see what we wanted to do for our own brand," Zaroda said. "It was really nice to get exposure to how every single place does it a bit differently. What we learned was exactly what kind of bread we wanted to make at our bakery … We're similar to having the bread that they have over there, which is a little bit crunchy on the outside. Here, most of the places that do a Philly cheesesteak use very soft bread. … Ours is a little bit thicker, more substance."
High Street Place, 100 High St., Boston.
---
We'd like to hear from you: Do you have a favorite restaurant in downtown Boston? Tell us about it by filling out the form below or send us an email at [email protected]. Your response may be used in an upcoming Boston.com article and/or its social media channels.
Tell us: What's your favorite dining destination in downtown Boston?
Sign up for The Dish
Stay up to date on the latest food news from Boston.com.