Restaurants
KoKo Coffee is now open downtown
The spot serves cold brew, pastries, and more.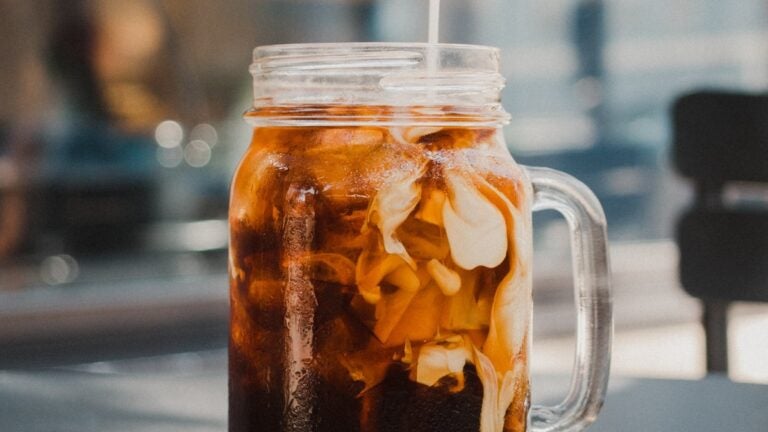 A new coffee shop has opened its doors near the Aquarium: KoKo Coffee.
Inspired by founder and CEO Daud Kyarizov's passion for the beverage, the cafe serves up caffeinated drinks, as well as pastries, breakfast, and lunch items.
A second KoKo Coffee location is anticipated to open in October at 87 L Street in South Boston.
The menu is inspired by international cuisine, Kyarizov said, with hints from the Mediterranean, the Middle East, and Central Asia. Classic coffee items, such as macchiatos and iced lattes, and syrups, like the vanilla and honey cinnamon, are made in house. KoKo also serves pastries, from pistachio croissants to madeleines and eclairs. To eat, guests can purchase avocado toast, organic oatmeal, chicken pitas, and veggie bowls.
Kyarizov, who is originally from Turkmenistan, told Boston.com the story of how he came to the United States and the path that led him to open up KoKo Coffee.
"I'm an asylum seeker in the U.S. I got my political asylum here," Kyarizov said in an interview. "I was a political activist back home. I'm from Turkmenistan; it's a dictatorship. I left Turkmenistan in 2010 because of the persecution against my family."
Kyarizov said he discovered his passion for coffee while he studied at UMass Boston and worked part-time at a coffee shop.
"I was actually never a big coffee drinker," he said, "but when I started working at a cafe, I went from drinking hazelnut lattes daily to drinking espressos and cortados, educating myself in that regard, to what a good cup of coffee is."
The cafes grew out of what was originally a coffee cart business, where customers could arrange to have a mobile coffee unit come to their functions, events, or homes.
"Basically, it came during the pandemic," Kyarizov said. "… It was basically understanding that people are closed in. A lot of people are refusing to go out for valid reasons, for reasons out of fear. We thought, 'how do we bring a good quality product?' I noticed that a lot of people would order coffee to be delivered on DoorDash or Uber Eats, but you're not going to get the same cup of coffee as you would if you came to a coffee shop, fresh, made in front of you. That's when the idea popped up."
KoKo Coffee, 255 State St., Boston
---
Feel free to let us know: Do you have a favorite dining destination in downtown Boston? Share your thoughts in the form below or send us an email at [email protected]. Your response may be used in an upcoming Boston.com article and/or social media channels.
Tell us: What's your favorite dining destination in downtown Boston?