Restaurants
Little Whale Oyster Bar to open on Newbury Street
The seafood restaurant will replace Grand Tour in September.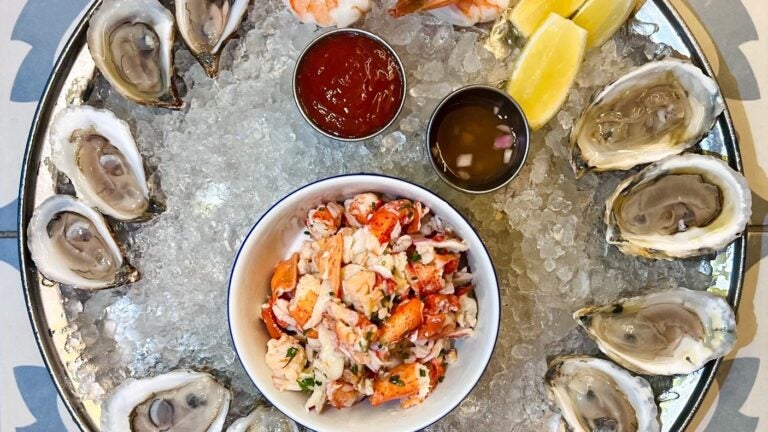 Chef Michael Serpa plans to open Little Whale Oyster Bar on Newbury Street, taking over the space occupied by his Parisian bistro Grand Tour, which will close on Sept. 4.
Serpa said that Little Whale, which is expected to open Sept. 12, will offer traditional New England seafood, something that he believes Bostonians and visitors are craving.
"We already have two other seafood restaurants: Select Oyster Bar, which is kind of more Mediterranean, and Atlantico, which is Iberian Peninsula and Spanish, Portuguese leaning," Serpa said. "We don't really do too many of the classic New England things at Select. We don't have a fryer; we can't make fried clams or oysters. … I wanted to showcase all that stuff that I also love in a different setting."
Little Whale will have a raw bar, with a daily selection of New England oysters, plus shrimp cocktail, dressed lobster, and crudos. The menu will also feature items like fried clams, fried oysters, clam chowder, and lobster rolls, served hot or cold. They'll also do a "cool take" on clams casino and a white clam flatbread.
Serpa said that in the upstairs area, the restaurant may host reservation-only clam bakes, allowing guests to dig into clams, lobster, corn, potatoes, and more.
Grand Tour originally opened in January 2020, but over the course of the COVID-19 pandemic, the restaurant closed and reopened several times. When Serpa began looking for a location for Little Whale, he thought of the Grand Tour space, saying: "We already have a space that's perfect for this. … It looks a little bit like a yacht. Why don't we take what we have?"
The design of Little Whale will be nautical and intimate. There will be marble tops and burnt wood, reminiscent of a dock.
"It is like a cozy, quaint little space, with an open kitchen, so everyone will see what's going on in the back," Serpa said. "We want it to be fun. We want it to be a party. There's something cool about a seafood restaurant, in a little tiny space, a neighborhood spot, and people are tucked in there. It's informal, and we're going to go with that vibe."
Little Whale Oyster Bar, 314 Newbury St., Boston
---
Feel free to let us know: Do you have a favorite restaurant in Back Bay? Share your thoughts in the form below or send us an email at [email protected]. Your response may be used in an upcoming Boston.com article and/or social media channels.
Tell us: What's your favorite restaurant in Back Bay?
Sign up for The Dish
Stay up to date on the latest food news from Boston.com.