Restaurants
PlantPub, known for vegan bar food, expands to the Fenway
The restaurant will be serving sustainably sourced food.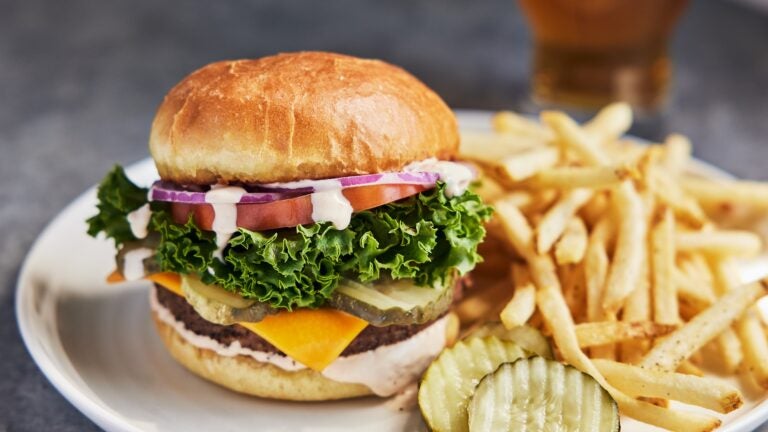 PlantPub's second Boston location opens July 15 in the Fenway, bringing a new option for a pre- or post-game nosh: vegan bar foods.
Co-founders Mary Dumont and Pat McAuley hope to make healthy food more accessible to all while supporting local farmers, craft brewers, and plant-based brands. The restaurant serves up fun, American comfort foods that are made entirely from plants, from the burgers to the soft serve.
"This is an exciting venture for us, to be able to reach so many people, it's going to change the way the world perceives plant-based food," Matthew Kenney of Matthew Kenney Cuisine, who is partnering with the founders, said in a press release. "Growing up in the Northeast, in Maine, I feel connected to this part of the world and have many memories of watching games and concerts at Fenway. It's good to come back home."
Menu items include charred vegetable artichoke dip, hot dogs, street corn pizza, and kimchi sliders, all vegan. PlantPub will also offer options like loaded nachos, fried cauliflower wings, and a classic caesar salad. Multiple burger options come with either an Impossible or housemade veggie patty on a regular or gluten-free bun. Customers can also pick up a fried "chicken" sandwich or a "pulled pork" sandwich, made from plant-based ingredients.
Beers highlighting New England breweries will be on tap, and there's also wine and non-alcoholic beverages. Frappes and soft serve ice cream also grace the menu.
The second location will be the brand's flagship, featuring an 8,000 square foot space with 250 seats in an industrial-style setting.
"It is a dream to bring PlantPub to the Fenway neighborhood," Dumont said. "Sports and pub food go hand in hand, and we are thrilled to offer our reimagined take on the pub experience to Fenway, a quintessential destination here in our hometown. Our new partnership with MKC is exactly what we have needed to push PlantPub into the future."
PlantPub, 61 Brookline Ave., Boston. 11 a.m.-11 p.m. daily (bar hours will be held longer)
---
We'd like to hear: Do you have a favorite restaurant in the Fenway? Let us know by filling out the form below or send us an email at [email protected]. Your response may be used in an upcoming Boston.com article and/or its social media channels.
Tell us: Where's your favorite place to eat in the Fenway?
Sign up for The Dish
Stay up to date on the latest food news from Boston.com.