Restaurants
Saloniki Greek will open two new locations next month
The restaurant will expand to Back Bay and Beacon Hill.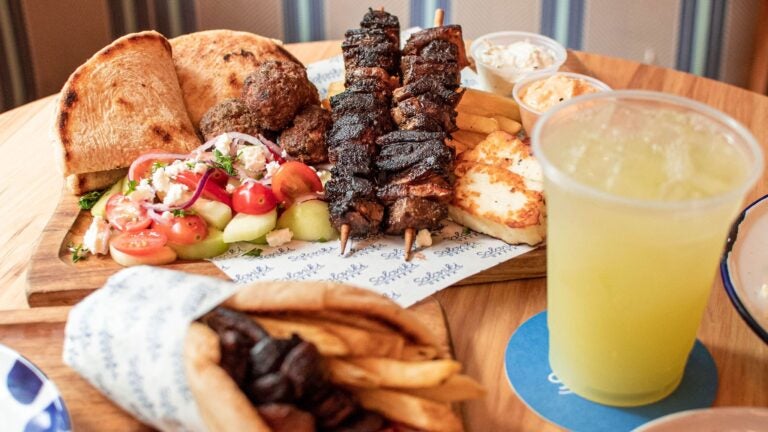 Fast-casual restaurant Saloniki Greek will be opening two new locations in Beacon Hill and Back Bay this September. The Beacon Hill restaurant will begin serving customers on Sept. 15, and the Back Bay eatery will open on Sept. 28. Saloniki already has three locations: two in Cambridge (in Harvard Square and Kendall Square) and one in the Fenway.
"These are two fabulous locations in places where we aren't," chef and owner Jody Adams said. "Newbury Street is amazing, and the location where we're going into is where the old Steve's Greek Cuisine used to be. It's beloved. There's huge interest in Greek food, and there's enough room for us to move in there and put a mark, in terms of our brand, our quality, and the scope of the menu."
Saloniki serves authentic Greek cuisine, offering menu items like the spatchcock chicken (served with crispy smashed potatoes and tzatziki), chicken souvlaki, griddled spanakopita, salads, zucchini-feta fritters, and their own frozen yogurt.
Adams said that when visitors step through the door, she wants them to feel as if they have been transported to Greece. The concept was originally inspired by the travels of co-owners Eric Papachristos and Jon Mendez.
"They go [to Greece] every year," Adams said. "They came back one year, and Jon said, why can't we get food like we get in Greece? It's easy, casual, delicious, fresh, and healthy. He had this brilliant idea to start what was initially a tribute to the humble Greek sandwich shop. We did a lot of research and decided that we would do our version, our own way … As we evolved, we realized that we wanted to do more than sandwiches, and we needed to get into different neighborhoods."
Both new locations will feature "first come, first serve" casual seating options, and the Back Bay restaurant will have a walk-up, take-out window. Each location can accommodate 30 guests, and their designs will use pops of vibrant blue and lush greenery.
"Each store has a different personality, not because of the store itself, but because of the people," Adams said.

Saloniki Greek, new locations opening at 1 Beacon St. and 316 Newbury St., Boston
---
Do you have a favorite Back Bay restaurant? Tell us all about it by filling out the form below or send us an email at [email protected]. Your response may be used in an upcoming Boston.com article and/or its social media channels.
Tell us: What's your favorite restaurant in Back Bay?
Sign up for The Dish
Stay up to date on the latest food news from Boston.com.