Restaurants
T&B Pizza gets a 'soft reopening' in Somerville's Union Square
Turenne Bagels will also occupy the same space.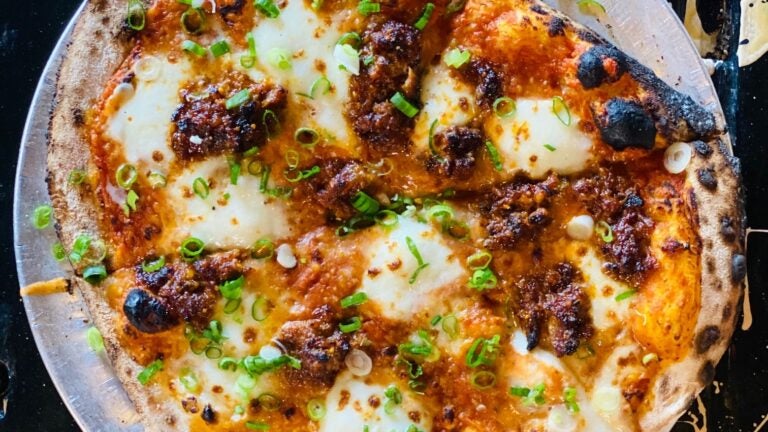 T&B Pizza, which had closed down several times over the past few years, reopened on July 6 in Somerville's Union Square. Turenne Bagels, its sister concept, will also open in the same location toward the beginning of August.
Owner Tim Wiechmann called the pizzeria's reemergence an informal, "soft opening," and said he expects business to be back to normal by the fall.
"We have grand plans for it," Wiechmann said. "We're going to get our Pizza Party [with all you can eat pizza and live music], which was very popular, back together. People have come in, and the neighborhood's been supportive. It's really just been a situation of resources."
T&B Pizza specializes in Neapolitan pizza that comes with a variety of topping options, from Mexican street corn, to wild mushroom, to a classic margherita. Wiechmann said that in preparing the pizza, he does not necessarily adhere to strict Italian rules but crafts American artisan pizza. Also on the menu are deep dish, Sicilian pies, caesar salads, eggplant babaganoush, and burrata caprese.
The idea for Turenne Bagels was born out of the pandemic, as a "to-go" concept that turned into something "unique and desirable," Wiechmann said. During a time when the restaurant was not serving cocktails, Wiechmann realized he could make good use of a beautiful wood oven and give it another purpose.
"The whole tie between [T&B Pizza and Turenne] is that everything gets made in a wood-fired oven," Wiechmann said. "… The bagels are that Montreal-style. They're boiled first. From that, they're finished on a wood deck, which is different from the New York bagels. They have a different flavor to them, and they look a little different. … That's just what we became. It was born out of necessity and creativity."
T&B Pizza, 251 Washington St., Somerville. Wednesdays through Saturdays, 5-9 p.m.
---
We would love to hear from you: Do you have a favorite restaurant in Somerville's Union Square? Tell us about it by filling out the form below or send us an email at [email protected]. Your response may be used in an upcoming Boston.com article and/or its social media channels.
Tell us: Where's your favorite restaurant to eat at in Union Square, Somerville?
Sign up for The Dish
Stay up to date on the latest food news from Boston.com.