Restaurants
Tiffani Faison's Orfano closes in the Fenway
The Italian American restaurant was modern and timeless.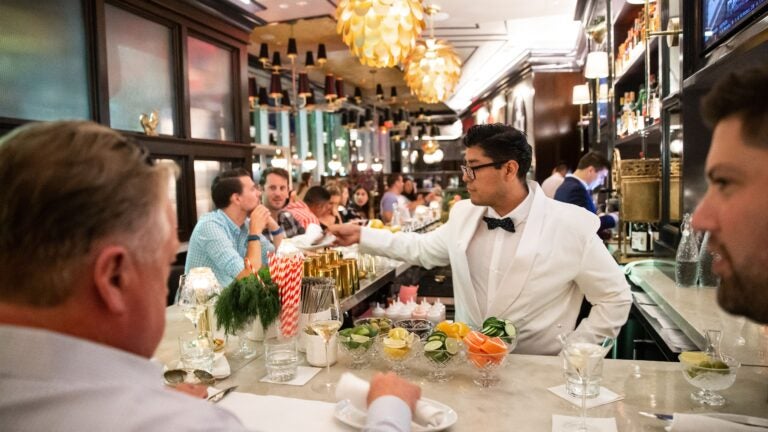 Orfano, the Italian American restaurant in Boston's Fenway neighborhood from chef and restaurateur Tiffani Faison, has closed its doors for good, a source close to the restaurant confirmed to Boston.com.
The restaurant's last day of operation was Thursday.
The "whimsical" restaurant offered dishes like pork parmesan, Asian-inspired calamari, cacio e pepe, and lobster bucatini. Orfano served cocktails with a twist — like the tuna martini — and built a wine list that focused on Italy and California. From the framed family photos to the purple plush booths, the eatery was never an ordinary trattoria, and Faison observed that in her guests' experiences.
"Something really special is happening here," Faison told Boston.com when Orfano opened in 2019. "We can feel it, and it's transferring to our guests."
Faison's Big Heart Hospitality restaurant empire in Boston continues to include barbecue joint Sweet Cheeks Q, Fool's Errand, and three recently opened concepts at the High Street Place food hall downtown: Dive Bar, Tenderoni's, and Bubble Bath. Her work continues on the forthcoming restaurant she's opening at 1363 Boylston Street, which she ran as Tiger Mama until it shuttered last fall.
Earlier this year, Orfano helped to earn Faison a nomination for James Beard Best Chef Northeast. The four-time nominee has served as a judge on the television series "Chopped" and was one of two finalists on the first season of "Top Chef."
We'd love to hear your thoughts on Orfano's closing. Do you have any special memories of the restaurant? What did you like about it? Share your ideas through the form below or send us an email at [email protected]. Your response may be used in an upcoming Boston.com article and/or social media channels.
Tell us: What's your favorite memory of Tiffani Faison's Orfano?