Restaurants
Untold Brewing will expand to Hingham with its second location
The brewery and restaurant will debut at the Derby Street Shops on Nov. 11.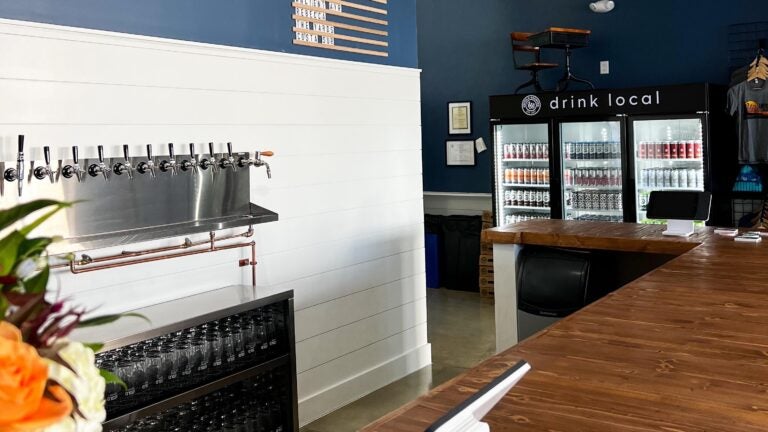 A Scituate-based brewery specializing in clean, high-quality ales is getting a new location in the South Shore—and a partnership with an acclaimed kitchen.
Untold Brewing is opening their second location at the Derby Street Shops in Hingham on Nov. 11. According to a press release, the company will be working together with Clandestine Kitchen to offer a menu of scratch made items, in addition to their rotating selection of beers.
"Untold has been in business for five years," co-owner and vice president of Untold Brewing Mike Dyer told Boston.com. "We have operated a seasonal outdoor beer garden at the Derby Street Shops for the last two summers. … It became clear from the customer interactions at our beer garden that there was an opportunity. People were eager to learn more about our brands, to connect with our products. So, it was a pretty logical step."
The brewery will offer a diverse selection of beers on draft, as well as packaged beer for guests on the go. Untold Brewing will be the only place at the Derby Street Shops where visitors can purchase four-pack beers to go. Dyer said that the beer menu will rotate, a mix of hoppy, hazy IPAs, seasonal fall ales, stouts, and light lagers.
Clandestine Kitchen will specialize in healthy dishes, offering eats such as freshly prepared salads, Mediterranean flatbreads, chicken wings, homemade tomato soup with grilled cheese, and charred cauliflower bites that come with a variety of dipping sauces. The menu will rotate featuring organic foods, locally-sourced ingredients, and include shareable plates and kid-friendly options.
The space will be warm, comfortable, and casually elegant, according to Dyer. He said the Hingham location's space was inspired by an 1852 one-room schoolhouse that is a core part of the Scituate taproom. The interior design will have a slightly nautical theme, infused with fun and artistic components, like a 20-foot long mural of a mythological kraken emerging from the ocean.
"Our goal is to create family-friendly, community-centric locations, where people can just come, relax, and enjoy," Dyer said. "It's really that simple."
Untold Brewing, 96 Derby Street, Suite 330A, Hingham
Sign up for The Dish
Stay up to date on the latest food news from Boston.com.