Tell Us
We want to know: Most Bostonians are vaccinated, but are they boosted?
Less than half of eligible Bostonians have received their booster shots.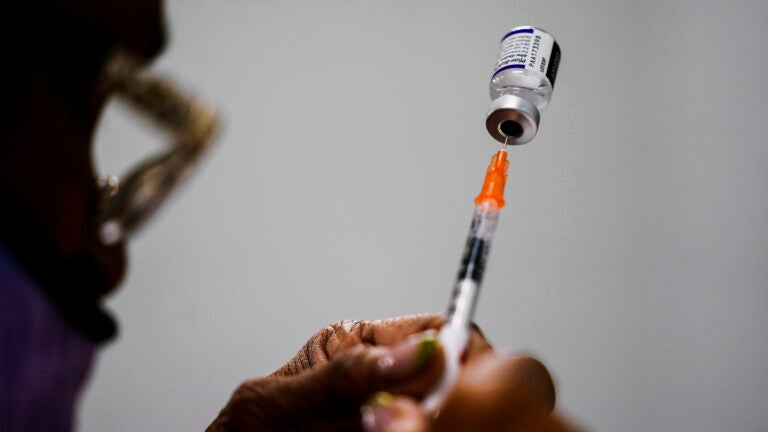 In August of last year, when boosters were first announced, Boston.com readers were among the millions of Americans eager to get their next shot. It's been almost a year, however, and many people in Boston have yet to get their additional doses of the COVID-19 vaccine even as the federal government has already made a second booster available to certain populations.
Nearly 74% of Boston residents are fully vaccinated, but only 40.5% of eligible residents have received their boosters, according to data from the city. Health officials continue to urge the public to take necessary precautions against the virus, even as restrictions ease across the country. So what's keeping people from getting their recommended doses of the vaccine?
In general, attitudes toward the COVID-19 vaccine are positive in Massachusetts. The state has some of the highest rates of vaccination in the country, and the lowest rates of vaccine hesitancy, according to the Centers for Disease Control and Prevention.
In previous polls, Boston.com readers have said they would get the necessary vaccinations for the virus for themselves and their families. Some who were initially skeptical of the vaccine have since come around to get their shots. Despite initial doubt, Leigh from Belmont was persuaded to get the vaccine after hearing the lead maternity doctors at Mass. General Hospital urging pregnant women to get the vaccine
"I was hesitant because we don't really know the long-term effects, but also understand that we have to trust science and the potential long-term effects of the vaccine will most likely not be as bad as potentially getting COVID and spreading it to others and the long term effects of that," she said.
The CDC's definition of fully vaccinated doesn't include boosters, meaning you're fully vaccinated two weeks after the second dose of the Pfizer or Moderna vaccines, or two weeks after the single-dose Johnson & Johnson vaccine.
Still, the agency recommends boosters for all Americans ages 5 and older. Despite this recommendation, just 47.1% of people nationwide have gotten at least one booster shot compared to 66.8% of those who are fully vaccinated.
We want to understand why some Massachusetts residents are hesitant to get the booster shots they're eligible for. Share your thoughts on booster shots and the thought process behind your current vaccination status and a reporter may be in touch with you for a future article on booster rates in Massachusetts.
Fill out the survey below or e-mail us at [email protected] and your response may be featured in a future article.
Tell us about your COVID-19 vaccination status