Tell Us
Parents: Are you worried about your teen's phone use?
Teens get upwards of 200 notifications each day on their smartphones, a new report found.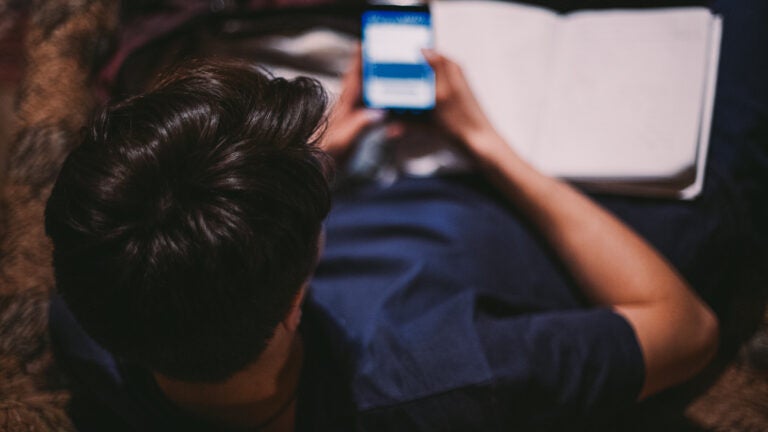 Teens get 237 — or more — notifications each day on their smartphones, a new report found.
The findings come from a new research report by Common Sense Media, a nonprofit organization that reviews and provides ratings for media and technology. According to the report, "Constant Companion: A Week in the Life of a Young Person's Smartphone Use," the abundance of notifications teens receive is coupled with smartphone use during school hours and at nighttime before they go to sleep.
Together, these daily occurrences and habits create an addictive and complicated relationship between teens and their phones that impacts their mental health.
"This report makes it abundantly clear that teens are struggling to manage their phone use, which is taking a serious toll on their ability to focus and overall mental health," James P. Steyer, founder and CEO of Common Sense Media, said in a news release. "Young people need more support from family members and educators, as well as clear guardrails from the technologists who are intentionally designing these devices to be addictive, at the expense of kids' well-being."
Nearly a quarter (23%) of the notifications teens receive on their phones arrive during school hours, the report found, "suggesting that phones and apps could do a better job of eliminating unnecessary pings at times of day that are disruptive to young people."
In Massachusetts, some schools lock up students' phones during school hours — to the frustration of many students and their parents.
But for other students, like an 11th grader in Common Sense Media's Youth Advisory Council, not having access to their phone was extremely freeing, even just for a short time.
"I feel like we'd all feel a lot better if we were on it less. When I lost my phone…I didn't have a phone for a week, and that week was amazing," the Youth Council member said, according to the news release. "Just not having a phone, it takes this weight off of you. It almost sets you free in a way."
The Youth Council was a group of young people who helped interpret the study's data, which was collected from the smartphones of about 200 11- to 17-year-olds. During school hours, almost all of the participants used their phones at least once, for an average of 43 minutes. Some used their phones for over six hours a day.
Moreover, teens admit that their smartphones can be hard to put down. Over two-thirds of 11- to 17-year-old participants in the study said they "sometimes" or "often" find it difficult to stop using technology, and use it to get relief from negative feelings.
"Smartphones have become an always-on, sometimes disruptive force in the lives of young people," Dr. Jenny Radesky, Division Director of Developmental and Behavioral Pediatrics at the University of Michigan C.S. Mott Children's Hospital, co-Medical Director of the American Academy of Pediatrics Center of Excellence on Social Media and Youth Mental Health, and co-author of the report, said in a news release.
"Because the industry has failed to offer young people better options for managing their smartphones, teens are working hard to be savvy about design features and how to set boundaries," Radesky added.
Should teens be the only ones setting boundaries for their phone use? In April, we asked Boston.com readers if Massachusetts should have social media restrictions for teens. Out of 136 survey responses, 67% said that Massachusetts should have social media restrictions for teens, 24% said "no way," and 9% said "it depends."
We want to hear your thoughts about limiting teen phone use.
Do you think phone use in general, and/or social media specifically, should be restricted for teens? If you are a parent, do you believe this would protect or help your child? If you're a teen, how would you feel about limits or restrictions on your phone use?
We want to know if you think teens would be better off with phone use limitations, and why or why not. Tell us your opinion by filling out the survey below or e-mailing us at [email protected] and we may feature your response in a future article.
Sorry. This form is no longer available.