Tell Us
Here's the 2022 Boston food truck schedule
Plus, we want to know your favorite food truck in Boston.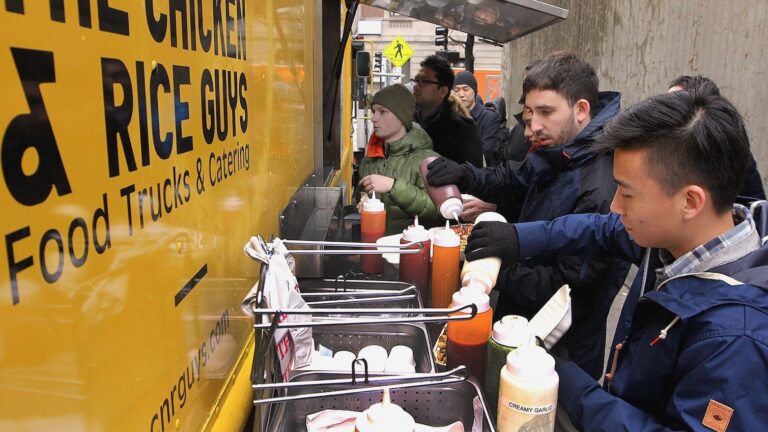 As the weather gets warmer, you may wish to dine outdoors, and Boston's lively food truck scene is a great way to get a quick bite to eat.
This season's food truck season has already begun, and it will be one of growth for the program according to city spokesperson T.J. Flaherty.
"Prior to the pandemic, the program became very popular with consumers and businesses alike. Now, we are enhancing our focus on improving the program as we move toward recovery and revitalization," he told Boston.com.
The Office of Economic Opportunity and Inclusion has waived all fees for the 2022 food truck season, a barrier that some small businesses face to getting started. All vendors who have already paid their fees will be refunded.
Earlier this month, the Rose Kennedy Greenway hosted the 2022 Greenway Food Truck Festival, and there are more festivals to come. On June 25, the Hot Dog Safari Food Truck and Craft Beer Festival will be held at Suffolk Downs.
Food trucks have become an important part of Boston's effort to recover from the pandemic. The city's director of small business Aliesha Porcena said in a statement, "The food truck program is an integral piece of our strategy to support our small businesses as we emerge from the COVID-19 pandemic. I am excited to work with our team and partners to expand the program to other industries, streamline the permitting process, and ensure our communities have the opportunity to support these vibrant businesses that bring people together."
Wherever you are in Boston, you can find creative eats at some nearby food trucks in the city, whether you pick up a combo plate from Chicken and Rice Guys, an Asian-inspired sandwich from Bon Me, or bubble tea from Sweet Bubble. Most of the trucks will be operating during lunch hours from 11 a.m. to 3 p.m. Check out the current schedule of food trucks by Boston neighborhood, and tell us your favorite ones to visit in our survey below.
Back Bay
Boston Public Library (Central)
Thursdays: Chicken and Rice Guys
Saturdays: Sweet Bubble
Clarendon Street
Mondays: Chicken and Rice Guys
Tuesdays: Moyzilla
Wednesdays: Daddy's Bonetown Burgers
Thursdays: Tacos Calleteco
Beacon Hill
Boston University
BU East (Commonwealth Ave at Morse Auditorium)
Wednesdays: Zaaki, Chicken and Rice Guys
Thursdays: Zinnekens
Downtown
City Hall Plaza, Fisher Park
Tuesdays: Revelry, Tacos Calleteco
Wednesdays: Tacos Calleteco
Thursdays: The NAC Truck
Fridays: Tacos Don Beto
Seaport
62 Northern Ave.
Mondays: Chicken and Rice Guys
Wednesdays: Tacos Calleteco
Thursdays: Tacos Calleteco
Fridays: Tacos Calleteco
Saturdays: Tacos Calleteco
South End
Boston Medical Center
Mondays: Chick-fil-A

---
What food trucks are you interested in visiting? Will you order dumplings from Moyzilla, tacos al pastor from Tacos Callecteco, or a Belgian waffle from Zinneken's? Tell us about your favorite places to get a bite to eat, what you order, and why you enjoy their food in the survey below or e-mail [email protected]. Your response could be included in an upcoming Boston.com article and/or its social media channels.
What's your favorite food truck to frequent?