Tell Us
A miniseries about Tom Brady is in the works. How would you cast it?
"The Patriot Way" is being written by the team behind the Lowell-based 2010 movie "The Fighter."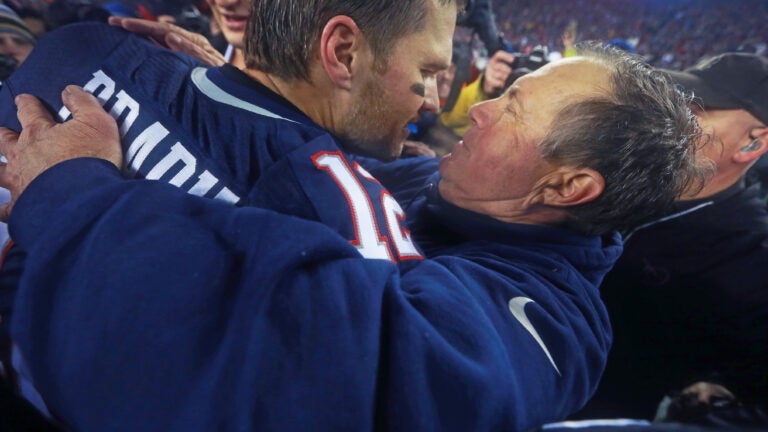 We've certainly had no shortage of real-life Tom Brady during his 23 seasons in the NFL. But fictional Tom Brady — well, that's something new. (With apologies to John Krasinski on "Saturday Night Live.")
Soon, though, we'll be able to add a fictionalized version of everybody's favorite retired quarterback — along with some of his most notable Patriots contemporaries — to the Tom Brady zeitgeist. Deadline reports that Paul Tamasy and Eric Johnson, who wrote the Lowell-set 2010 film "The Fighter" starring Christian Bale and Mark Wahlberg, are currently working on a limited series called "The Patriot Way," based on "12: The Inside Story of Tom Brady's Fight for Redemption" by Casey Sherman and Dave Wedge.
According to Deadline, the show will tackle "Brady's improbable rise from sixth-round NFL draft pick to his half-dozen Super Bowl wins with the Patriots, the Aaron Hernandez, Spygate and Deflategate scandals and Brady's battle of wills with head coach Bill Belichick." We don't know about you, but we're setting our DVRs now.
But with the series no doubt at least a few years off, now is the time to speculate as to who might portray these well-known characters when the cameras start rolling. That's where you come in: Answer the Boston.com poll below and let us know who you think should star in "The Patriot Way."
Included in the poll are some suggestions from the Boston.com staff — offered with the understanding that some of them might have to be bulked-up or de-aged — but feel free to make good use of the "Other" option if you have your own ideas. We'll share the most popular suggestions in a future article. And who knows, Hollywood may be listening.
Sorry. This form is no longer available.
Sign up for Patriots updates🏈
Get breaking news and analysis delivered to your inbox during football season.