Tell Us
Commuters: What MBTA upgrades do you want to see?
What changes would you like to see on the T, buses, commuter rail, or ferry?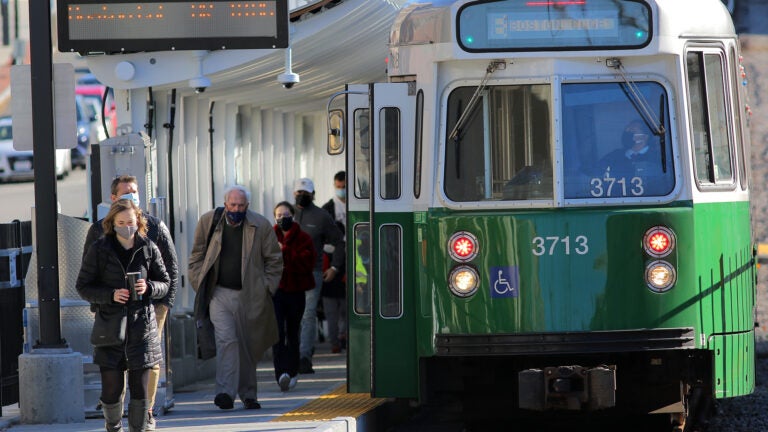 The MBTA is promising big changes for the state's transit systems in the next year, and some of those improvements are already underway.
Over the next five years, the state will receive $2.2 billion in federal infrastructure funds that it will use to modernize the MBTA. The goal of this investment is to maintain the system and expand service. Some changes you may have already noticed, like the new ticketing systems that have been rolled out at a number of T stations or the new stations along the Green Line and Newburyport/Rockport commuter rail.
A transit system that serves nearly 200 cities and towns and has over 1 million daily riders is always going to be faced with new ways to serve its riders.
One of the MBTA's biggest projects, the extension of the Green Line, has been long-awaited as multiple delays pushed the opening back for nearly a year. New stations are on track to serve Union Square in March. The ultimate goal of extending the trains to Medford is still delayed and could happen later in the summer instead, MBTA general manager Steve Poftak told The Boston Globe.
The MBTA is also prioritizing the bus system, which serves hundreds of thousands of riders every month. This week, MBTA announced that it would build a new bus maintenance facility in Quincy which will become the first in the system to house an entirely "electric-battery-powered, zero-emissions" vehicle fleet.
MBTA bus routes 23, 28, and 29 will be fare-free for all riders starting next month, thanks to a two-year pilot program announced by Mayor Michelle Wu this month.
"We know that public transit is a public good and it should be funded that way," Wu said at a press conference. "It is true, it has been true … transportation is about connectedness at the end of the day, connecting us to healthcare, to education, to jobs, and to each other."
These changes come after a spate of accidents involving the MBTA in which a Green Line trolley crashed and injured 25 people, a Boston University professor's fatal fall near the JFK/UMass station, a Back Bay escalator malfunction sent nine to the hospital, and a Red Line train derailment.
A poll by WBUR found that while Bostonians generally feel safe riding the T, most, or 69% are in agreement that making improvements to the MBTA should be a top priority for the state. Last year, readers expressed similar sentiments in Boston.com polls, but also said they were unhappy with how the MBTA handled concerns.
We want to know: What improvements do you think the MBTA should focus on?
Whether you're using the T, buses, commuter rail, or ferries, we want to know what changes you'd like to see the MBTA prioritize. Let us know your thoughts by filling out the survey below or emailing us at [email protected] and we may feature your response in a future article.
Sorry. This form is no longer available.