Tell Us
Here's what the candidates for DA plan to do about illegal guns. Is it enough?
We spoke to both Suffolk County district attorney candidates and asked them your questions about the race.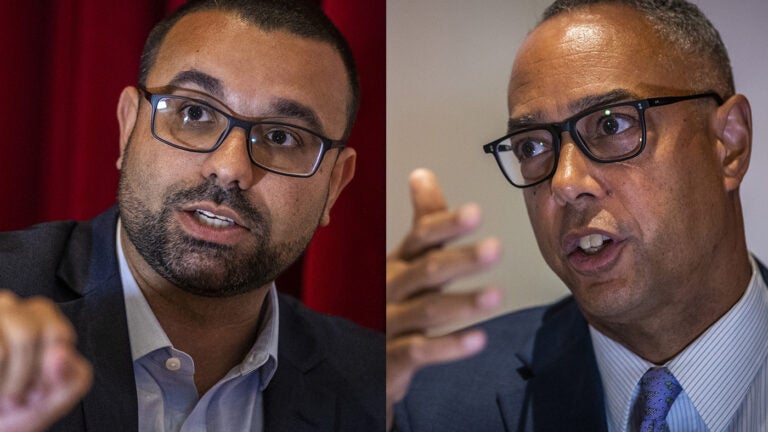 Suffolk County residents have their eyes on the race for the next district attorney — not just because of the controversies surrounding the race — but because whoever assumes the role will be charged, in many ways, with leading public safety of the region.
With that in mind, we asked Boston.com readers to submit questions they'd like the candidates for Suffolk County district attorney to answer. Boston.com reporters spoke to both candidates — interim D.A. Kevin Hayden and Boston city councilor Richard Arroyo — and raised those questions.
One reader wanted to hear more from the D.A. hopefuls about their plans to deal with illegal gun possession and gun violence in the region.
Boston.com readers have said in the past that they'd like to see more gun reform on the national level, and here in Massachusetts, we have some of the strictest gun laws in the nation. Fatal gun violence remains minimal compared to other states, but there are some concerns among residents that the rise in violent crime seen in other metropolitan areas could find its way to Boston and surrounding communities.
Part of keeping our communities safe, of course, is limiting the number of illegal guns on the streets. We asked the candidates a reader-submitted question about how they will tackle the problem should they be elected. They told us what's already working and what more can be done.
To keep track of the news of the race as it happens, follow along with Boston.com's election live blog.
---
These responses have been edited for length and clarity.
"Are you going to take gun crime seriously and prosecute the people arrested with ILLEGAL guns that the BPD arrest every day? Reading the arrest records of these people, many have been arrested in the past and have had charges lessened." — William Corrigan, South End
Kevin Hayden: Yes, we will. I've made this a priority under my administration.
It doesn't matter where you go in Suffolk County, whether it's a backyard barbecue, or if it's a community organization that works with young people, whether it's church, a boardroom, it doesn't matter where you go — our courthouses — everyone nods their head in agreement when the statement is made like this one, which is just that there are simply too many guns on our street right now. And we have to do something about that. If we don't, we may find ourselves on the back end wondering how we got here because right now, every other crime statistic and every other violent crime, crime rates are down right now. The one crime rate that is up is firearm possession, and possession of illegal firearms can drive cycles of violence really quickly.
I have a lot of experience in this area as a Juvenile Unit prosecutor, as a Gang Unit prosecutor, as the chief of the Safe Neighborhood Initiative when I was in the D.A.'s office before. It's an issue that we have to lay a hold of. We've got guns in the hands of too many young people. We've got higher caliber and capacity of guns than we've had, certainly when I was a prosecutor.
One of the second [crime] scenes I went to what after I became the D.A. was at a gas station in Roslindale, which was right down the hill from where I lived — a gas station I went to about two to three times a week. And I think there were 70-something shell casings at that scene that came from two guns. That's a problem. The amount of daytime shootings that we're seeing is a problem … We have to be concerned about these issues. We can't turn a blind eye to them.
And we're committed to doing that, and that includes tackling our gun problem and also dealing with unsolved shootings. That's what our Boston First program is designed to do. And it's designed to work with the [Bureau of Alcohol, Tobacco, Firearms, and Explosives] to engage in a national reach where we can address traffickers.
We got a guy coming off a train from Tennessee in South Station several months ago. We knew he was coming. He had a duffel bag. He was pulled aside immediately. There were 15 guns in there, 20 large capacity feeding devices, and a gaggle of ammunition. That's a gun trafficker. That's not a gun possessor. And if we can lay a hold of the situation that way, we will be infinitely more effective. That didn't just take 15 guns off the street, it took 15 guns off the street before they even got to the street, before they even got into the hands of our young people. And that's an important part of what we're doing to try to address the problem.
Ricardo Arroyo: Yeah. So one of the things I talk about that often gets ignored by folks who want to sort of paint progressive policies as pro-crime is that, one of the things that I believe I'll be able to do because we're bringing in the "List of 15," because we're lessening that load on our frontline ADAs, is that I can create a Nonfatal Shootings Task Force in the office, whose job it is to help actually solve nonfatal shootings. That's based out of the Boston Police Department study that they conducted themselves into why they weren't effectively able to close nonfatal shooting cases.
Essentially what that study found was that if you actually implement and get resources, so there's nothing stopping you from solving the nonfatal shooting, it's as solvable as a homicide. But we give more resources for obvious reasons to homicides than nonfatal shootings. If you give resources, however, to nonfatal shootings, what the study found was you would actually be preventing and reducing homicides.
So that's, to me, something worth investing in and doing. So we are going to be taking gun crime seriously — all violence will be taken seriously.
I think … people deserve to live in safety, and I think when we talk about that, that includes folks who … should not be subjected to nonfatal shootings on a monthly or weekly [basis]. They shouldn't have to live under those conditions.
The more we can focus and send resources into actually solving those [shootings], the more preventative [we can be about] future homicides.
Are you concerned about illegal guns in Suffolk County?