Tell Us
Tell us: Does your neighborhood have a unique Little Free Library?
From craft supplies to vinyl records, plant cuttings to tennis balls, help us locate niche little libraries throughout the Boston area.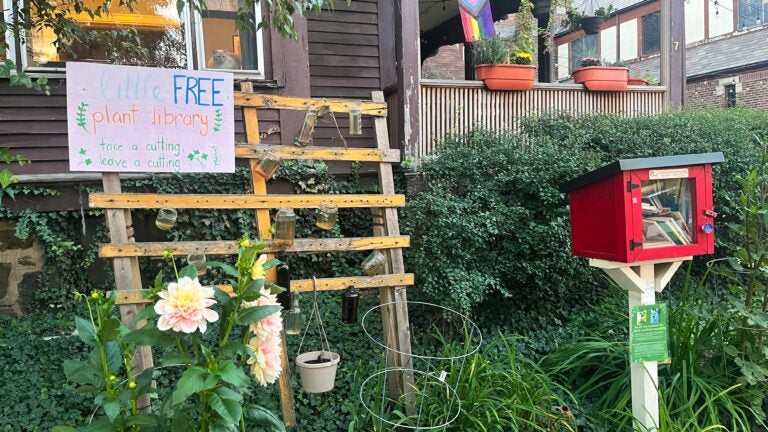 Little Free Libraries can be found in most every neighborhood these days, providing communities with easy access to books and – at least in some places – other items, as well.
These little book havens – found at the edge of a homeowner's lawn, tucked away in a neighborhood, or located just outside a school, business, or nonprofit – invite anyone to "Take a book. Share a book."
Curious minds may locate book exchange boxes near them by searching the Little Free Library map online or via the nonprofit's app. There are also people who build their own small libraries and don't end up officially registering it through Little Free Library, but still serve as a similar resource to communities.
Just the act of stumbling upon one of these small homes for books can be an adventure in itself. For some people, it may be the excitement of finding a new title to read that leads them to take a closer look. For others, it may be the architecture of a library itself that stops them in their tracks.
Little libraries like these sometimes offer more than just books though.
During the COVID-19 pandemic especially, people turned many of these small book nooks into miniature food pantries or even tiny COVID resource centers – stocked with masks, tests, etc. Even before that though, there were efforts to take the Little Free Library concept and put new spins on it, such as Little Free Pantry, which launched in 2016.
In more recent years, as public libraries in municipalities around the country have faced scrutiny and book bans, Little Free Libraries have provided a space for people to share books amplifying diverse voices and covering a range of topics from race to sexuality to social justice.
In many neighborhoods, one can find miniature libraries dedicated to specific items or themes.
In Allston, for example, there is a Little Free Record Shop, as well as a Little Free Plant Library.
Looking beyond books, we want to discover more of those niche little libraries around the Boston area. Does your neighborhood have a library dedicated to craft supplies? Or sheet music? Maybe even tennis balls or sticks for dogs?
Whatever it is, we want to hear about it. Share with us by e-mailing [email protected] or in the form below.
What unique Little Free Libraries have you seen around Boston?
Need weekend plans?
The best things to do around the city, delivered to your inbox.