Tell Us
Readers: Hospitals need your blood. Are you donating?
Extreme weather events have contributed to a nationwide blood shortage.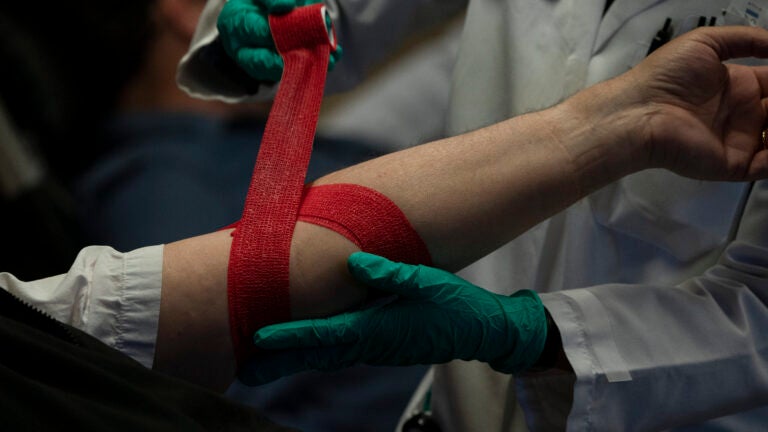 A critical blood shortage is the latest consequence of weather and climate disasters hitting hospitals across the country.
The American Red Cross national blood supply is at critically low levels, according to the humanitarian organization, in large part because of "back-to-back months of worsening climate-driven disasters" that have canceled blood drives at the same time that the need for blood increased. Donor turnout in August was so low that the organization saw a "30,000-donation shortfall."
With Hurricane Lee headed toward the Northeast, the Red Cross said they anticipate even greater demand.
"The Red Cross is closely monitoring Hurricane Lee and its potential impact to communities in the Northeast later this week—which may further hamstring the organization's ability to collect lifesaving blood products during this critical time," the organization said in a press release.
In 2021, the nation faced a similar blood shortage and ongoing lockdowns prevented people from donating blood. At the time, Boston.com readers shared why they made it a point to donate blood whenever they can.
"I've been giving since the '70s. Ninety-five pints, almost 12 gallons," said one reader. "I am healthy and hope that I can make a difference in someone's life."
The Red Cross hopes more people will donate blood to make that difference in the coming weeks. Donors of all blood types are needed, but there is an "emergency need for platelet donors and type O blood donors" to make donations soon.
We want to know: Do you donate blood? With hospitals in need, we want to hear from readers what brings them to their local blood drive. Plus, tell us what questions you have about blood donation.
Let us know why you give blood, or why you haven't, by filling out the survey below or e-mailing us at [email protected] and we may feature your response in a future article.
When did you last give blood?