Tell Us
Tell us: How are baby formula and other product shortages impacting you?
43 percent of baby formula products are out of stock nationwide.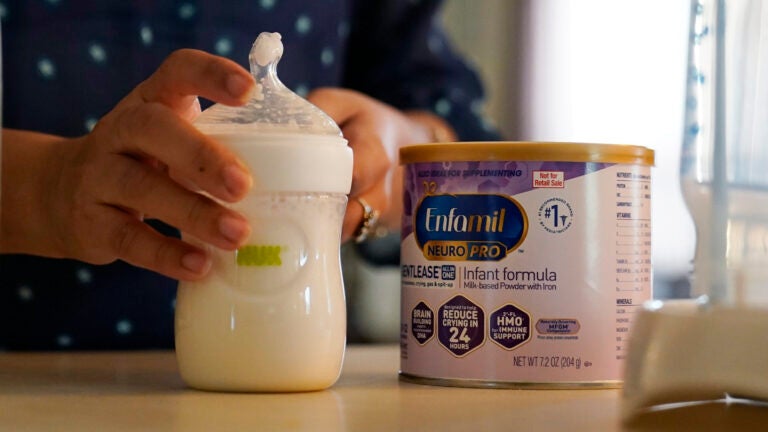 The current infant formula shortage has put greater attention on the ongoing problems we're facing with our supply chain. With 43 percent of baby formula products out of stock nationwide, parents are scrambling to properly feed their children leaving us to wonder how it got this bad.
The baby formula shortage feels especially dire because it puts infants and others who depend on it at risk, and represents a byproduct of manufacturing and supply-chain issues that have been plaguing the United States throughout the pandemic.
Factory shutdowns at the start of the pandemic have led to a manufacturing slowdown even as lockdowns have lifted. These disruptions are unlikely to be resolved before the end of the year, according to economists, and in the meantime, Americans are facing high prices and sparse shelves at the grocery store, as well as long delays on products like home goods and furniture.
In the case of the infant formula shortage, the supply issues were exacerbated when Abbott Nutrition, the largest baby formula manufacturer in the country, shut down a factory and recalled its Similac products because of bacterial contamination.
For parents who rely on formula to feed their infants and others who depend on it for medical reasons, there's no simple solution to this problem. Some mothers are unable to breastfeed their children, and finding alternatives isn't always easy. Pedestrians have warned against attempting to make homemade formulas because of the potential for nutritional deficiencies.
Given the state of the global supply chain, it's likely that necessities like these will continue to be in low supply for many months to come.
We want to know how the baby formula shortage and other supply chain problems are affecting Boston.com readers. As a new parent or someone who relies on formula for medical reasons, are you worried about how the shortage will impact your family? If the empty shelves and purchase limitations for formula haven't impacted you personally, have you felt the squeeze of manufacturing delays and labor shortages in other areas?
Let us know how this problem is affecting you by filling out the survey below or e-mailing us at [email protected] and we may feature your response in a future Boston.com article or social media content.
How are product shortages impacting you?