Tell Us
Tell us: How do you feel about recent unionization efforts?
Unionization efforts are on the rise.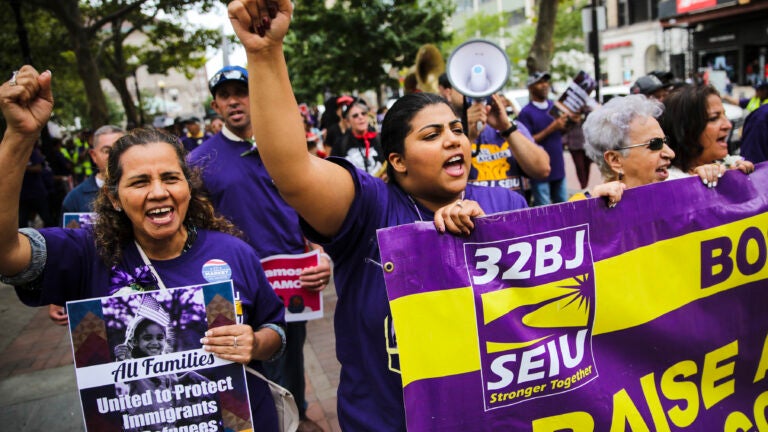 The pandemic upended the way we work and laid bare the struggles many Americans face in their workplaces, ushering in a new era for labor organizing in the country.
Unionization efforts at national corporations have made big news in recent months. After several failed attempts at other Amazon locations in the country, a union drive at a New York warehouse by the tech giant succeeded last month. Starbucks is another large company that has seen a wave of unionization efforts from employees in the last year. There are six unionized Starbucks locations in Massachusetts, including four that voted to unionize in the last week.
Most Americans, or 55%, support the right of workers to unionize, according to a 2018 Pew Research Center survey. Union efforts appear to be on an upward trajectory not just in Boston, but nationally, even as many companies remain hostile to unionization by their employees.
But it's not just workers at large chains who are organizing for better working conditions. Here in Boston, workers at a number of local businesses have unionized. In 2021, workers at Pavement Coffee House sought to unionize, a move that was supported by the local coffee chain's owner, despite the strain the pandemic had placed on Pavement's finances.
"I'm the boss. And in the eyes of a lot of people today, bosses are part of the problem," Larry Margulies wrote in a GBH commentary. "As someone who supported unions all my life — and voted for Ralph Nader and Bernie Sanders — I get it: Gen Z watched their parents get crushed by the financial crisis a dozen years ago. They are sick and tired of not being heard as rents triple and college debt soars 1000% while our social safety net frays."
In the last month, workers at both the independent movie theater Amherst Cinema and the organic grocery store City Feed and Supply have also sought to unionize.
Are you a union worker or looking to start a union at your workplace? Are you closely watching the current labor movement? Share your thoughts on unionization efforts in Boston and beyond by filling out the survey below or e-mailing us at [email protected].
How do you feel about recent unionization efforts?