Tell Us
Tell us: How do you feel about the North End outdoor dining fee debate?
We want to know how you think the city should handle outdoor dining in the neighborhood.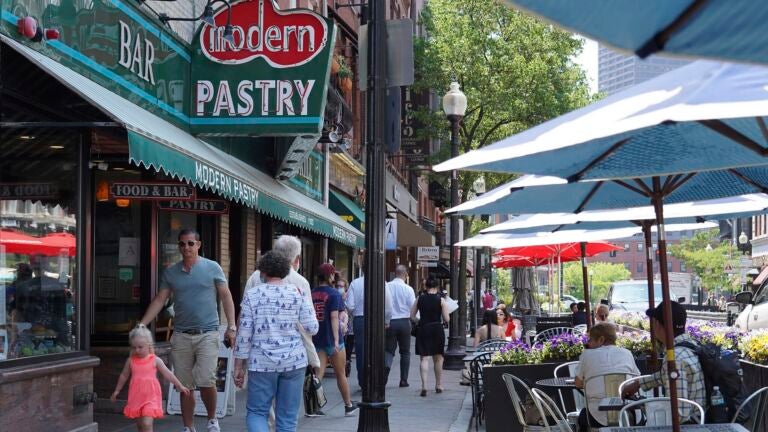 Bostonians are looking forward to the return of outdoor dining as we head into warmer months, but for restaurateurs in the North End, the lead-up to outdoor dining has been a contentious one. Days after writing that she was prepared to end outdoor dining in the North End altogether, Mayor Michelle Wu announced on Tuesday new guidelines to help keep the program running.
The Outdoor Dining Program allows restaurants to apply to use expanded public spaces for outdoor seating and is set to start citywide on April 1. The program has been in place for the last two years of the pandemic and has been particularly popular in the North End, which has drawn large crowds with its outdoor dining options.
To mitigate the impact of these crowds on the neighborhood, city officials asked that restaurants in the North End pay a $7,500 fee that will be used to offset issues like trash displacement, rodent infestation, traffic congestion, and limited parking.
Restaurateurs in the North End are the only ones who've been asked to pay this fee to participate in the program, and many called on Mayor Michelle Wu to remove the requirement.
After pushback from those restaurant owners, the mayor said this week that more flexible guidelines would be put in place for restaurants that would struggle to pay the fee. The new accommodations include allowing for the fee to be paid in installments and the introduction of a "hardship waiver."
"I believe we can come to a situation this summer where our community members — which includes our residents and our restaurant owners — are all thriving," Wu said at a press conference at City Hall on Tuesday. "We need the resources to do that."
We want to know how you feel about the debate over outdoor dining in the North End. Do you think the city should continue with its plan to impose a fee on restaurant owners in the neighborhood that want to opt into the program? Are there any other compromises you think could be made to keep outdoor dining going in the North End this summer?
Let us know your thoughts by filling out the survey below or emailing us at [email protected] and we may feature your response in a future article.
Sorry. This form is no longer available.