Tell Us
Are you back in the office? Tell us how you handled the return.
We want to know your tips on how to readjust back to the office.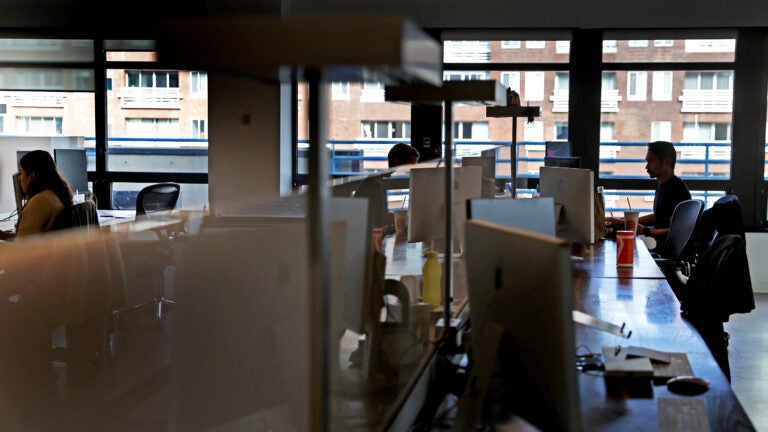 The return to the office looks different for everyone. As more employers roll out their return plans, workers are starting to prepare themselves for the best and worst of working in an office environment.
We recently asked readers if they were ready for the end of remote work, and most were firmly against ever returning to the office, with some saying they'd rather quit than be forced to stop working from home. While most Americans with office jobs are still telecommuting, there are some who've already been back at their offices long enough to feel like things are back to normal.
So what's the key to making the return to the office as seamless as possible after two years of working from home? Thousands of Boston.com readers have made it clear that they're feeling apprehensive about the return, and we want to create a guide to help ease the transition.
About 10 percent of the 1,239 polled by Boston.com said they were already back in the office, and their return to normalcy has yielded some mixed results with some people easing comfortably back into the routine of packed lunches and in-person meetings, and others hating every minute of their commute just as intensely as they thought they would.
"I hate it. I am back in-office full time, and it's terrible," said Cate from Boston. "In-office, on a great day, I manage five hours of work and three of absolutely inane BS commuting subtracts 90 usable minutes of my day, every workday, for no good reason. In-person work is a bit of misery injected into every day with zero benefits for me or my employer. I cannot fathom why we are still clinging to this model."
People who've been working in-person jobs for most of the pandemic aren't too eager to have the office workers back either.
"I'm not looking forward to more people on the road — and more traffic — during my morning and afternoon commutes!" said Jane from East Boston, who works as a teacher. "My work cannot be done from home, but many others who will be crowding the streets? Theirs can."
For Vincenzo from Nashua, N.H. who works in shipping and receiving, returning to in-person work also means having to constantly worry about COVID-19. He said his increased interactions with maskless people add unnecessary stress to his day.
"We've got a sign on the door and people still refuse to wear a mask for the brief time they'll be indoors among me, my coworkers, and customers who are often elderly," he said. "I've lost many friends and family members to COVID and find these people's blatant disregard for the health and safety of others to be utterly disrespectful. The stress of my job is hard enough without worrying about my health. I'd much rather work in a remote capacity."
But remote work isn't a perfect solution for all workers. Some readers told Boston.com they missed the social interaction and clear divide between work and personal life that working from an office provides.
Diana from Melrose, who works in marketing, was more than happy to get back to her usual job when her employer gave the option of returning. She started going back to the office as early as August 2020, when most office workers were still adjusting to the work-from-home life.
"I disliked working from home. I was so eager to return, as soon as it was okay, I was the first one back," she said. "And I am SO done with video meetings. I still have to do them often even in the office, but they're energy-sucking and mind-numbing. Most of my co-workers are back at least a few days a week and it's been really enjoyable having face-to-face conversations again."
Kristen from Waltham said she likes in-person work because of the clear boundaries it creates.
"If the pandemic taught me anything about myself it is that I HATED being completely remote. I need the social interaction of my colleagues and working with the students face-to-face," she told Boston.com. "The separation of work and home life is much better when I am forced to go into the office every day and not relegated to being in my home all the time. Maybe it works for some people, but for me, it definitely doesn't!"
If you've already gone back to in-person work, we want to know how you readjusted. Did you have to develop a new nighttime or morning routine? Have you dusted off your old meal-prep recipes to streamline your packed lunches or invested in new business casual wardrobe staples? What strategies have you used to stay productive in an office space with more distractions?
Whether you love or hate the idea of returning to the office, we want to hear from you about how you're managing it. Let us know your tips and tricks for office workers anticipating their own return by filling out the survey below or emailing us at [email protected] and we may feature your response in a future article.
How are you managing the return to the office?