Tell Us
Tell us: How is your neighborhood tackling food insecurity?
From community fridges to urban farms, many communities have turned to mutual aid to combat hunger.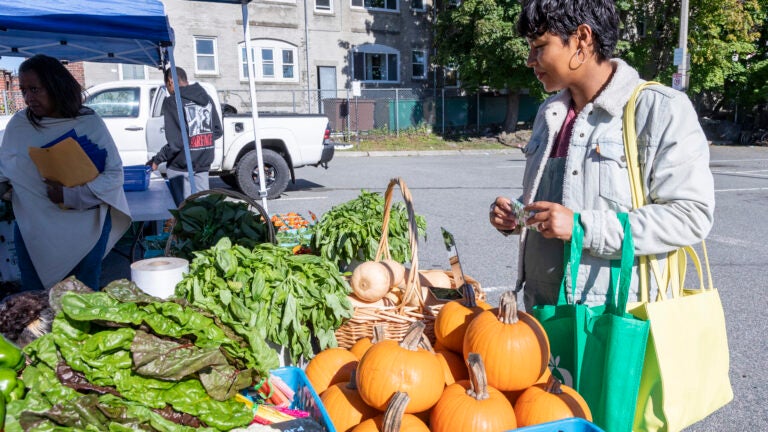 Food insecurity in Boston prevents many residents from accessing affordable, nutritious food, but thanks to the efforts of community organizers, more people are getting the groceries and meals they need.
The Dorchester Food Co-op, a grocery store owned by more than 1,600 community members, opened its doors earlier this week. Eighteen percent of Dorchester residents are food insecure, according to the Mayor's Office of Food Justice, and the new co-op aims to address those hunger needs while providing jobs for people in the community. Anyone over 18 can become a member-owner at the co-op and a lifetime membership costs $100. That fee can be paid all at once, in installments, or be funded by the co-op's Solidarity Fund.
The co-op is the first of its kind in the city but not the only community-led effort to address food insecurity in Boston neighborhoods. During the pandemic, community fridges filled with refrigerated and pantry foods popped up across the city to help hungry neighbors. Many of those fridges have since closed, even as SNAP enrollments have increased statewide and household food insecurity persists.
At the height of the pandemic, close to 20% of Massachusetts households were food insecure. That number has gone down with time but has yet to reach the pre-pandemic low. As a response, many communities have turned to urban farming to fill the gaps. These farms exist in many neighborhoods across the city, including Dorchester, East Boston, Fenway, and Jamaica Plain, and are just one of the ways neighbors are using mutual aid to combat food insecurity.
Tell us: What community efforts to address food insecurity exist in your community? Is there a community fridge or little free pantry in your neighborhood? Are you a member of a community garden that provides fresh fruits and vegetables to the public?
Share with us by filling out the survey below or emailing us at [email protected] and we may feature your response in a future Boston.com article or on our social media channels.
Tell us about the community-led food projects in your neighborhood.