Tell Us
We want to know: How should Boston expand pedestrian-only roads?
The "Boston Open Streets" program is coming to more neighborhoods this summer.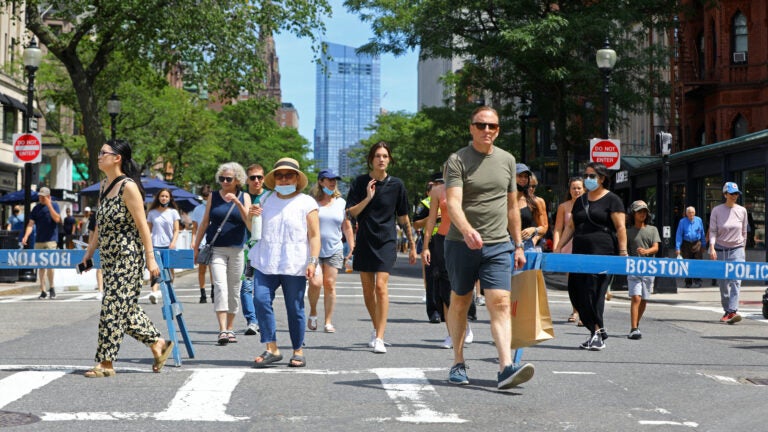 Boston is expanding its Open Streets program to several neighborhoods around the city this summer. Starting in July, streets in Jamaica Plain, Roxbury, and Dorchester will be blocked off to vehicular traffic on select days.
"On each specific day, we'll close the sections of roadway to car traffic to create and reclaim space for residents to celebrate the summer," Mayor Michelle Wu said at a press conference announcing the "Boston Open Streets" program. "We've seen a number of cities around the country in the world implement similarly successful initiatives that bring people together and also help keep dollars flowing in our local small businesses … and make sure that people can have fun with their neighbors and or even go visit a new part of the city."
Newbury Street has been similarly blocked off during past summers to encourage foot traffic and cycling. This year's Open Newbury Street schedule hasn't been announced yet, but previous years have been very popular. Last summer, we asked readers how they felt about Boston having more pedestrian-only roads and most readers polled said they were absolutely in favor of the idea.
"It's long past due to make public spaces people-centered and not a car-centered pass through. It's better for businesses and better for the community by making vibrant spaces where people can walk, shop, and eat without risking being smashed by reckless drivers, and better for the environment," said Mary from West Roxbury. "What's not to love?"
A small minority of readers, or 8%, were against the pedestrian and cyclists-only streets because they could impact traffic and parking in other parts of the city.
"It's fine for Newbury Street since it's the main thoroughfare where parking is a pain anyway, but it's not designed for all types of streets and towns. It would be a disaster to have it anywhere in Brookline," said Eliot from Brookline.
Now that the city is testing an expansion of the program to include more neighborhoods, we want to know what an ideal pedestrian-only street would look like to you. Where else should the city block off traffic? What attractions should they include on these roads to attract more residents to them?
Let us know what more you'd like to see from the Boston Open Streets program by filling out the survey below or e-mailing us at [email protected] and we may feature your response in a future Boston.com article and/or social media content.
Sorry. This form is no longer available.