Tell Us
Young people are struggling with mental health. Here's how you can help.
Plus, tell us how the youth mental health crisis is impacting you and your loved ones.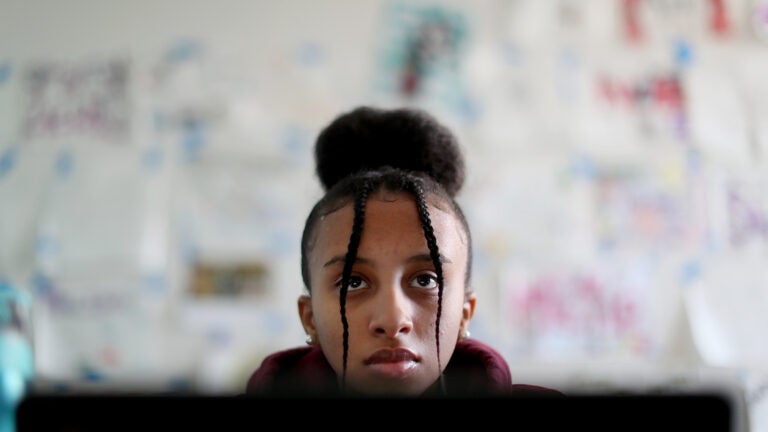 Years of uncertainty and disruption have started to take their toll on young people in America. Last year, the U.S. Surgeon General warned of a mental health "crisis" among young people. More teens are reporting feelings of anxiety and depression, and the short supply of psychiatrists and inpatient services has hundreds staying in emergency rooms on suicide watch.
On top of the regular problems of being a young person, children and teens have also had to face intense problems like pandemic lockdowns disrupting their education, anxiety about climate change, and most recently, another tragic school shooting.
Alison Ratner Mayer is a Boston-based licensed independent clinical social worker and the owner of Child Therapy Boston. Mayer works with children, teens, and families on their mental health struggles and has seen a dramatic increase in the number of families seeking professional therapy for young people in recent years.
Mayer said many of the parents who call say it was their child that suggested they wanted to see a therapist.
"I think that the stigma around mental health is changing," she told Boston.com. "People are reaching out for help, who maybe would not have in the past or they're reaching out sooner, and talking about it more openly."
The work of addressing the mental well-being of a child or teen can be hard, but Mayer said it's worth it for all adults with young people in their lives to prioritize this issue.
"Not to be hokey, but our children are our future. Why would you not take it seriously? It's a big deal and it matters," she said. "It's not something you can just ignore away because it just gets worse. It doesn't just miraculously get better."
To help adults better navigate how to support the young people in their lives, Mayer shared suggestions on how to approach mental health counseling for children and teens.
Keep an eye out for changes in behavior
Young people, especially children, may not always have the language to express their feelings of depression or anxiety. Depending on the individual and the age of the young person in your life, struggles with mental health can manifest in a number of ways. The key is to look for signs of regression in behavior.
"Of course, you should consider if a kid is tired or hungry before you jump to any major conclusions about behavior, especially in younger kids," Mayer said. She also said to consider "if they're having meltdowns more frequently, and they're not able to practice certain coping skills that they may have previously."
Older children and teens may withdraw from loved ones and hobbies they previously enjoyed. Other red flags to look out for according to Mayer include trouble sleeping and "big aggression" over seemingly small issues.
It can be helpful for parents to work with other trusted adults to spot these changes.
"Take reports from other adults in the kids' lives to heart," she said. "If a teacher or a coach expresses concerns, take that seriously."
What's your experience with child/adolescent mental health?
Have intentional conversations
Over the last two years, much of the public conversation has been focused on topics that can be overwhelming for young people. Whether that be the pandemic, ongoing wars, or the mass shootings at a Californian church, a Buffalo supermarket, and most recently at an elementary school in Texas. Whether adults are aware of it or not, children and teens are hearing and absorbing information about this violence through the media and around the dinner table. This can impact their mental well-being, Mayer said.
Rather than allow the young people in your life to be inundated with negative news, Mayer recommends having "intentional conversations" that allow them to be informed in a way that's appropriate.
"The point is that kids are always listening. Always, always listening, even if it doesn't look like they're listening and they are especially listening if they hear any change in emotion in their families' voice or way of being," she said. "Anything that the kids are hearing should be intentional and coming from other trusted adults."
Spend quality time with the young people in your life
Young people are more likely to open up to adults in their life that they already have a good relationship with, according to Mayer, which is why it's important to consistently foster that relationship.
"You need to intentionally and authentically spend quality time with your kids that is relaxing and stress-free, no phone around for distraction," she said. "Just your full self with the kids."
Just 15 minutes a day of playing cards, doing a puzzle, reading a book together, or any other shared activity will make a child more likely to open up when something is bothering them.
"From that will come feelings of safety, security, whether that's physically or emotionally, and kids will be more likely to open up and come to parents if they feel that they have that strong and safe and playful connection," Mayer said.
Try group therapy
Despite the demonstrated rise in mental health problems among young people, in particular, it's becoming increasingly hard to find mental health counseling as the demand for therapists outpaces their availability.
Mayer said there are currently 100 children and teens on the waiting list for her Greater Boston clinics, a sign that the mental health crisis is impacting many young people. While parents and other adults may be determined to get their child into individual therapy, Mayer said group sessions can be a way to get professional support without having such a long wait.
Child Therapy Boston has expanded its group therapy offering to be able to serve more children.
"Group therapy is really incredible and powerful for people, not just kids because it shows you that there are other people going through it too," Mayer said.
Seek support for yourself
A key component to caring for young people struggling with mental health that is often overlooked is the mental health of the adults providing them with support. Mayer said parents should take their own mental well-being just as seriously as they take their children's.
The state of mental health for adults has also worsened in recent years. In 2019, 1 in 10 adults in the country reported having symptoms of anxiety or depressive disorder, and that's increased to 4 in 10 during the pandemic, according to a study by Kaiser Family Foundation, a nonprofit organization focusing on national health issues. At the start of this year, Boston.com spoke with mental health experts about how adults can cope with their own feelings of anxiety and depression.
"It's important for parents to take care of themselves because it's really hard to keep your cool with your kid who is struggling if you're not in a good place yourself," Mayer said. "Doing what you need to do for yourself, however you can, is important."
---
Is there a young person in your life that's struggling with their mental health?
We want to know how you're navigating this issue and helping them cope with or without professional therapy. Tell us about your experience by filling out the survey below or e-mailing us at [email protected] and we may feature your response in a future Boston.com article or on our social media channels.
Has the youth mental health crisis impacted you?