Tell Us
How to cope with the recent violence, tragedies happening in Mass.
Trauma researcher Dr. Isabelle Rosso spoke with us about how to address your stress and anxiety. Plus, we share a running list of support groups.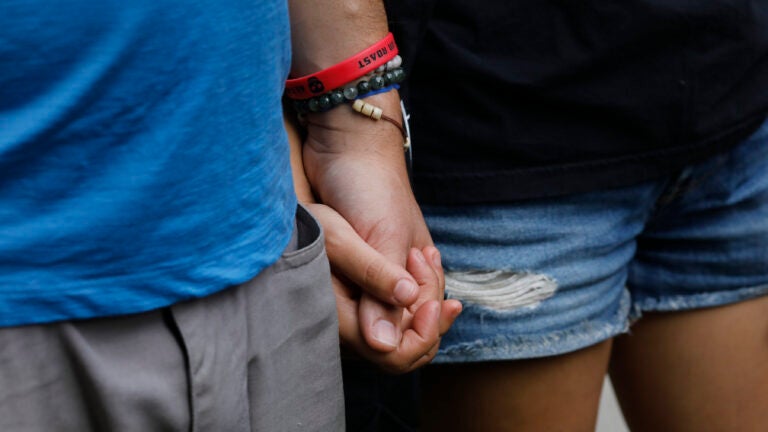 Since the start of the year, Massachusetts has been troubled by a number of violent crimes and tragedies that have shaken the community.
Gun violence has taken the lives of Tyler Lawrence, a 13-year-old who was shot and killed in Mattapan, and Linda and Sebastian Robinson, a mother and her 12-year-old son who were allegedly shot and killed by the husband and father in an apparent murder-suicide. In Easton, residents watched as police shot and killed Marianne Griffiths, a 56-year-old woman during a welfare check. And in Duxbury, a mother is alleged to have strangled her three young children, 5-year-old Cora, 3-year-old Dawson, and 8-month-old Callan.
We spoke to Dr. Isabelle Rosso, director of the Anxiety and Traumatic Stress Disorders Laboratory at the Center for Depression, Anxiety, and Stress, about how the recent spate of tragic events might be affecting Massachusetts residents.
"A lot of people still think that trauma is just for people who go to war or that PTSD can only develop after some sort of military combat but we know that's not the case," she said. "You can have trauma symptoms from all sorts of different events, many civilian."
Rosso, who is also an associate professor of psychology at Harvard Medical School, told Boston.com that everybody responds differently to "potentially traumatic events."
"Look at anything that's happened in the news the past few months across the country, or the world for that matter, and you might have a really strong reaction," she said. "The person next to you that might have a really strong reaction to something else that happened locally, much more so. All those reactions are valid and we know that's all within the range of normal."
For people who are experiencing debilitating trauma responses, Rosso said it's important to seek professional treatment. Short of that, however, increases in stress and anxiety can be addressed through interventions at the individual and community levels.
Rosso shared her recommendations on how you can better cope with any anxiety, stress, and trauma you might face in the wake of a tragedy. You'll also find a list of resources for those in need, including first responders, victims of violent crime, and families.
Check in with yourself
Even when troubling events are happening in our lives or the world around us, many of us are tempted to go about our schedules as though nothing is going wrong. Instead, Rosso encourages everyone to take time for emotional self-assessments. A good practice is to regularly ask, "What am I thinking about? How am I feeling? How was my sleep? What are the first thoughts that come to my mind?"
Common changes in behavior to look out for are withdrawing from loved ones, poor sleep, and uncharacteristic mood changes. The first step should always be to make sure you're feeling okay.
"Put your oxygen mask on first so that you can continue and help others," the trauma researcher said. "We each know ourselves, right? For me, it might be something different than for you that's an early warning sign that something is bothering me or affecting my mental health too much."
Lend support to your loved ones
You may notice similar changes in behavior in a loved one experiencing stress, anxiety, or trauma. Rosso encourages raising concerns and offering support in getting back to a healthy routine if you do.
This is especially important for parents and caregivers of children because they are still learning to regulate their emotions. Support them with regular conversations about their feelings that teach them to vocalize their emotions and engage them in healthy behavioral releases.
"Self-regulating their feelings is one of the big tasks of childhood and oftentimes, parents need to help them if they are feeling anxious, angry, sad, or whatever it may be," Rosso said.
Fit more self-care into your day
If you've identified stress or trauma responses, the next step is to counteract negative patterns with healthy habits like exercising, eating well, sleeping regularly, and spending time with friends and family. Rosso recommends spending time outside whenever possible.
"I think that can be a really powerful way to disconnect from whatever stressful thoughts and feelings are running through your mind," she said.
Research also shows that building an intentional mindfulness practice through meditation or journaling can work as a powerful antidepressant and anti-stressor to "get rid of mental clutter."
Be purposeful with how you engage the news
The cumulative aspect of bad news can be triggering for many people, according to Rosso. Having a better understanding of your emotional needs can help you identify when it's a good idea to stay informed and when it's better for your mental health to unplug.
"Being purposeful and in control of our exposure to news and knowing what we're sensitive to and when is a good time to be updating ourselves on what's going on is important," she said.
Find ways to give back
Tragedies in our communities are often upsetting because they make us feel helpless in our own communities. One way to counteract the stress and anxiety that can come with that is to volunteer your time and resources.
"The general self-care stuff is important but I think trying to gain some control and do things that make you feel effective and engaged can go a long way," Rosso said. "It could be donating blood depending on what the needs are after a tragedy. It could be engaging with groups that represent your beliefs or values. Or just random acts of kindness day to day, engaging in things that are positive."
---
Support groups for those in need
Victims and witnesses of violent crime
First responders
For parents and families
Want to add to our list? Send us a local resource or support group you found helpful by e-mailing us at [email protected].