Tell Us
Here's how you can help Ukrainians during the ongoing conflict
Plus, tell us what charities and organizations we missed and we'll add them to the list.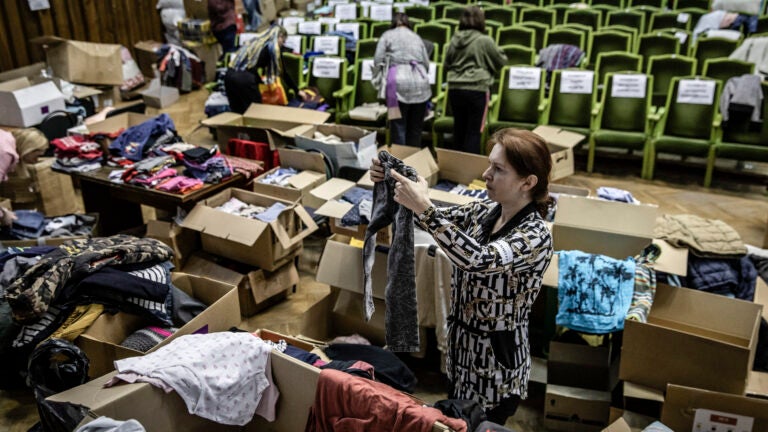 The international community's attention turned to Ukraine after Russia invaded its borders and attacked several major cities, including the capital city of Kyiv.
The invasion came after months of heightened aggression by Russia against Ukraine. Hours before the attacks began on Feb. 24, President Volodymyr Zelenskyy of Ukraine said in a televised plea to Russia, "Listen to the voice of reason. The Ukrainian people want peace."
In the months since, there have been a number of local efforts to help those still in the country and those displaced by the war, including fundraisers by local religious organizations, non-profits, and good Samaritans.
More than 12 million people have been displaced since the start of the war, including 6 million who've left for nearby nations, according to the United Nations. Many are already suffering from a lack of access to necessary resources like medical equipment and safe shelter.
The Biden administration has pledged to accept 100,000 Ukrainian refugees and signed a $40 billion relief bill. Some of those refugees have started to make their way to Massachusetts, where they've been met with the helping hands of the region's Ukrainian community.
Diana Zlotnikova, a Ukrainian-born student at Northeastern University, told Boston.com that in the face of the current conflict, Ukrainians worldwide need the support of their friends and neighbors. The Ukrainian community in Boston is looking for ways to "unite with people who are going through a similar set of feelings," according to Zlotnikova.
"Another big motivation is to make sure that people here who are not Ukrainian, who are not American Ukrainian, know what's going on," she said. "They know what's happening, that they're not going to move on from this news as soon as something more relevant comes up. Just to make sure that people know that there is a tragedy going on somewhere else in the world."
Below we've rounded up organizations that are supporting Ukrainians in need of lean water, medical supplies, cash assistance, and psychological support. Did we miss any? Fill out our survey below or e-mail us at [email protected] with your recommended resources you think should be added to the list.
This Waltham-based non-profit has worked in Ukraine and other former Soviet nations for decades to support the Jewish community in the region. Now, as Ukrainians are under threat, the group is raising money to continue its work and provide emergency humanitarian aid.
Since the start of the conflict in Ukraine, thousands of Airbnb users have booked stays in Ukraine that they don't plan to check into as part of an effort to donate directly to people in Ukraine. The "Pay Don't Stay" campaign allows Ukrainian Airbnb hosts to receive direct support from those looking to help. Airbnb has also started a relief effort to house thousands of Ukrainian refugees. You can help by hosting a refugee or donating to the fund to help with the costs of housing.
The Arlekin Players Theatre is supporting hotels in the Ukrainian city Dnipro that have converted their spaces into a refuge for Ukrainians fleeing their cities. By donating or booking a room on the hotel website, you can provide a family with shelter, food, water, medicine, and hygiene products.
CARE, an international humanitarian agency, is raising funds to provide Ukrainians with food, water, hygiene kits, psychosocial support, and cash assistance. Aid for women and girls, families, and the elderly are currently being prioritized by the organization.
In the midst of the attacks, there has been an increase of misinformation about what's happening on the ground. The Kyiv Independent is a local news organization raising money through its GoFundMe page to keep reporting in the face of cyberattacks, bombings, and ground invasions.
The ICRC is supporting the work of the local Ukrainian Red Cross, its water engineers, and doctors to provide access to clean water for those in need across the country.
The Kyiv School of Economics is working with a number of Ukrainian businesses to raise money for humanitarian aid in the country. Donations will go toward providing food, transportation, medical supplies, and protective kits for refugees as well as the State Emergency Service of Ukraine, Ukrainian Paramedic Association, and the Ukrainian Territorial Defense Forces.
People in Need is a Czech non-profit organization active in Ukraine that provides "food, water, hygiene items, and coal for heating in winter" as well as repairs of damaged homes and psycho-social support and counseling. The group's current primary objective is to provide urgent humanitarian aid.
Razom is an organization working with Ukrainians in the United States and in Europe to fund projects to "unlock the potential of Ukraine." Past projects include medical training programs, stipends for veterans, and healthcare delivery for Ukrainian children with spinal muscular atrophy. Donations will help continue support for vulnerable populations in the nation.
In 2013, years before the Russian invasion of Ukraine, Remember Us was founded by a group of Ukrainian refugees to help the people of Ukraine. Prior to the war, the group's focus was on furthering education about the Holocaust in Ukraine. Now, they're raising funds to provide humanitarian aid in the country. Donations have helped the organization provide 1,000 families and 40 orphanages with money for basic needs like food and medicine as of March 31.
Save the Children is a humanitarian non-profit focused on helping children around the world. As a response to the war in Ukraine, the group is raising funds to support Ukrainian children with clothing, food, and emergency shelter.
Sky International Center is a Newton-based professional networking organization, whose founders were personally impacted by the Russian invasion of Ukraine. In response, the group started a fundraising campaign to help Ukrainian facing violence in the cities as well as those who have fled the country.
Sunflower of Peace is a local aid organization created by Ukrainian Katya Malakhova. Her fundraising efforts aim to prepare first aid medical tactical backpacks for paramedics and doctors on the front lines in the country. Each backpack sent includes first aid supplies like bandages, anti-hemorrhagic medicine, and medical instruments. While the non-profit isn't currently accepting drop-offs, they are looking for logistics partners and volunteers in the U.S.
This campaign by Project C.U.R.E and local Ukrainian non-profits is raising money to send medical equipment and supplies to hospitals in Dnipro, Zaporizhzhia, Kyiv, and other areas in need. For every $1 of donations, the groups ships $25-$27 of medical equipment and supplies to Ukraine.
Theory Wellness, a local cannabis company, is raising money for Ukrainians with a line of blueberry lemonade THC chews. Half of the profits from the chews go directly to Sunflower of Peace, the local non-profit organization committed to providing medical supplies including first-aid backpacks, medicine, medical instruments, and other means of survival to the Ukrainian people.
The International Fund for Animal Welfare is a global non-profit that rescues, rehabilitates, and releases animals. A consequence of the war in Ukraine has been the animals in shelters, zoos, and sanctuaries that have been endangered and abandoned. After a shell hit one of their partner shelters in Horlivka, one dog was killed and more than a thousand are in need of care. Your donation will help care for dogs and cats at partner shelters in Ukraine, animals evacuated from the country to Poznań Zoo in Poland, and other animal relief efforts in the region.
Jack Botein, an 11th grade student from Brookline, started Ukraine Digital Design to use his skills in web design to help Ukrainians. His business matches Boston-area entrepreneurs with designers in Ukraine. This service allows Ukrainian web and graphic designers and freelancers to earn money remotely during the ongoing conflict.
The Combined Jewish Philanthropies of Greater Boston is raising money to provide food, shelter, medicine, and other basic needs to Ukrainians during the ongoing conflict. The Jewish communities in Boston and Dnipro, Ukraine have long had a relationship, according to Matthew Aliberti, a spokesperson for CJP, and the money raised through this fund will further help people in the country.
This Boston-based charity has created multiple avenues to help Ukrainians in need. Donations are accepted online and in-person at Christ the King Ukrainian Catholic Church in Jamaica Plain. For those who want to know more about what their donations are being used for, Ukraine Forward put together an Amazon wish list of items in critical need that can be purchased as a donation. They also have a separate shopping list and address to ship any items purchased. If you'd like to get involved in other ways, the group is also accepting volunteers to help with their work and has shared an international guide to upcoming rallies.
The UCCA is a national organization of Ukrainian Americans with 20 chapters, including one in Boston. The group is raising money to send medical and pharmaceutical kits to those affected by the ongoing conflict in Ukraine.
UNICEF is working to help children in eastern Ukraine by bringing safe water to conflict-affected areas, working with local officials to ensure immediate help for children and families in need, and providing psychological care to children.
United Hatzalah is an Israeli non-profit that provides free emergency medical services. In the wake of Russia's invasion of Ukraine, the group is organizing medical relief and sending equipment, food, and hygiene products to help Ukrainians crossing the border to Moldova. You can provide general support to their Ukraine fund or donate to specific needs such as oxygen tanks, medic kits, or helping provide transport for families to cross the border.
The United for Ukraine Fund was started by global non-profit United Way to provide for Ukrainians in need of transportation, shelter, food, medicine, and childcare supplies. The organization is working closely with partners in Romania, Hungary, and Poland to meet Ukrainians fleeing the country with assistance wherever they land.
The UNHCR is raising money for the nearly three million Ukrainians who will require humanitarian assistance because of the attacks. Donations will provide emergency supplies to people in need of "immediate shelter, protection, and safety."
Voices of Children is a Ukrainian non-profit that provides psychological and psycho-social support to the thousands of children impacted by the armed conflict. The group offers individual support, art therapy, mobile psychologists, and more.
World Central Kitchen provides food relief to people struggling with hunger in the wake of humanitarian, climate, and community crises. Within a day of Russia's attack on Ukraine, WCK had begun distributing meals in Poland to Ukrainians fleeing the country. The organization, founded by chef José Andrés, is seeking donations to continue to serve meals and provide remote support to Ukrainian restaurants continuing to serve meals for people in need.
---
Share your recommendations
Do you know of any local or global efforts to support Ukraine during the conflict with Russia? Tell what charities, organizations, and non-profits you think readers should support by filling out the survey below or e-mail [email protected] and we'll continue to update this list with additional resources for those who want to get involved.
---
Tell us your story
Are you Ukrainian American or a Ukrainian living in New England? We want to know how you and your loved ones are processing the news coming out of Ukraine. If you'd like to share your thoughts with Boston.com, fill out the survey below or email us at [email protected] and we may feature your response in a future article.
Are you Ukrainian or Ukrainian American? Tell us your story.