Tell Us
If it were up to Bostonians to save the planet, would we survive?
Tell us how you think Boston would actually react to the end of the world.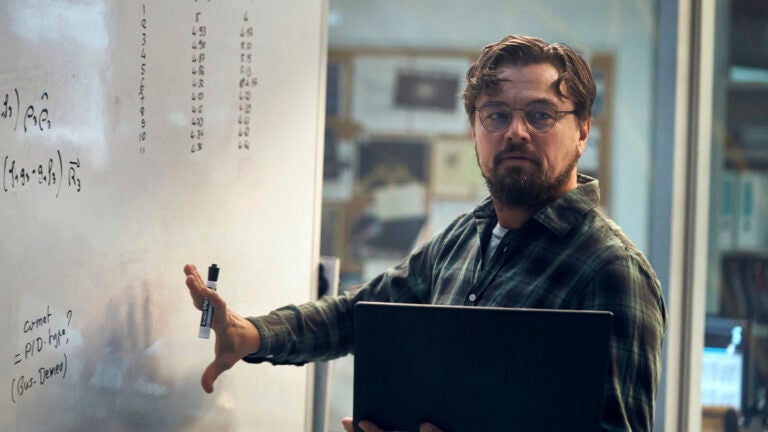 When you sit down to watch the new film, "Don't Look Up," what you're really being asked is to sit with an uncomfortable reality of what the world would look like if we were in our last days. It's impossible not to wonder: How would we actually react with a direct, but preventable threat to our planet?
In the film, stars Leonardo DiCaprio and Jennifer Lawrence portray scientists desperately trying to get the world to take seriously a comet heading for Earth that will undoubtedly lead to the extinction of the human race.
The movie, which was filmed in Massachusetts, is a political satire that does nothing to sugarcoat its reality. The scientific consensus is ignored as politicians and businessmen let greed overshadow the need to stop the comet. The media placates the public with softball interviews about the impending doom, while the general public is left feeling helpless or chooses to ignore the issue altogether.
While Boston.com's review found the film "darkly funny," others have criticized it as too "cynical" and preachy. Director Adam McKay has said that the film is meant to be an allegory for the climate crisis, and the big takeaway from the movie is that humanity will get in its own way, even at the end of the world.
"Humans are stupid and can't be expected to agree on anything, even if their existence depends on it," wrote Peter Debruge of Variety in his review of the film.
We want to know how you think Bostonians would react in a real-life scenario. Do you have faith Boston could survive a preventable extinction-level event? If it were up to Bostonians to save the planet, would we get it done?
"Don't Look Up" paints a grim picture, and in doing so, asks us to be better. We want to know if you think it'd be possible for the people of Boston to come together against a dangerous threat — even one as big as a comet.
Share your thoughts with us, whether you've seen the movie or not, by filling out the survey below or emailing us at [email protected] and we may feature your response in a future article.
Would we survive the end of the world?